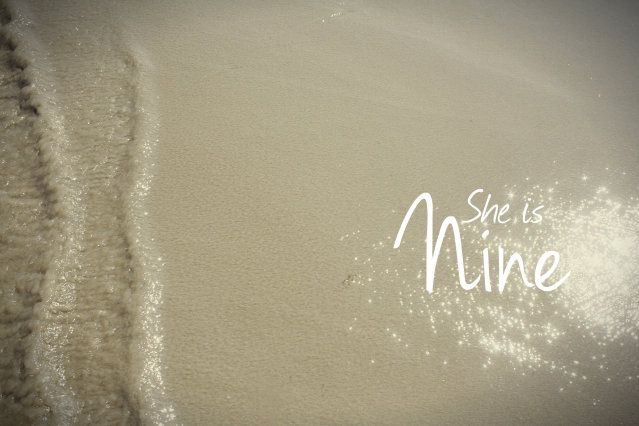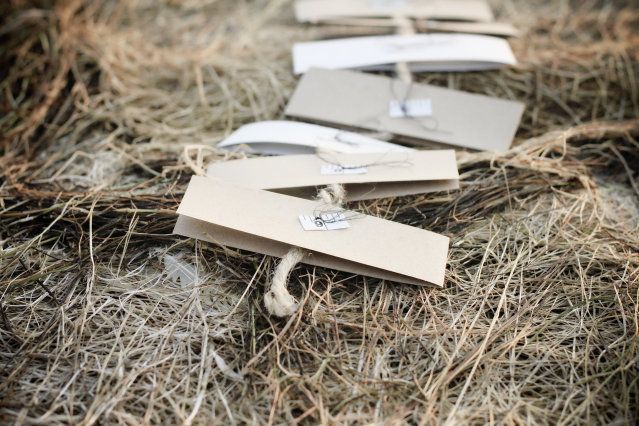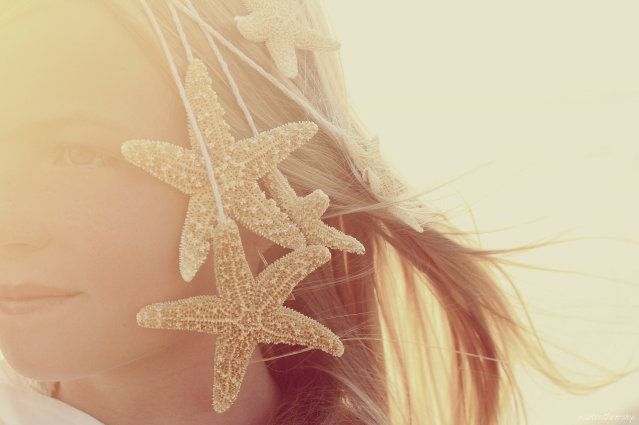 Haha, I just dawned on me. . . realizing some folks will read the title of this post and think another baby is on the way. THAT WOULD BE NOPE.
August has come and nearly gone. . . but not without wonder and amazement once again of the faithfulness of God.
Can't believe summer is gone. Besides Scott who is across seas with his grandparents, the boys left early for school this morning and while I was flipping pancakes at 6:45am I had flashbacks of all our wonderful summer memories and I really can't complain about anything. It's been a good, full summer and if only we could get some cooler weather ushered in, I'm sure I am ready for fall to start falling. Fall means football for four boys and I am gearing up for being the ridiculous mommy cheerleader I always am this season. And full time day mommy to four little girls who need me like crazy right now!
(Thus this blog post being written like over two weeks time).
~
I pretty much call August "Morgan's Month" because she has our only August birthday, and fittingly so. She is my summer girl all the way. It's a part of her, in her, like her. She is lover of water, sand, and sun to the fullest. God knew she needed, had to be born in the summer time.
Our first little girl was born after nine months plus something like 7 days after a very long and hard pregnancy, and my most painful labor ever. It was laughing hard that actually triggered my first contraction and three hours later she was there. It was a scary fast three hours as she wanted to come quick but was in the wrong position and I was having a home birth. My mom was in the living room on her knees crying out to God for His mercy on us as she heard her own daughter screaming out in pain. God came. Miracles happen. Morgan is one.
You'd never known all we'd just gone through though when she was just moments old. . .cradled in my arms that very hot August of 2003. She was a picture of perfection, of peace. Her lips were the sweetest I'd ever seen and she was just totally dreamy. Completely blissful. Sweat poured down my face as I laid my head back on my pillow, our bedroom dim but bright because I was finally on the other side of agony. She was there and that was all that mattered. Healthy, whole and there with us to love and to hold.
She is a fighter, a quiet warrior of sorts ~ like gentle strength. I saw it that first night she was born and I see it now.
Long before I even knew her gender I had selected the name Morgan. I had some reservations about getting my hopes up that we'd ever have a girl, after all, we'd had three boys in about three years and having a girl didn't seem like something we knew how to do. When the ultrasound showed us the proof I was still resistant to believe until I saw her outside the womb. But I tucked my little girl name away and hoped.
Morgan means ~ "Circling the sea or sea shore, little dweller of the sea; great brightness encircling." (I like to say that means "Beach Girl.")
Her middle name Bliss means - "Ecstasy; joy."
The verses that I wrote down next to her name in her journal when she was born:
"You will be a crown of beauty in the hand of the Lord, a royal diadem in the hand of your God, you will be called "My delight is in her." Is. 62:3-4
"But I trust in your unfailing love; my heart rejoices in your salvation."
"You have made known to me the path of life; you will fill me with joy in your presence, with eternal pleasures at your right hand." Ps. 16:11
"The LORD is my shepherd, I lack nothing. He makes me lie down in green pastures, he leads me beside quiet waters, he refreshes my soul. He guides me along the right paths for his name's sake." Ps. 23
Back in June Morgan came to me and said, "I've got an idea for my birthday shoot this year. Do you think we could do my nine year old pictures at the beach?"
No, I didn't think so. I didn't want to say yes and get her hopes up. I knew life in August is always busy and though I wanted to make a day at the beach as much or more than she did, I just didn't know if it would happen. I told her so. I saw her disappointment so I said, "What about you get some beach things together though and we could use them in our shoot if you want. . ." She shrugged but did get a basket from the decor bin and put a few shells inside and took her fav earrings she bought while we were in Florida and put them in there too.
Secretly I hoped a beach day would work out though and I decided I would do all I could to make it happen.
I knew I needed to make it to the beach before school started up again. For sanity, for fun, for the kids sake. . . for my sake. Thing is, the beach is my favorite place on the earth, no matter what coast, no matter location and I suppose I took a chance naming Morgan "little beach girl" because who knew she'd love it as much as me? But she does.
First week of August I said to her, "We're going to go. We'll do it." And her face lit up like sunshine and we couldn't wait.
We played all day and I will post pictures of that another time because the day was amazing. I pretty much spent my entire day in the water with the children. I loved every second of it. Held my breathe at times it seemed to try to make time stand still because the thought of the boys returning to school and being gone during the day made me sad and I just wanted to live, live it up.
At the close of the day I packed and washed everything and everyone up and Morgan and I took fun time out for her pictures. What fun that she enjoys creating like I do - it makes the art all the more enjoyable. Kind of like painting on the same canvas together and somehow seeing the same things in our mind. Just cool.
Neither Morgan nor I had anticipated being able to shoot on an old fishing boat in the bay on the waters edge. Her first thoughts she had shared with me back in June were to "do a shoot on my surf board." I wasn't so sure what she was imagining ~ we brainstormed a bit and came up with a plan to work around a pastel color scheme since those our her fav colors right now. . . but on our drive back from the beach crossing the bay one of the boys pointed out the boat, "Mom, check that out, that would be cool for photos." I looked over at Morgan, "What do you think?"
"Awesome, Mom."
So I circled under the bridge and went to see who I could ask. . . finding a bait shop, I entered and saw a middle aged woman coming through a back door. She looked more the friendlier sort then the men cleaning fish and selling bait. I told her I was doing some photos and could I use the boat. . .
After hearing the tale of the boat, the long line of family fishermen who had floated their way to bragging rights, she smiled and said, "Follow me."
The sun was setting and I knew we didn't have much good light left - but just enough. The bay was blue and yellow, the skies painted towards the coast but the boat was docked opposite. Morgan and I were probably only there for ten minutes but we captured her in all her favorite elements and when I look at these pictures I see her just as the nine year old girl she is - so full of wonder, my little girl by the sea, blissful, peaceful, gentle strength that radiates through her determination and deliberate living.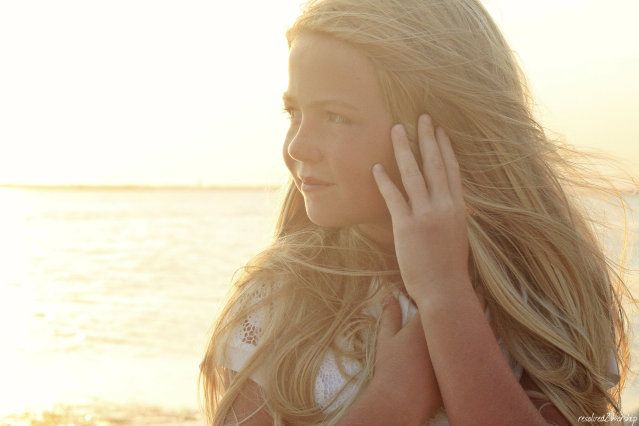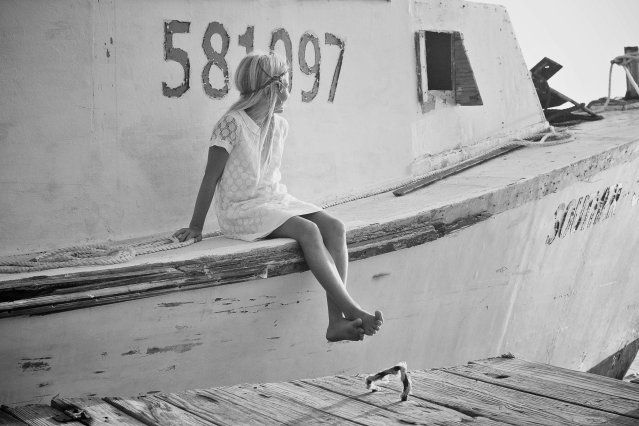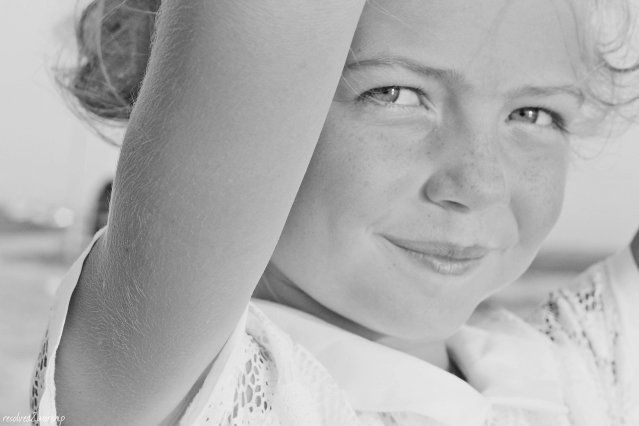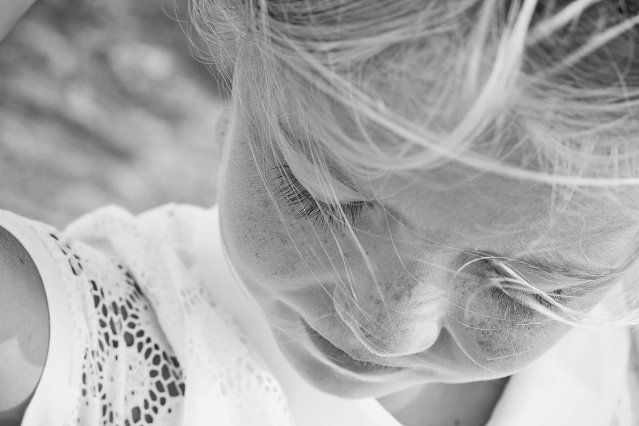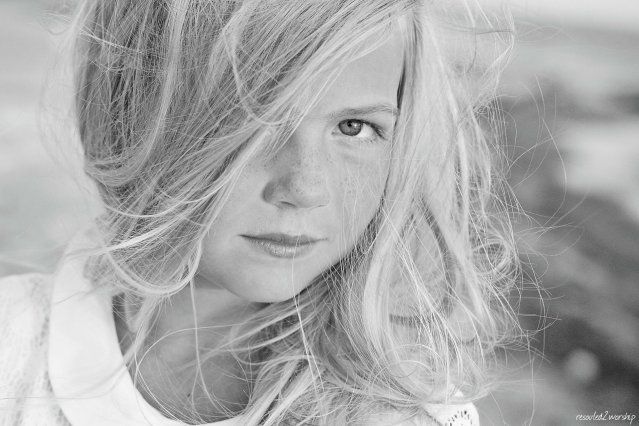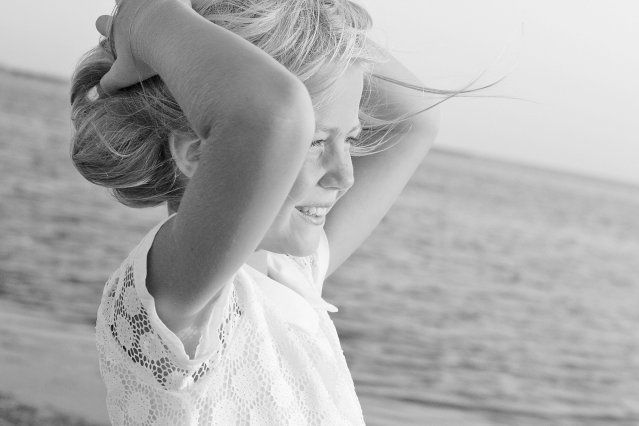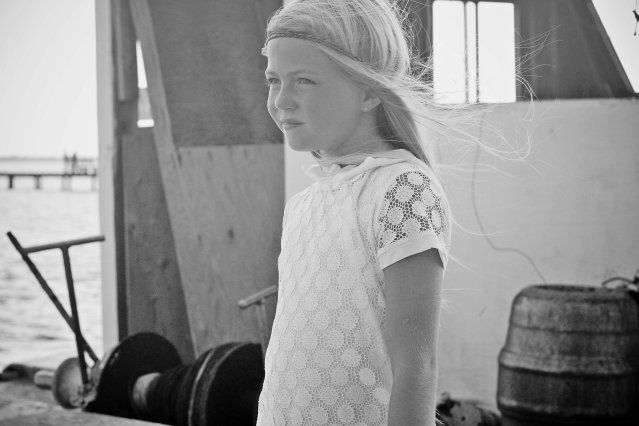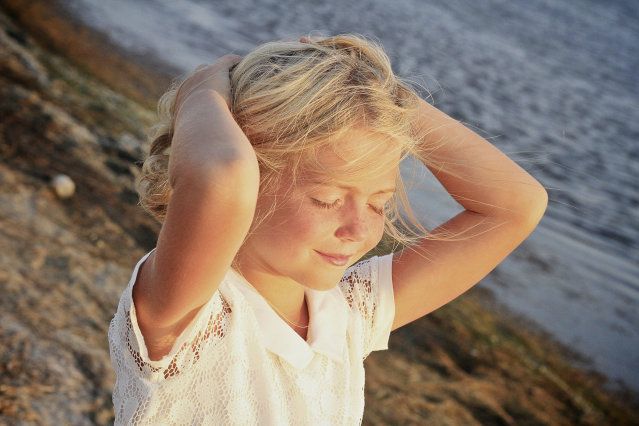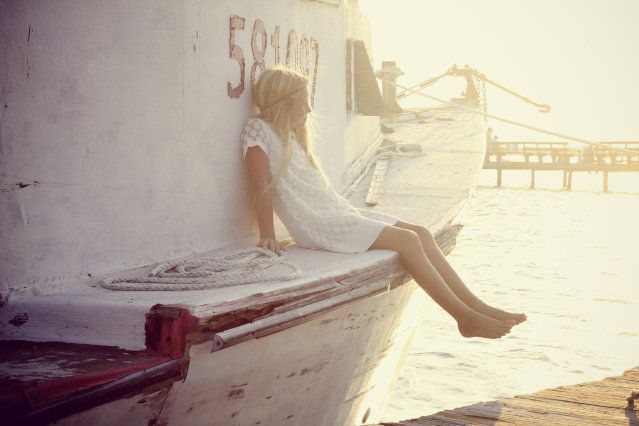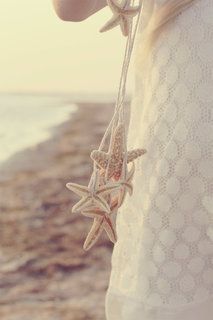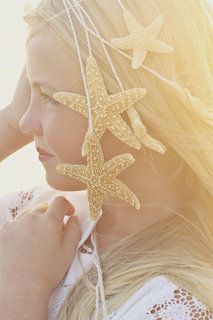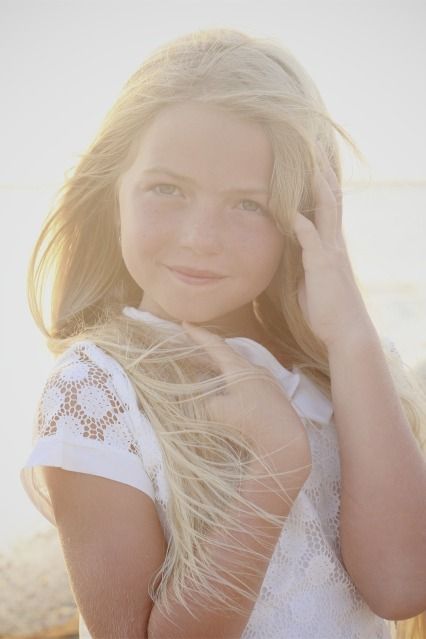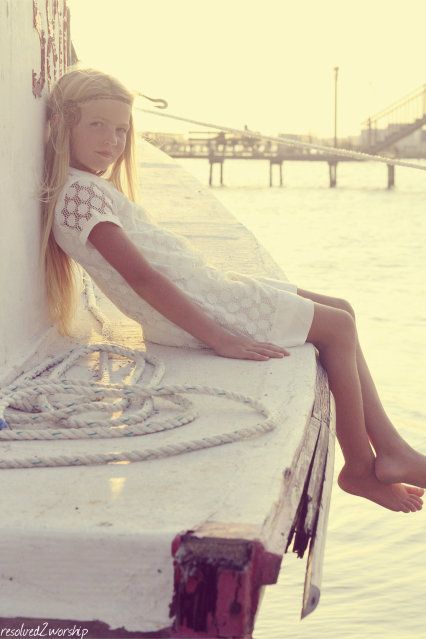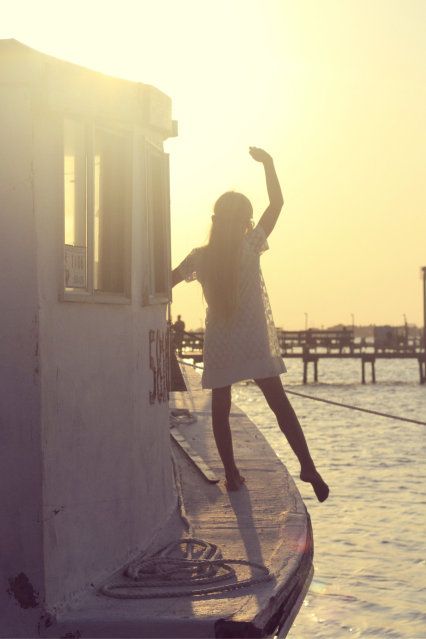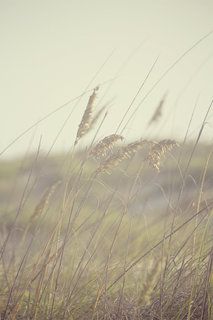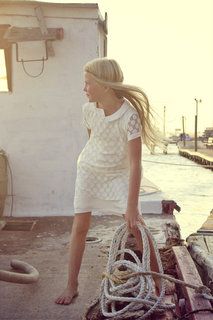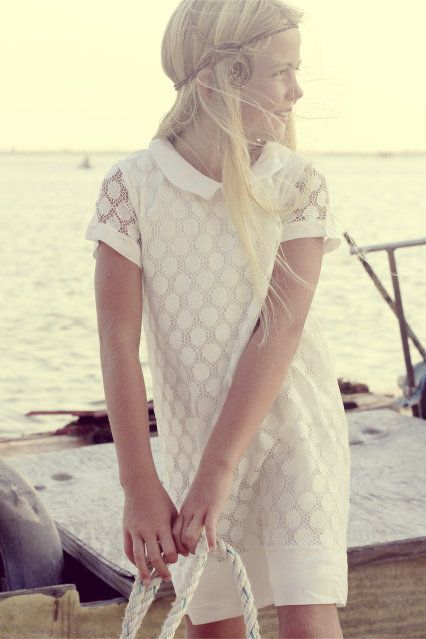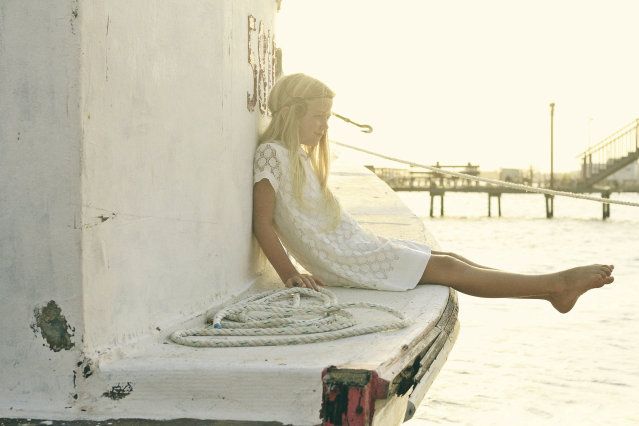 It's been a interesting year of growth for Morgan, for mothering her, seeing her slowly (yet not so slowly) move from little girl to not so very little girl anymore, kind of like pre-pre teen.
So much we have in common in our interests right now and yet so much we do not in personality. She is so much more sure of herself than I, at the same time always weighing everything back and forth listing pros and cons. A list maker, an organized, calculated young lady. Smart. Disciplined, yet somehow easy going. . . maybe that comes with just being four of eight children and knowing that is her option of good survival.
She is introverted, happy though - not the kind full of smiles but the kind that is blissfully, inwardly content. She reminds me of that verse in Proverbs that talks about how someone can have a sad heart and wear a smile and one who is not smiling can have a very happy heart. She is that calm, inward happy heart that is discovered only by those who care to pursue.
Morgan isn't a big communicator, you must dig, you must want to know and then you must discover the path into her heart. She is full of secrets, kind of like a treasure chest with a lock and she only gives the key to those who have earned it. But when you have earned it? Then you find a very deep, full, imaginative girl that holds a mystical sense about her that I kind of have a feeling only the one she falls in love with someday will have the pleasure of fully knowing.
I love this about her.
At the same time find the challenge of discovering what is in her heart daunting after her three older brothers who hold nothing back and give more than I might have asked ~ living life outloud in an awesome way - that might intimidate some but the realness draws me close to them. Finding closeness with Morgan is something I must seek out and make priority. I must come in quiet (which is hard to come by in our home) and it must come from one on one time. It comes through connecting with her on an intimate level sought out by persistent desire on my part, doing things side by side that let her know I care.
Then the treasure that she is begins to reveal itself, slowly but purely and authentically.
Someday, her husband to be might want to read this. I have a feeling that the person who wins her heart one day will have it very, fully, fiercely loyal. She is all about one-on-one companionship. When she loves she loves hard.
I find a strength in her that I admire, a heart that wants to know God and live a life according to His Word. I can't count how many times I have seen her dealing with something inward or just something difficult outwardly here at home where she goes and spends quiet time with God, reading His Word. That is where she runs in time of trouble. I see a fighter who stands firm in her beliefs. She is a tough girl, in the right kind of way. There is depth. Discernment.
I don't know if I will ever learn to read Morgan just right. Don't know that I will ever quite find the way in. I want to but I don't know how to be the mom she needs, a mom to a daughter that ticks so different than I do on the inside. I do know I make mistakes and we talk about that. I have to ask her if I do things that hurt her because she doesn't give out free information. . . but I won't give up. We keep trying, start over, begin fresh, seek God and we pray together.
She is my first born girl ~ like Scott being the first born boy, another who I suppose I really don't know what I am doing as she grows. Just about the time I got comfortable and thought I was pretty good at mothering hyper out going energized boys, God gave a quiet daughter. We are growing and learning this mother-daughter thing together. God knows this and I will trust His guidance ~ for it is there for the asking.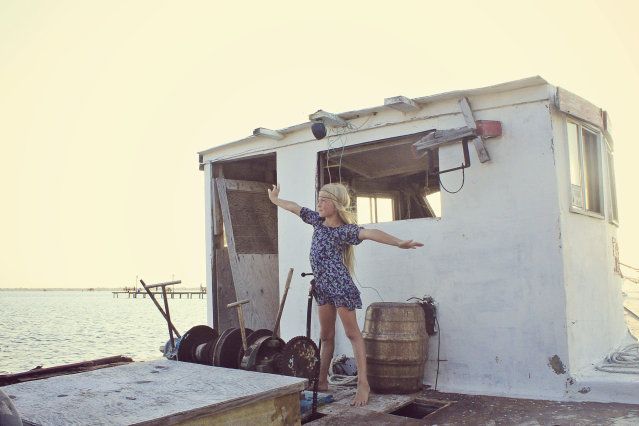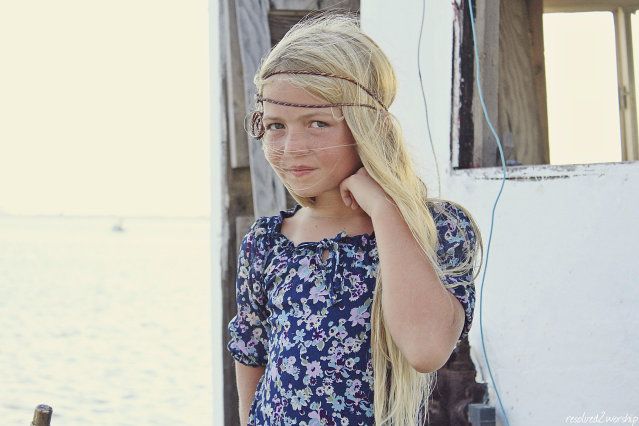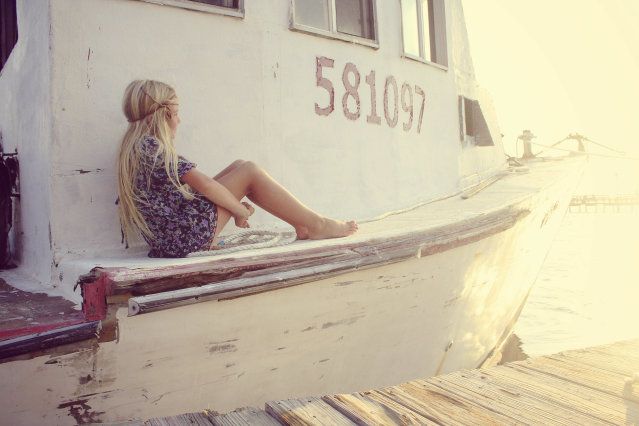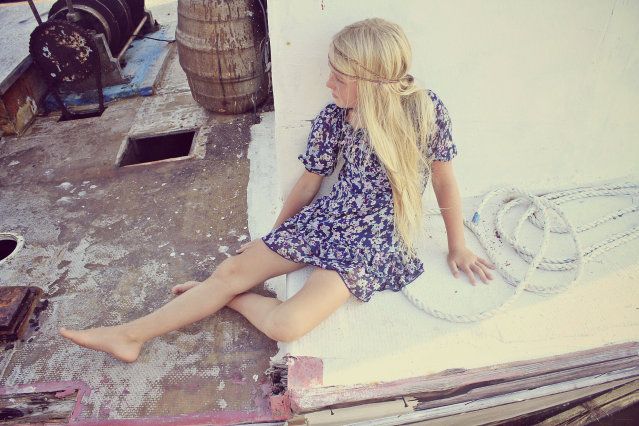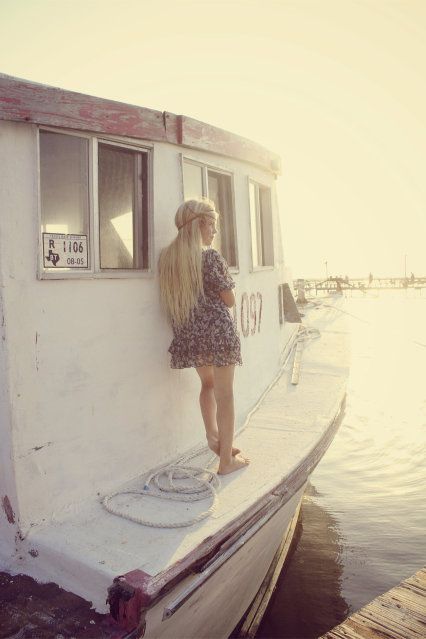 Our closest beach doesn't typically have the prettiest shells so Morgan packed some
in this little bag to bring down to the beach. . .
Morgan LOVES crafts. When I was her age I spent hours painting, drawing, sketching or redecorating my dollhouses over and over.
She prefers crafts like making earrings and jewelry, creating all sorts of little paper crafts, or decorations, even knitting and hand sewing.
She has way more patience than I do when it comes to creating things.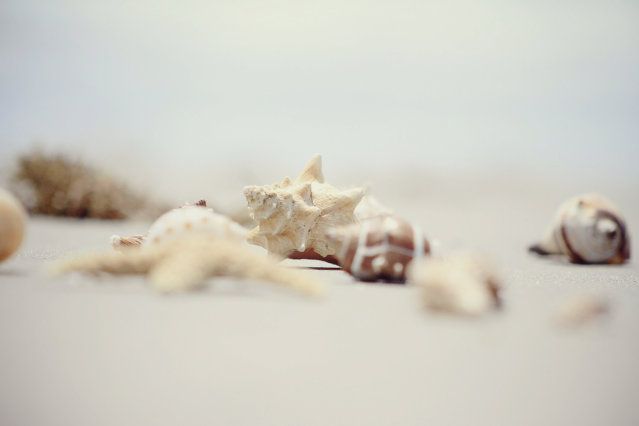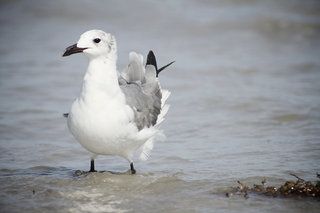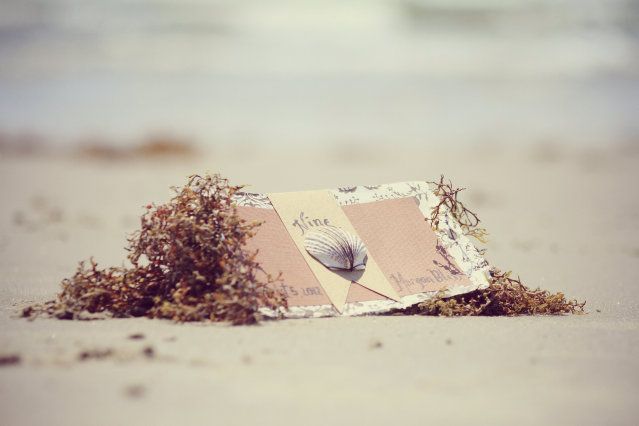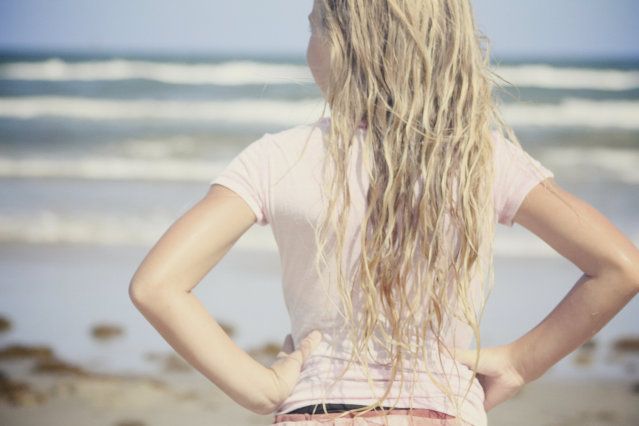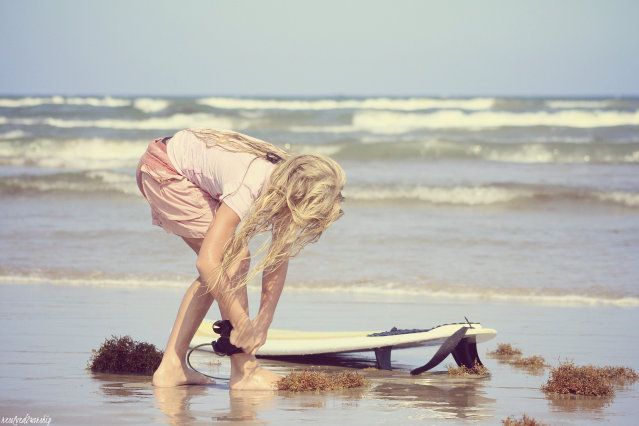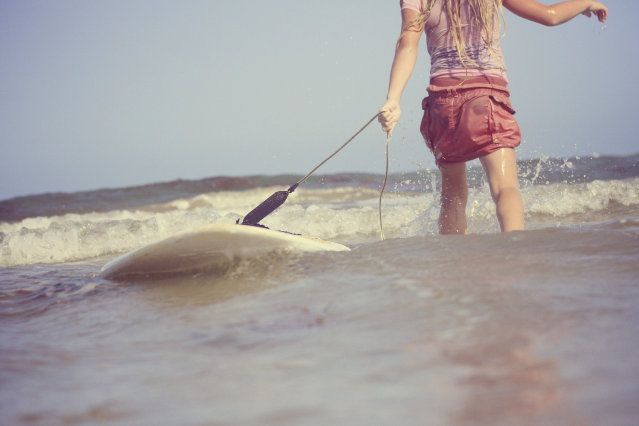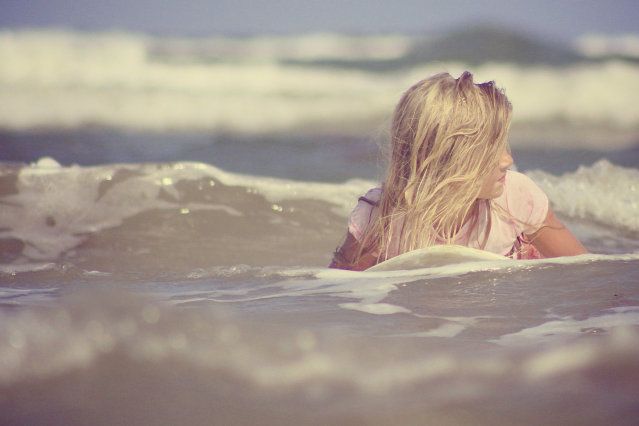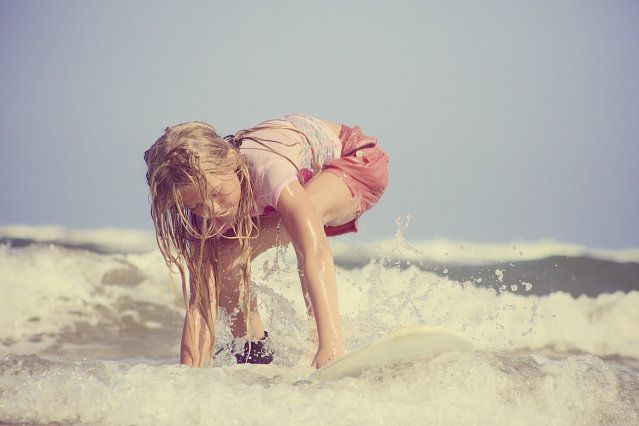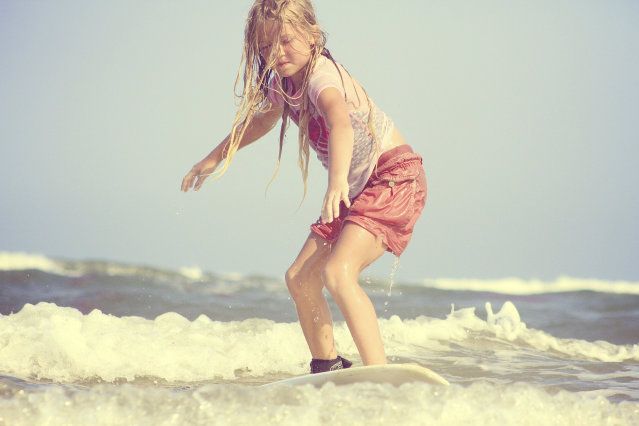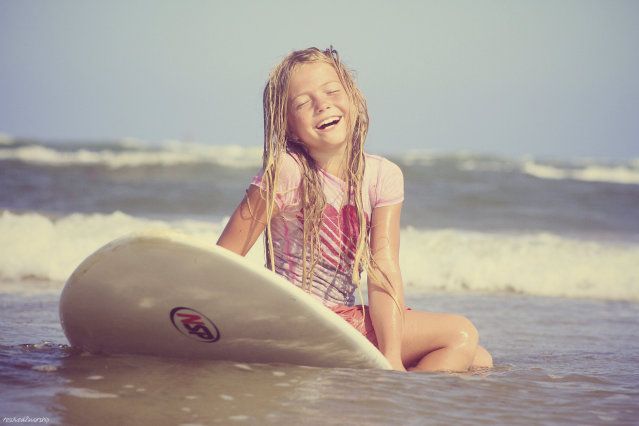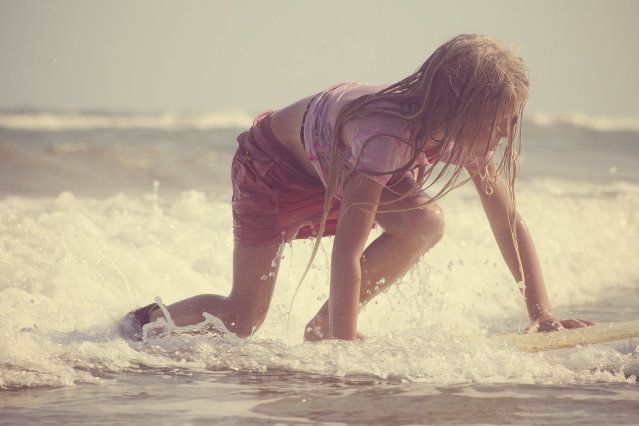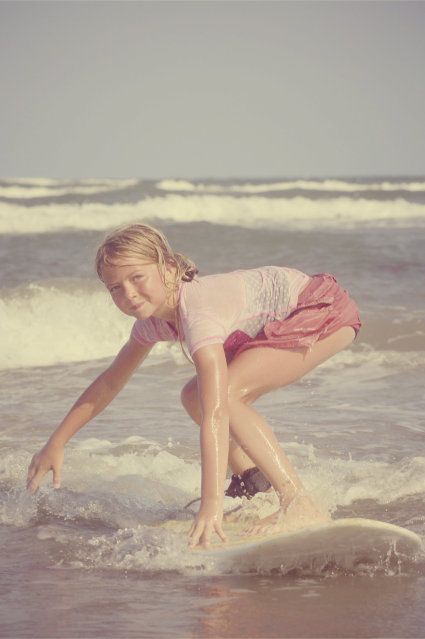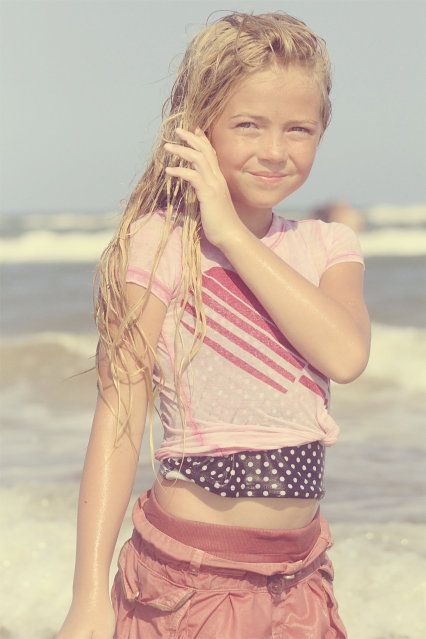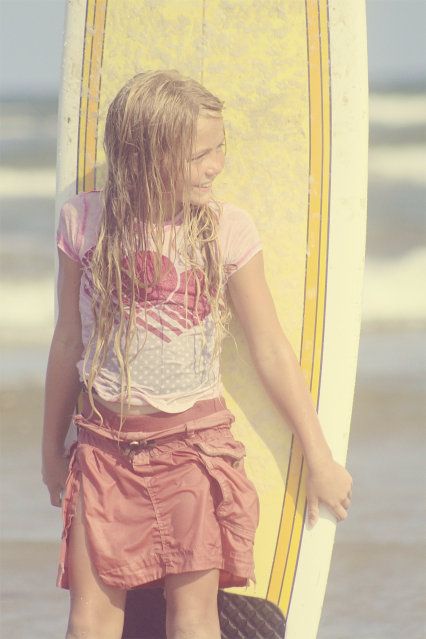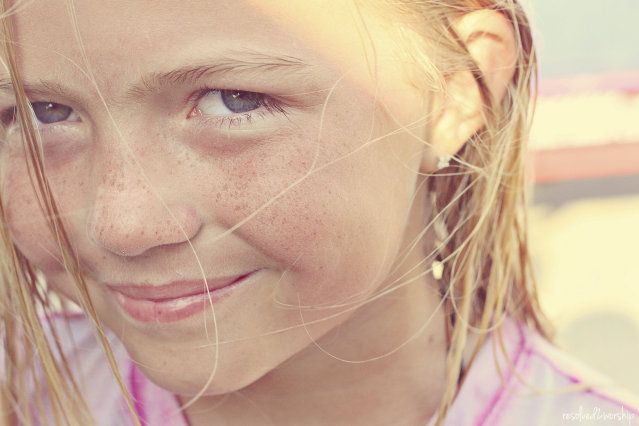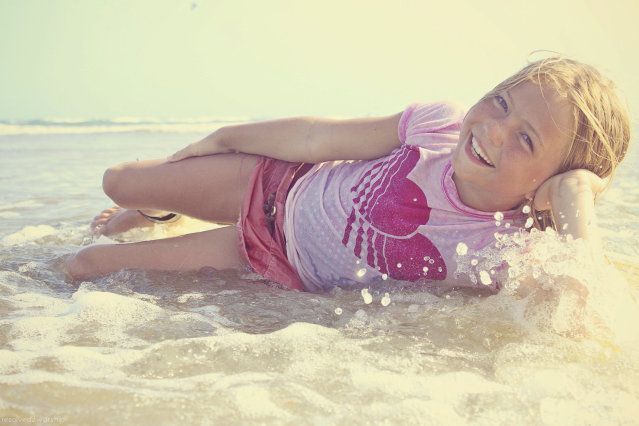 Morgan's birthday landed on a Sunday this year. Course as usual we take who ever it is that has a birthday on a special date just all by themselves. We asked Morgan what her choices were. She was very sure it must be for a swim at the lake. I love her choices. So we packed some chips and salsa, some sweet tea for Robert's sake (Morgan is very health conscience so she only sips a little lol!) and headed for the side of the lake with the cliffs where it is clear and very deep, her favorite spot.
She has become quite the good little swimmer but due to no shallows and only up the cliff to get out of the water, we took precautions to have a life jacket and float so she could snorkel 'til her heart content that evening. What a lovely, beautiful evening it was too! She didn't say much unless we asked, but she sure smiled and shined all night long, our little daughter by the sea. Robert is so proud of his girls. I love Morgan's resemblance to him.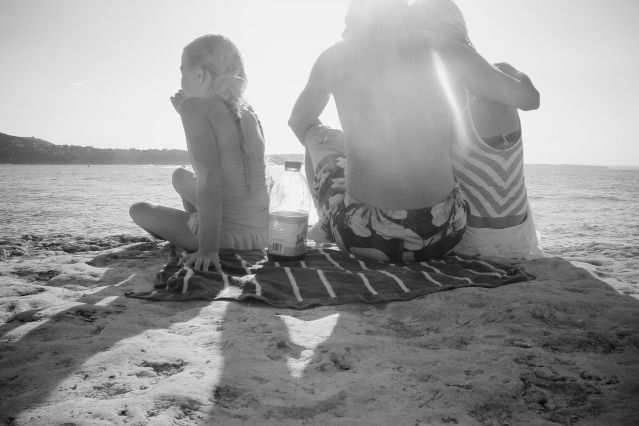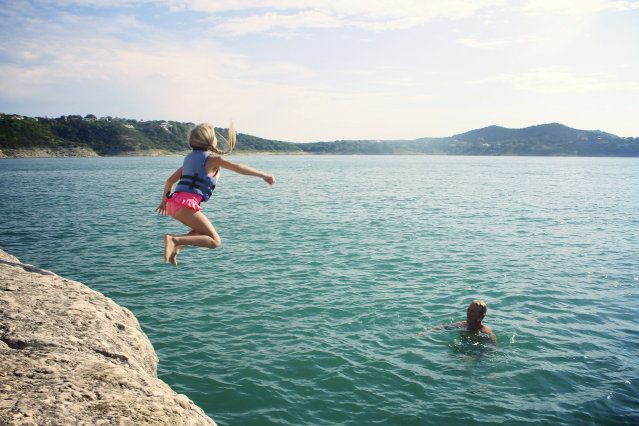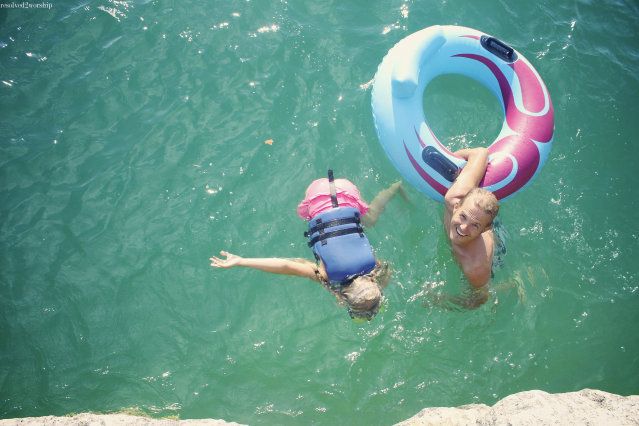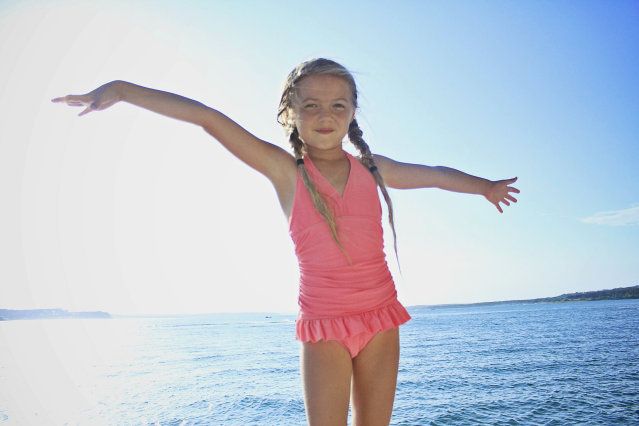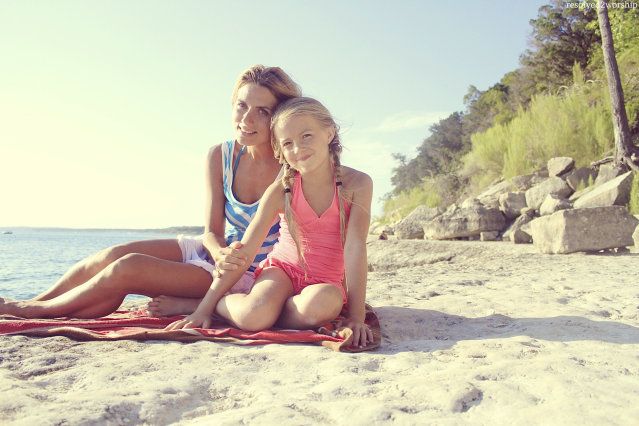 We went straight from the lake to her choice of food: Italian (she ordered a personal pizza with pineapple) - where we could watch the Olympics while we ate, and then dessert at BJ's - fruit cobbler with ice-cream. She wanted jewelry making equipment for her gift . . .
Oh, and a day at the beach.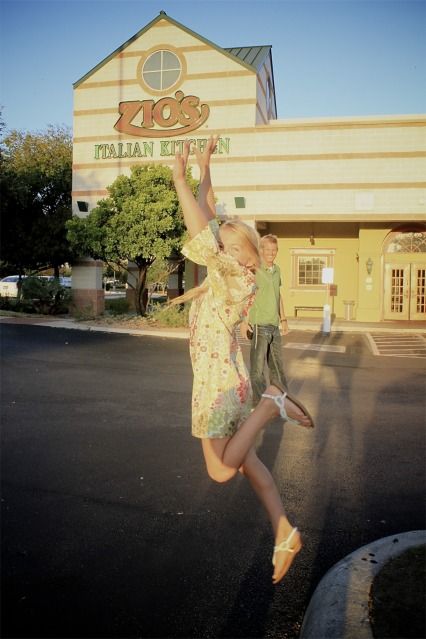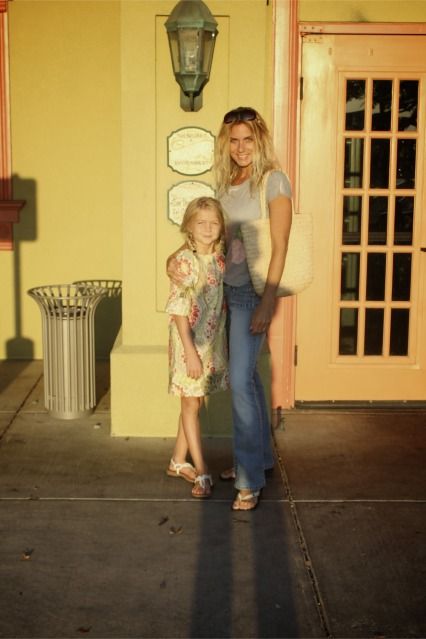 Here is a shot I took this month of Morgan jogging at the park with Bub and her cousin. She loves to run and runs regularly. Due to her accident when she was four we wondered if running would ever really work for her. . . back issues have continued through the years, though this year she has had less then ever before. She seems to be slowly growing out of the issues she had in the past - so glad!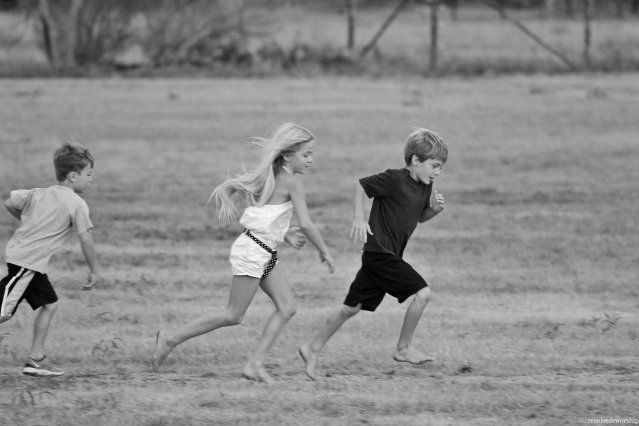 Morgan works really hard throughout the year as a model for HannahKate and a few other photo shoot projects/companies. http://flipflashpages.uniflip.com/3/71973/151491/pub/
She is so patient, enduring, takes it very seriously - because it is not all fun and games. It is very hard work. Everytime we plunge into a job I am amazed at her character.
This is something I have given her the choice to do as she has gotten older and of course there is an element of enjoyment that she finds in doing it or she wouldn't be up for it, (she loves design, creativity, fashion, keeping some of the clothing and seeing the end results -- and I do my best to make it as fun as possible in the situations!) but over all it is exhausting and she overcomes the challenges and puts in 100% all on her own accord. I am continually in awe at her as she works along side me during the weeks that I work for HannahKate.
In winter months she is typically doing summer clothing and when she is tempted to shiver and let her teeth chatter I will hear her mutter under her breathe, "I am at the beach, I am at the beach, it is sunny and warm!" The month of August we are typically working winter clothing in hot temps. You would never know by these pictures last week that it was 100 degrees and she was on a three hour long marathon shoot to get twenty clothing items shot in one day. The sweet lady who owned the winery we were shooting at was so kind to bring us nice cold water as we worked.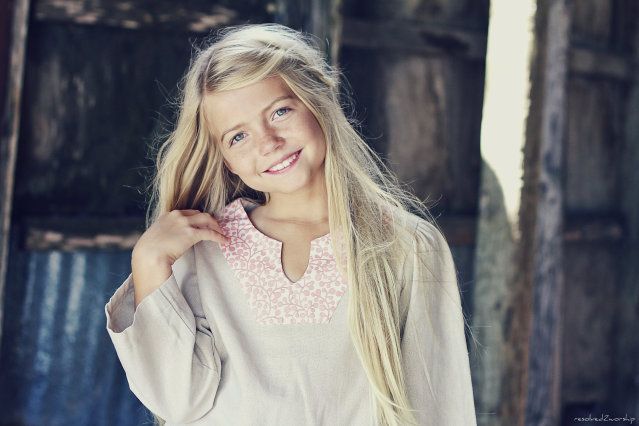 Her once a year birthday, and my mama brag time on her
. . . but truly, I love this girl and God has been so gracious to allow us the privilege of loving her, having her these years while she is living in our home. She is a delight and a gift and our whole family can't imagine this place without her - our little blissful beach babe who we all love so very much. May this tenth year of life she is now embarking on be a wonderful one and may God continue to work in her heart and draw her to Himself.
Alyssa