I shot a wedding over the weekend. I had said no to weddings this year and then after the first 13 I was asked to shoot, in seriously probably the first few months of this year, I wondered if I should have picked this year to say no to outside work after all! Seems everyone is getting married and that's exciting!
No, I'm sure this was the year to not do outside work. My hands are completely full. Running over full!
But a sweet cousin of mine married this past weekend and last minute I said yes. I really wanted to be able to help her out. Shelton was my right hand man for the job. So great having him along! He has a super artistic eye.
So I got home 'round midnight last night. Drove through a horrid rain storm. If you've shot a wedding you know what kind of exhaustion I'm talking about. The type where your feet ache, legs are about to fall off, brain is dead and eyelids feel like they are one continuous camera shutter. Your knees feel broken and you can't remember your name. I crashed after nursing the baby for an hour - think I crawled into bed 'bout 1am. I could hardly move.
The night was short and children were up and needy for mommy around seven, or earlier. Everyone was loaded up and out the door by 8:45 for older boys to be dropped off at football camp at the highschool. Before we left though I had just gotten all the little girls dressed all sweet and I'd moved to the laundry room to put in another load. . . the little girls had gone outside. I'd forgotten all about the bowl of side walk chalk left out. Someone got the idea that it would be cool to make the chalk into powder. And sprinkle it, and smear it, all over their clean little selves.
Yep, all had to be hosed down and redressed (four kids included in that mess). And no, I didn't come out the door seeing them all covered like that with, "Well, aren't y'all cute!" I was more like, "Oh-my-word-what-in-the-world!"
So, from football it was a few errands and then to swim lessons for the four who had gotten into the chalk.
Robert did something beyond amazing today. He hired a cleaning lady.
I felt sorry for her. Our home with me away over the weekend? Are you kidding me?
I was driving home from swim to pick up a gymnastic suit for Brighton before heading to the next event and it dawned on me I was coming home to a clean house and I just couldn't help myself from screaming outloud as I drove, "Ahh! Thank You, God, for the cleaning lady coming today! Ahh! Help is awesome! I love you Robert!" Yea, I was a bit giddy.
Then to Brighton's first gymnastics class - to which we were nearly 20 minutes late for, but nevertheless, what was left of it she was thrilled about. She is tiny and she is flexible so we thought we'd give it a go this summer and see if it's her thing. The hardest part apart her gym lesson was watching Lakelyn. She felt extremely left out of the deal and I spent the 40 minutes I was there keeping her from crawling over the dividing wall between the watching area and the activity area repeating the same answer to her question, "I know you had a birthday, Baby, but you still have to wait another year or so before you can go to class with Brighton."
Well, that and running her back and forth to the restroom because she still doesn't quite get this potty stuff down yet.
From gym it was back home to put away ALREADY FOLDED laundry. Thank you, cleaning lady. Then we loaded back up again to take Shelton to meet up with a friend to travel to wide receiver camp for the evening. On the way the car broke down on the highway just as I was about to exit. Not in a cool place either. That whole ordeal lasted quite a while. I was able to get the car into a parking lot, run to an ATM and get the money for Shelton to take, get him to his ride -- car still stranded, grateful for a son who is 14 this week and is more responsible then most 20 year olds or I would have never made it out of that mess!
We had to get Bub and Morgan to summer workout camp up at another field by 6:30 though and now I was without a car and no way to reach Robert (he and Christian were working a job where he couldn't carry his phone today) so I did what I hate to do (because I'm far too independent) but so glad I can do in time of need. . . and called my parents. Long story short, I was able to get mom's car, drop mom back off at her place, and then head out for the sports field and got there just in time for the kids to start their workout.
I spent the evening on the field trying to keep up with three energetic little girls. I was sat on, scratched on, hair pulled, clothing scrunched all over me - you moms know what I'm talking about.
Ever get to the end of your day and you feel like you've been pretty much torn apart? Not because the little ones mean to but they are just all over you all the time and you have milk and water bottles spilled on you, poop and who knows what else here and there, hair matted, flip-flops broken, no make-up on - um, did my hair or teeth get brushed?
Little hands always grabbing and needing and wanting and squeezing and pulling and hugging and smooching and smearing and tearing and ripping and sitting and standing, and climbing all over you? Multiply that by several at the same time?
Smile.
Tonight I sit here alone and just writing those lines I can feel it again, as if they are still on me. . . because I am just so use to it. I get to the end of my day with bruises and scratches and don't have a clue when and how they happened. I love them and I love it, this time like this - but I'm human of course and there are times where I just grit it out, bare down, fight through, swallow that scream I'd like to yell when my last hairs feel like they've been pulled from my head and every single scale of skin has been pulled at or stretched or scratched.
Haha, I feel used! -- as a jungle gym, feed machine, and you name it.
Home by 8:30 tonight, a near empty frig to come up with dinner from, tired kids, tired husband. . .
But a clean house.
Wow.
And I ache all over. My eye is still fluttering strangely after shooting 4000 pics over the weekend. I am in denial just now about all the time I do not have to edit those 4000 pictures and reminded why I do not do wedding anymore.
Everyone is fed and showered. Morgan accidently swallowed some shampoo when washing her hair and has been pretty upset about the taste all night long. I've tried just about everything in the kitchen to try to get the taste out of her mouth. Lots of water and teeth brushing and mouth wash even. Baby of course had to be fed before putting down. Shelton came home late with tales of wide receiving. Scott worked hard this evening on his business card design. He repeatedly asks me to come do an "artistic edit," as he calls it. Christian got cleaned up after a long hard days work with Robert. Lakelyn tried on lots of high heels tonight and Brighton was into combing her hair.
Yep, even at the table there was a comb. I noticed it . . . and other stuff too that so shouldn't be on the table.
I know, some might not understand this, and even just a few years ago, a few kids ago, I might not have understood it either - but things that use to be a big deal just aren't anymore. You just live life differently when you have a big family. Or at least we do. Life around here has less rules then it use to. Things get simpler in that way. You pick your battles. There are so many battles all around me that in the super long list of the battles that must be fought, I kind of see combs at the table somewhere nowhere near the top of the list.
And I fixed French Toast from sour dough bread - dipped in fresh hen eggs (so kindly given) blended with raw cows milk (that Robert has taken a liking too and picks up on his way out of town). With the left over eggs I made omelets: tomatoes, cheese and peppers folded with this yummy garlic seasoning stuff that I just pulled from the shelf and splattered all over. We had fruit topping and honey on our Fresh toast. Sounds great just now, but I can't remember eating very much.
We had togetherness and craziness. It is so loud at meal time. I'm pretty sure my average sit down time at supper meal is 3 minutes.
Robert comes in after a long day - nothing like my kind of day, but nevertheless, long, hard work day. We both physically put out so much and when we finally see each other at the end of the day we fall into each others arms, usually standing out in the middle of the drive way because as soon as I see his truck coming I go out the front door as quietly as I can get out so that I am the first one to get to him. . . and we just hold there kind of leaning on each other to give the balance in the middle to make us both still stay standing. We're both dirty and smelly and tired. But full of gratefulness; of hope.
Typically it doesn't take long for kids to join in, and then pulling and calling they want daddy to see this or to hear that. We work together to make things happen, for meals to happen, for life to happen. . . for love to happen.
For this home to be a place where we all long to be.
~
I should be in bed, and that's where I am going. I can only hear the crickets outside now. I will fall asleep as soon as I hit the pillow.
How thankful I am for that pillow, the clean sheets, the bed, the AC on, for a husband who did half the dishes tonight at the sink before helping Shelton get in tonight.
I hurt all over and I am only 34 and I could have never imagined in a million years I would be living the life I am today.
There could be no way in the world to describe my days. Not for real. My life. No writing would really explain, at least not my limited skill at writing. There is a part of my day though that I cannot leave out because it's really all that I remember the most at the end of the day and that's this:
My day, from the first waking breath until now, one minute from midnight ~ it cannot be survived in peace or joy or surrender, or for that matter, the grit needed to fight in order to get things accomplished ~ without a constant Companion whom I can continually and always call out to for guidance, strength, help, and comfort.
In my early feeding of the baby this morning I read the following:
"...Who is a God like You, pardoning iniquity and passing over transgression for the remnant of His inheritance? He does not retain His anger forever, because He delights in steadfast love. He will again have compassion on us. . .You will cast all our sins into the depths of the sea. . ." Micah 7:18-20
With this kind of promise to start my day I can go forth knowing that God - GOD, WHO DELIGHTS IN STEADFAST LOVE - will see me through to the end. A God who pardons my sin, He will give me grace to live this day for Him. In every circumstance, whether it be chalk covered kids seconds before needing to leave, whether it be broken down car right before I need to be somewhere, whether it be dirty diapers and kids hanging all over me in 100 degree heat hours on end, whether it be 9pm supper. . . I can take this fallen and broken world full of it's suffering (whether it be big or small) and carry those burdens to Him.
He is my Sustainer. In my neediness I come and I find refuge in Him. . .
And excitement for the next day to begin!
~
Our May baby girls! Oh, they sure keep me on my toes right now but I love them like crazy!
Here is Brighton waiting and watching for Robert to come home that evening for us to go on her birthday date!
She is wearing magnet earrings on her ears because she wanted to get her ears pierced on her 5th birthday that night out with us. . .
I thought this might allow her to see if it was something she really wanted or was it just because Morgan had earrings?
She assured me she was quite sure she was ready to take care of her ears and earrings now that she was 5. She has done marvelously.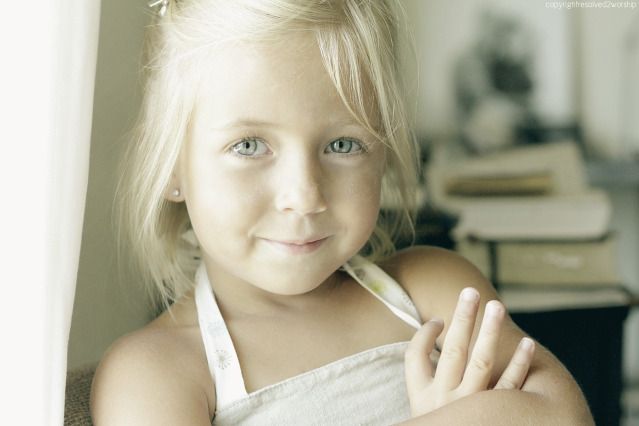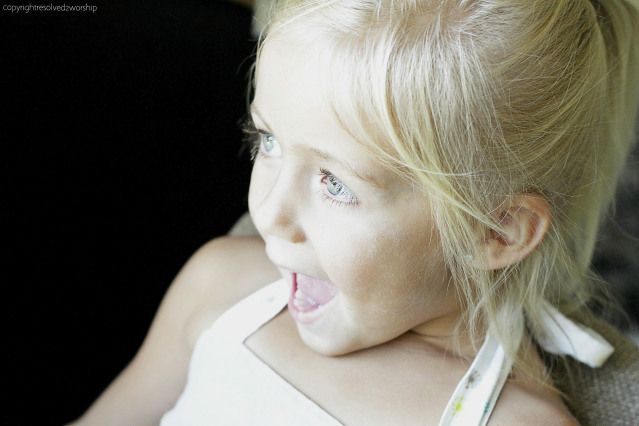 He arrives!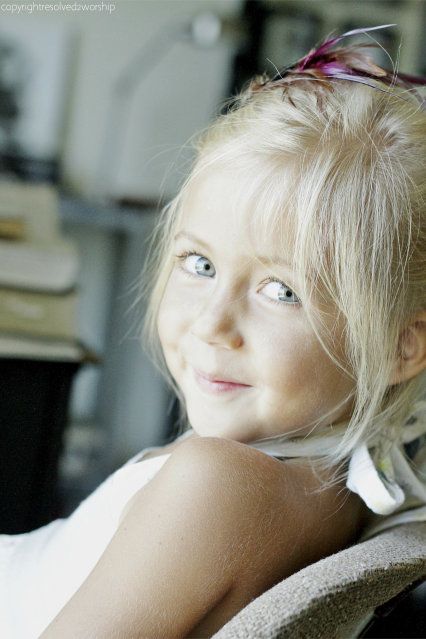 Itty and me on her birthday ~
My absolute miracle baby! This verse comes to mind when I think of her pregnancy and birth:
"I sought the LORD, and He answered me; He delivered me from all my fears." Psalm 34:4
Fear of man, fear of death, fear of loss. Fear of not knowing and not controlling.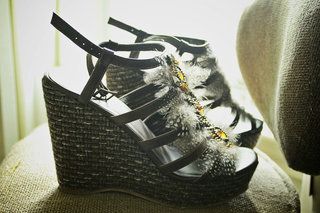 Brighton loves all things beautiful! It was important to her what I wore on her birthday date. I found
this pretty special actually. She went to my closet and wanted to pick out the shoes and outfit I was to wear on her date out with
us. She picked the fancy feather shoes that Robert got me for Valentines. They are really way to pretty of a shoe for my feet.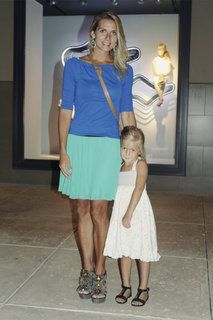 Her choice of activity was to get her ears pierced and shop.
She loves all things girly and feminine. Love it!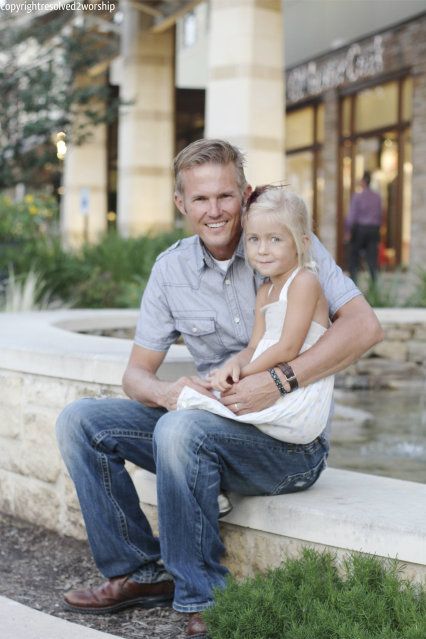 What a wonderful shopping daddy that night of her birthday! (so patient!) She selected the Cheese Cake Factory for her
place of dinner. Her stomach wasn't nearly as big as her eyes that night.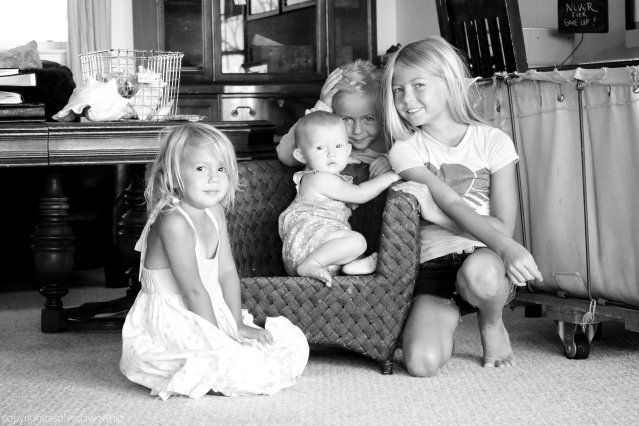 Brighton claims these girls as her "bestest friends."
I always like for the birthday shoot to be radiant of who they are. These little red ballet slippers where
the gift I bought for her for her birthday. They reminded me of her so much. She adores them.
One Sunday afternoon in May I took Brighton out for just an hour and we had fun shooting these pictures at a farm nearby.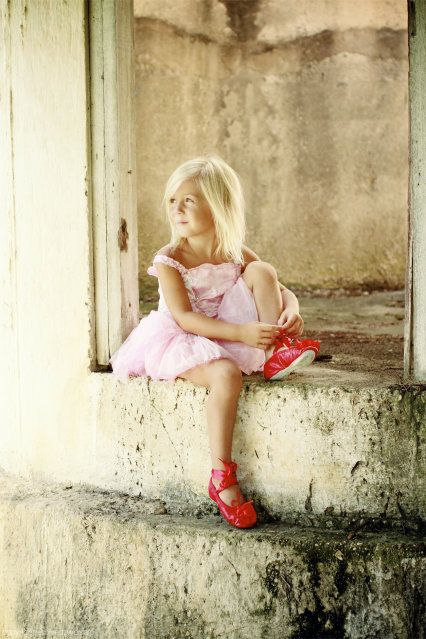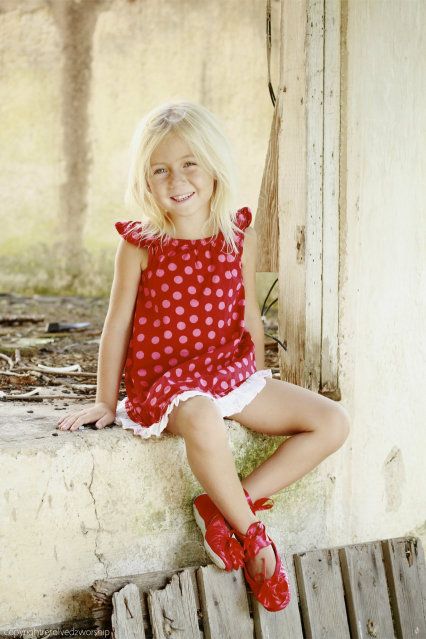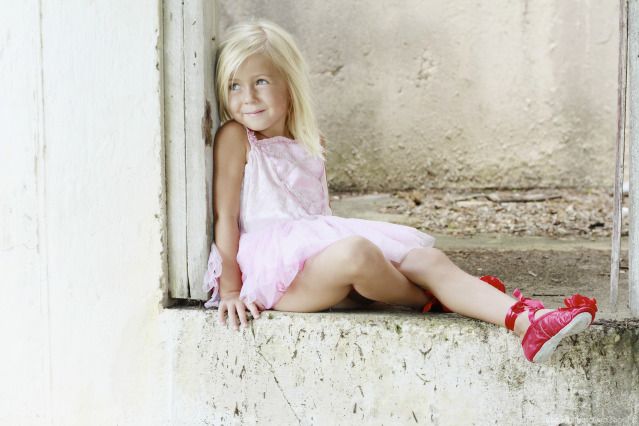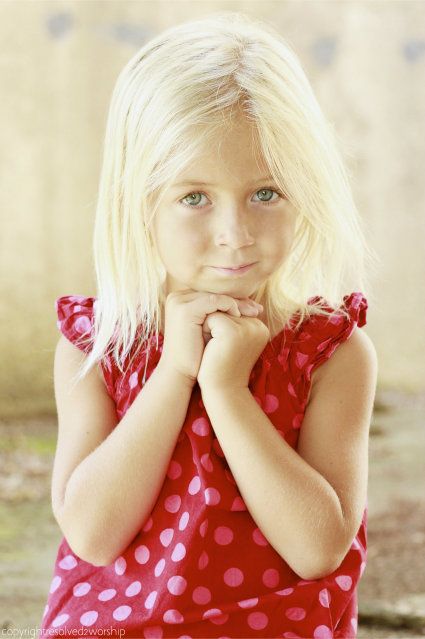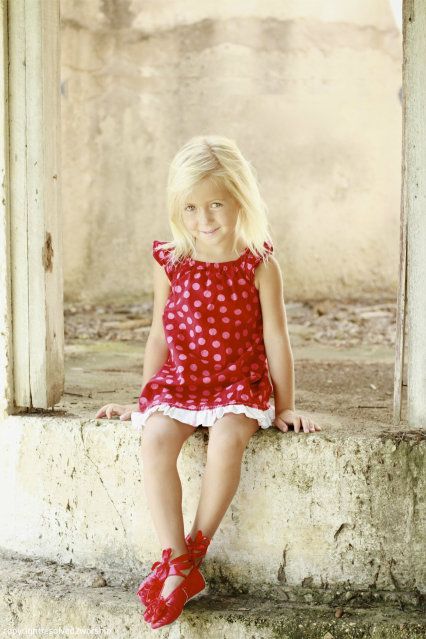 This little dress is one she picked off the sales rack at Target last year. I added some trim from my
sewing box to give it a little more fun. The lighting in the well house middle afternoon was so warm and pretty.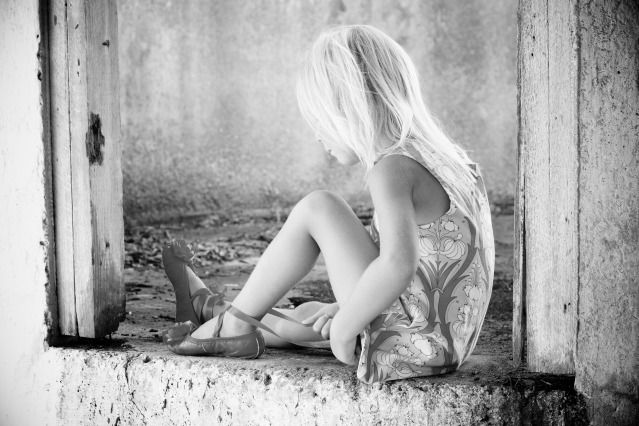 Love this little dress too - a Hannahkate pattern and fabric. It's reversible and she loves wearing these jumpers all the time.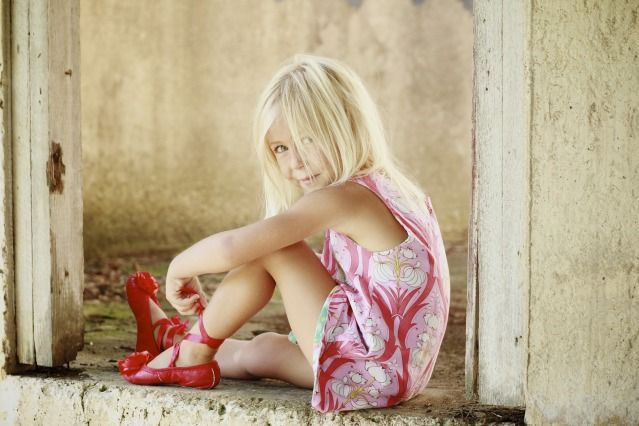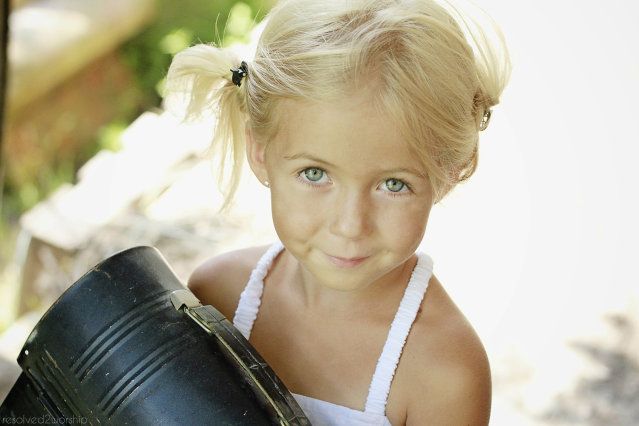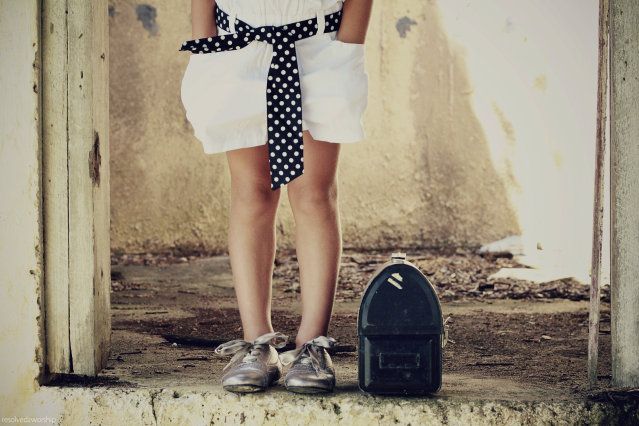 This little outfit was a steal of a deal at Burlington Coat Factory for I think just a little over $5.
Add the sash and again Target's shoe sale last Feb. ($2.99!) and an old lunch box and a pretty cool well house. . .
This laid back feel in these pics is so her.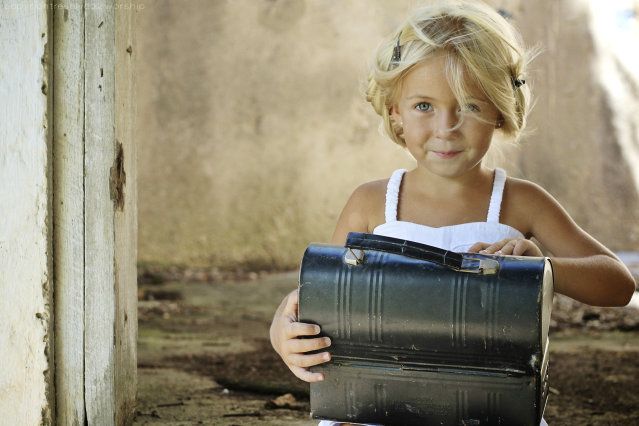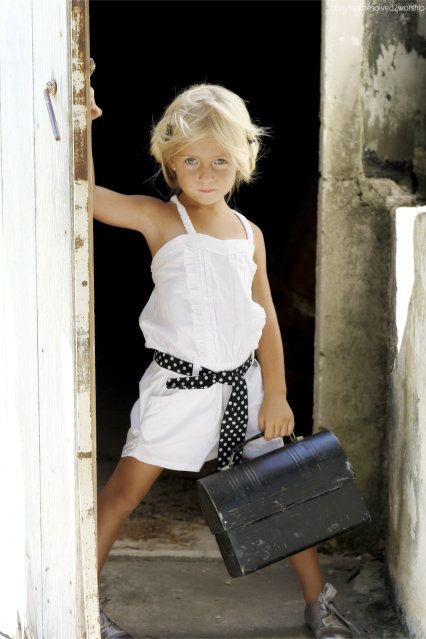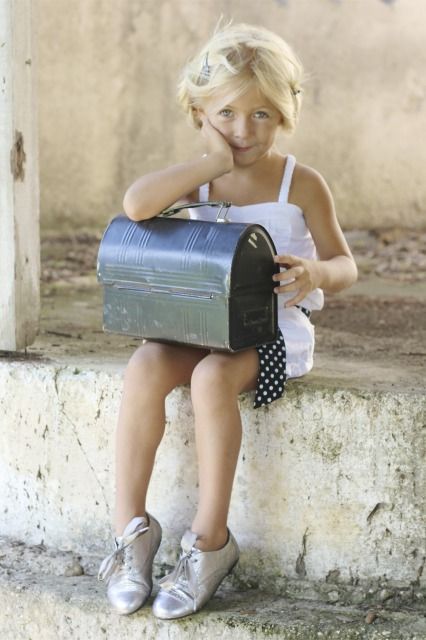 And this is the yellow dress. On her birthday date this is the gift she picked out during our shopping time.
She is very proud of her yellow dress.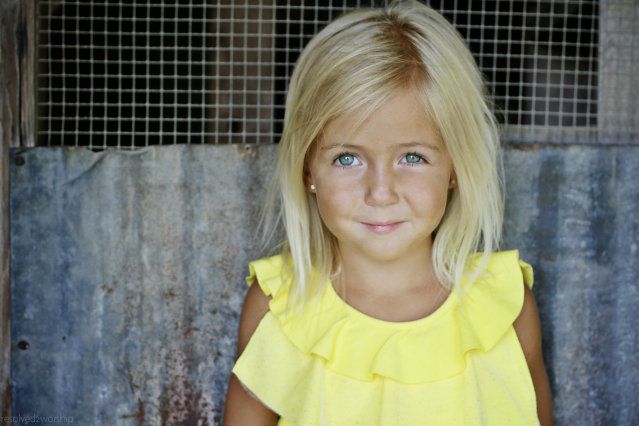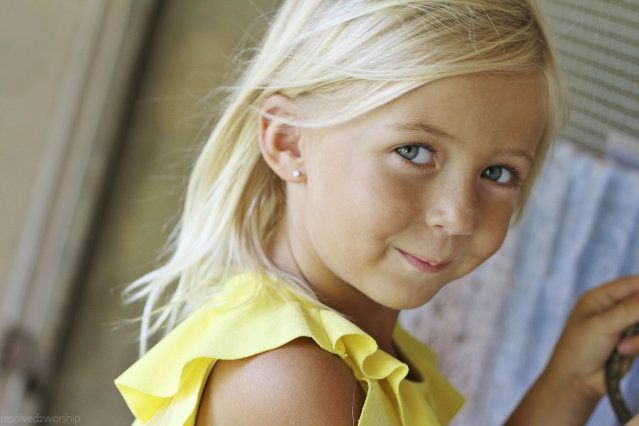 She is quiet, contented, deep, extremely sensitive to spiritual things. She loves to love. And please. She loves to hug and kiss and be close.
She sees beauty in everything. She's like a little bird, or a flower, or sunshine - or blue sky or the ocean. She is a constant reminder to me of God's
compassion and mercy. . . and unconditional love.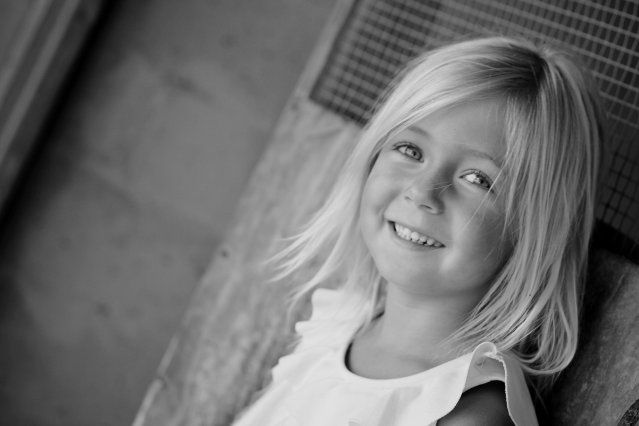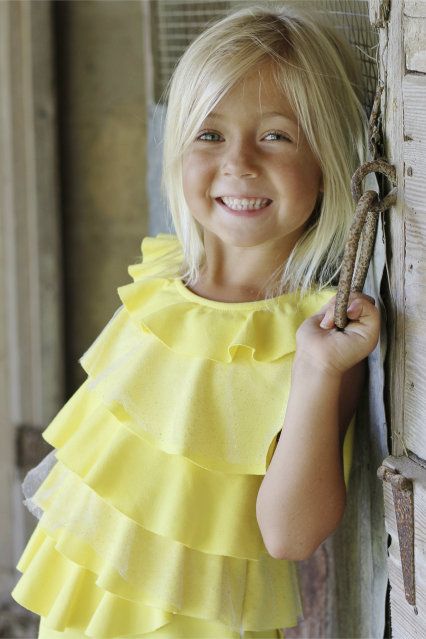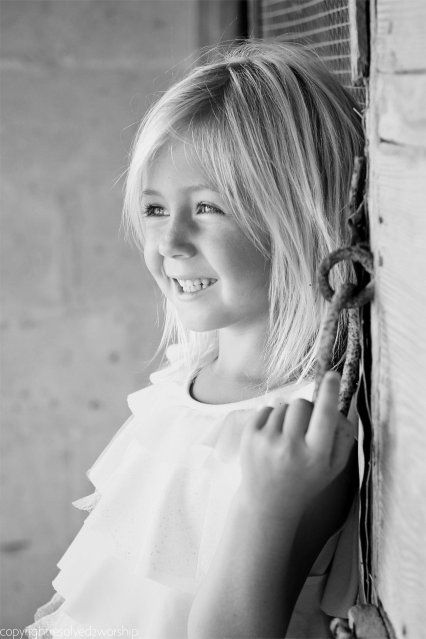 Lastly, a blue dress that was her cousin Tiffany's and then passed to Morgan and now hers. I love her sun blotched skin.
She thought these pictures were pretty much the best dress up party ever. Just for her.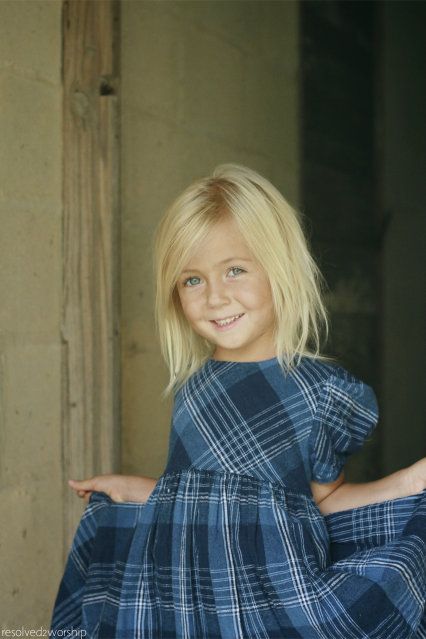 And Lake! THREE! Hard to believe.
If you've read the blog long enough you know she was our anniversary baby girl - born on our 12th anniversary.
When she was born Robert and I decided from that day on we would celebrate her birthday May 31st and celebrate our anniversary at a different time.
Here she waits in our room by the window waiting for daddy to arrive so we can go on her special date together!
And off we go! We kept asking her what she wanted to do on her special date with us and she replied over and over:
"I want to go to Papa and Alma's! ! !" (my parents)
So we did just that. We drove her over there and she was happy! She loves it there so much.
She swung on the swings, talked with my mom, ate a lollipop, and walked round and round.
I love that the simplest things make her smile. She is very easy to please.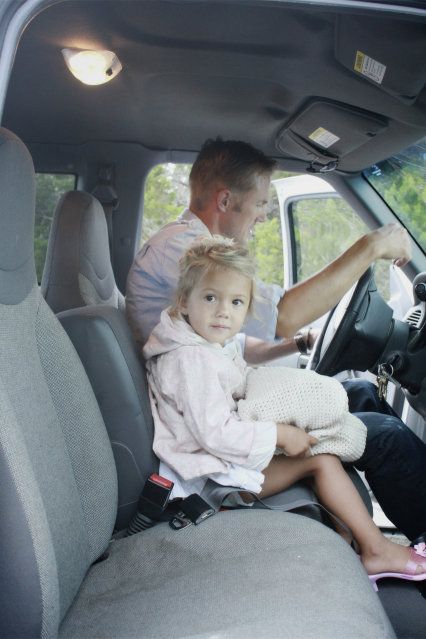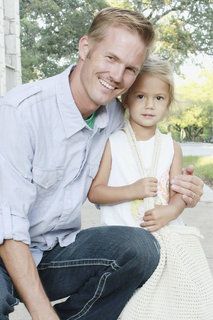 Then we took her out to eat and for ice cream. She talked our heads off the whole night long.
See the bag she is carrying? She carried it everywhere we took her that night. Inside was 6 pairs of underwear, ballet shoes,
and three pairs of plastic high heels. She interchanged the shoes all night long.
She picked out a little Tinker Bell toy at Walmart as her gift.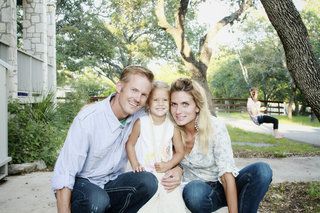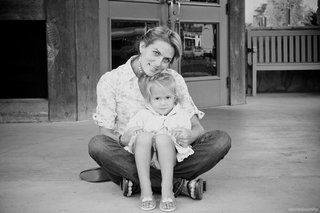 It was sometime first week of June I think before I took some shots of her for birthday #3.
She is my very most dressy-up girl of them all so far. If I let her she would change clothes
at least 100 times a day. Sometimes I do let her because it just makes her so happy. . .
And keeps her from flushing the tooth brushes down the toilet or some other random toddler enjoyment.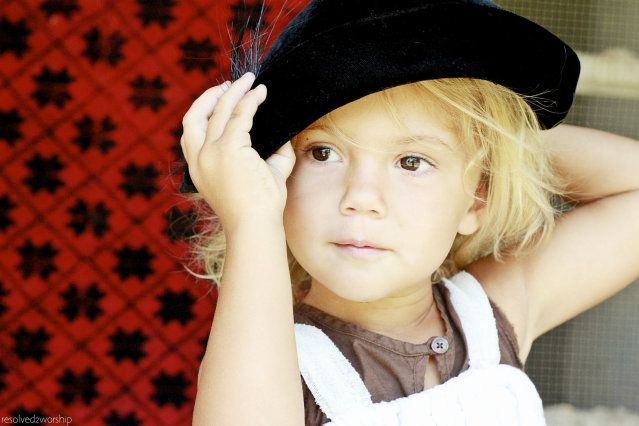 Here she is with a hat my grandmother sent my way recently, a little white dress I made for Morgan when
she was a baby and a brown dress I can't remember where in the world it came from. She is a brownie. She has amazing skin.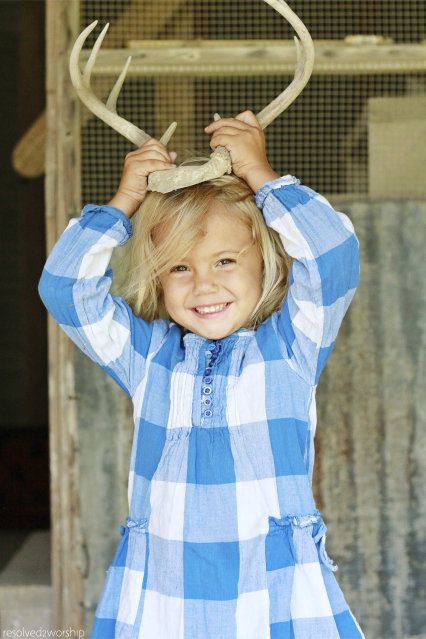 The blue dress is one of her favs, a use-to-be Brighton dress - the antlers she picked up out of the barn and promptly stuck on her head.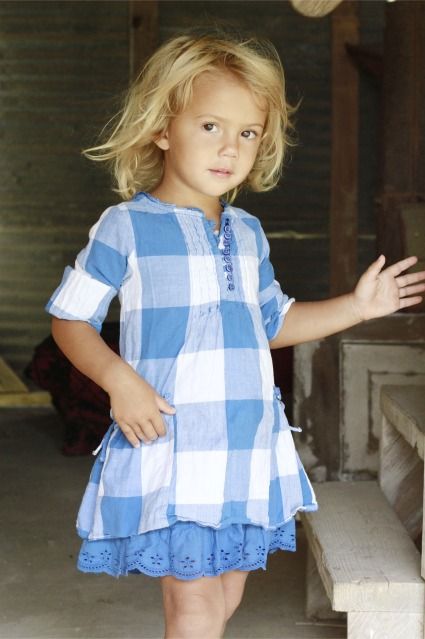 My girls have all had a slow start at the hair growing thing just like I did when I was little. Lake is happy her's is finally "long like Morgan's!"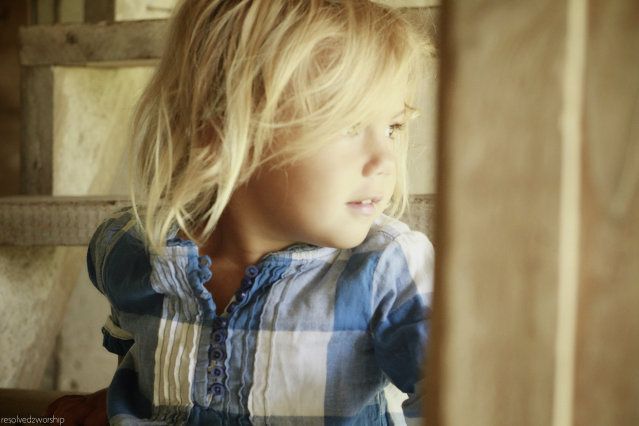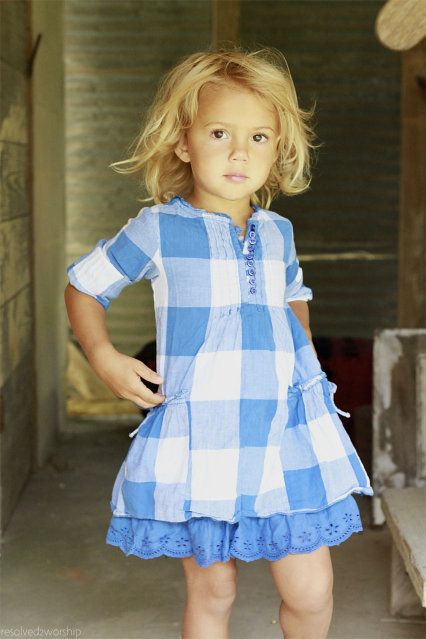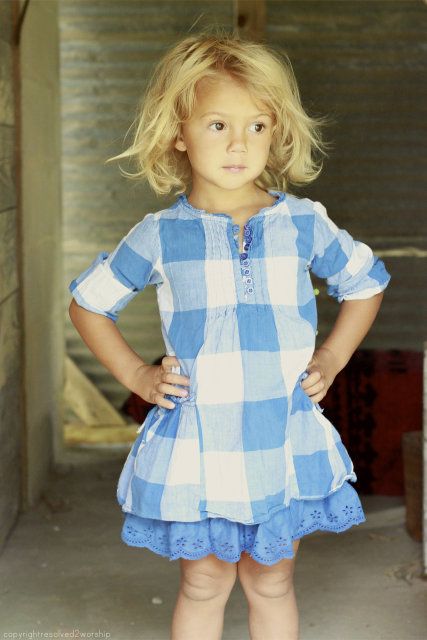 I love these two shots above - she is one of our kiddos that depending on the second, at one moment I see so much of her
daddy in her, and then the very next, I see me.
She has no fear. She loves people, all people, all the time. She laughs loud, talks loud, lives loud. Everything is passionate, conviction, fun.
She is wild and free, imaginative. She's an explorer, hungry for friendships - and parties! She quotes her Bible verses with gusto and sings
like there's no tomorrow. She is like chocolate, and mountain tops, and adventure. She makes me laugh - so she's like a good medicine.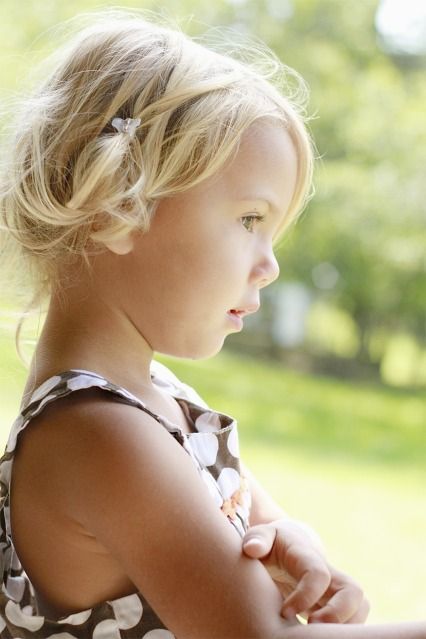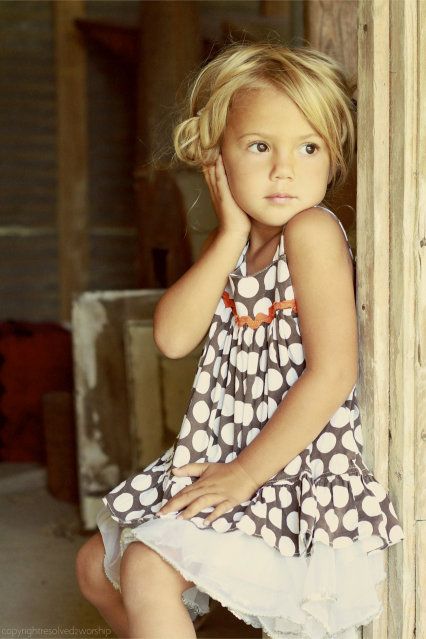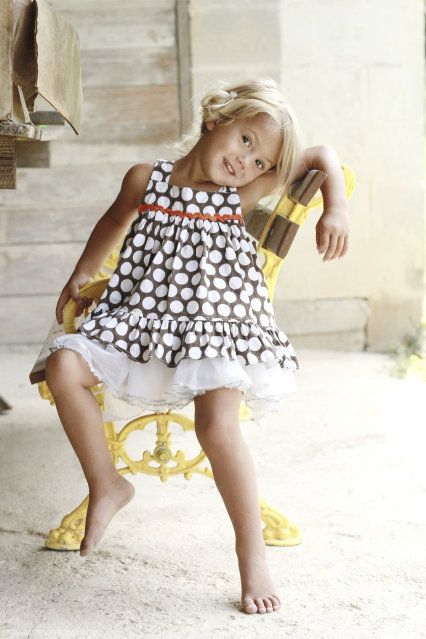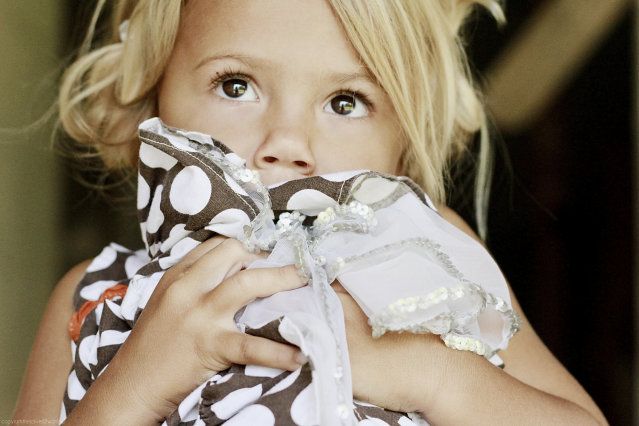 And she is a face maker! ! ! drama queen to the max.
(She is my exercise many days too! She is amazingly exhausting!)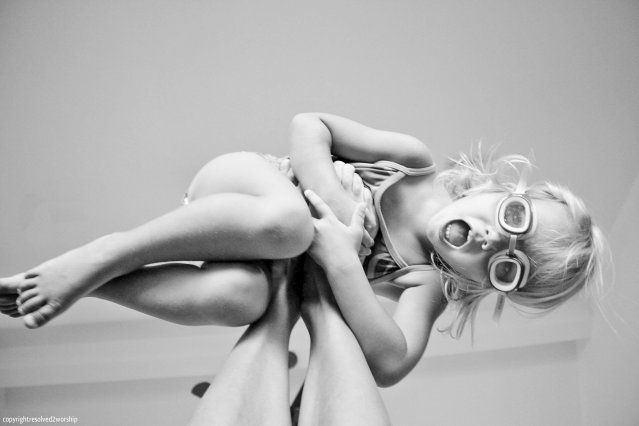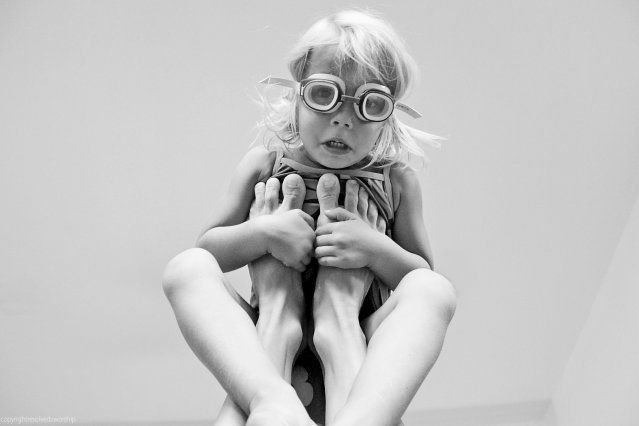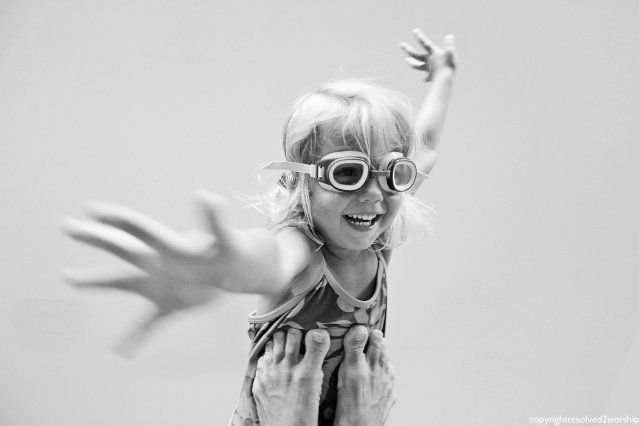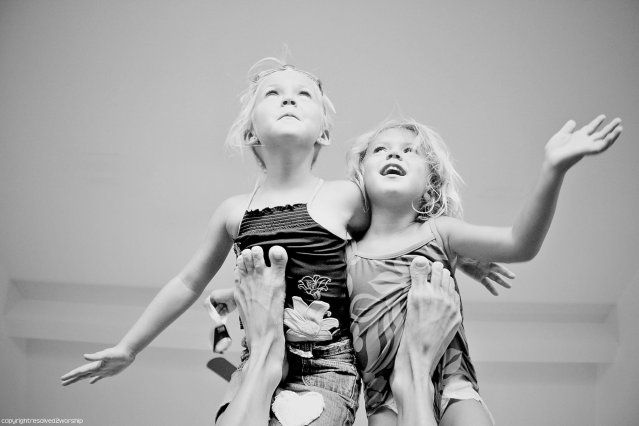 It was Lake's idea that they "fly together." Weight lifting is just part of a momma's job description?
~
And I want to end with some awesome encouragement! And Praise to God for 15 years of marriage. . .
"For freedom Christ has set us free; stand firm therefore, and do not submit again to a yoke of slavery." Galatians 5:1
"Then you will know the truth, and the truth will set you free." John 8:32
"So if the Son sets you free, you will be free indeed." John 8:36
Rest in Christ and not the laws of man.
"Now then, why do you try to test God by putting on the necks of the disciples a yoke that neither we nor our fathers have been able to bear?" Acts 15:10
"For you did not receive a spirit that makes you a slave again to fear, but you received the Spirit of sonship. And by him we cry, "Abba, Father." Romans 8:15
"We were under great pressure, far beyond our ability to endure, so that we despaired even of life. Indeed, in our hearts we felt the sentence of death. But this happened that we might not rely on ourselves but on God, who raises the dead. He has delivered us from such a deadly peril, and He will deliver us. On Him we have set our hope that He will continue to deliver us." 2 Corinthians 1:10
"In my anguish I cried to the LORD, and He answered by setting me free." Psalm 118:5
"Since the children [are human], He too shared in their humanity so that by His death He might destroy Him who holds the power of death– that is, the devil — and free those who all their lives were held in slavery by their fear of death." Hebrews 2:14-15
"For this reason Christ is the mediator of a new covenant, that those who are called may receive the promised eternal inheritance– now that He has died as a ransom to set them free…" Hebrews 9:15
"But the Scripture imprisoned everything under sin, so that the promise by faith in Jesus Christ might be given to those who believe." Galatians 3:22
"The Lord knows how to rescue godly men from trials." 2 Peter 2:9
"Many are saying of me, "God will not deliver him." But you are a shield around me, O LORD…From the LORD comes deliverance. Psalm 3:2-3, 8
"When they cry out to the LORD because of their oppressors He will send them a Savior and Defender, and He will rescue them." Isaiah 19:20
~
"But thanks be to God that, though you used to be slaves to sin, you wholeheartedly obeyed the form of teaching to which you were entrusted. You have been set from sin and have become slaves to righteousness." Romans 6:17-18
"Call upon me in the day of trouble; I will deliver you, and you will honor me." Psalm 50:15
"But for you who revere My name, the sun of righteousness will rise with healing in its wings. And you will go out and leap like calves released from the stall." Malachi 4:2
"Grace and peace to you from God our Father and the Lord Jesus Christ, who gave himself for our sins to rescue us from the present evil age, according to the will of our God and Father, to whom be glory for ever and ever. Amen." Galatians 1:3-5
And these verses have guided, freed and given us hope! They have sustained us through our marriage, particularly the last five years - when these verses have become more to us then just mere knowledge in our head, but God has allowed circumstances - where which they have been driven deeper into our hearts and set our hearts afire to live out these verses, understand them, and give them to others.
In celebration of our 15th anniversary ~ at the lake on a date, last week of May: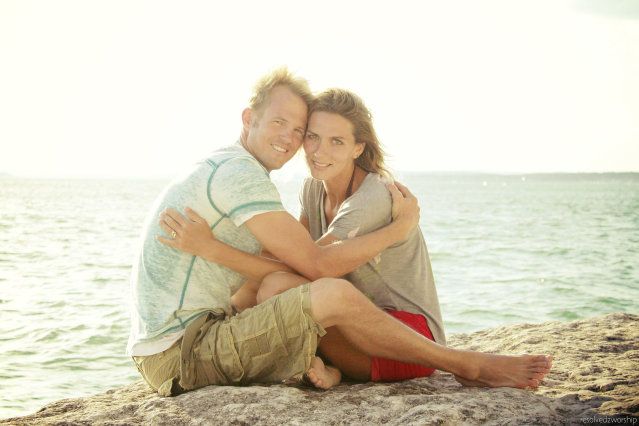 A. Ann
{all photography copyright resolved2worship and may only be used with permission. Thanks}