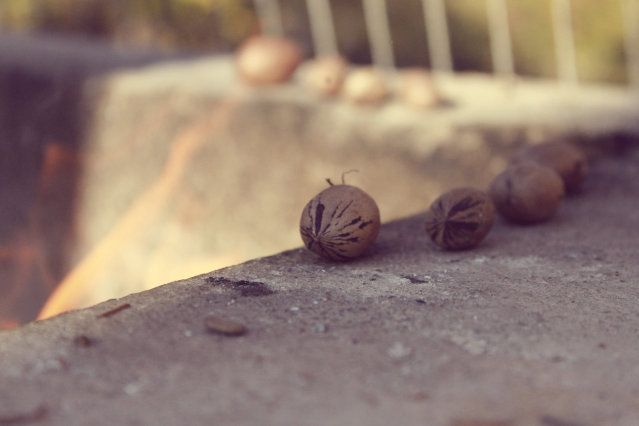 We've had a few days of what we think it cold and we're wimps. Partly though, it's our fault because we can't seem to know how to dress for warm weather. All my boys put on shorts today. One attempted flip-flops. No one seems to have jackets. Or they just don't believe in reality. I'm just as bad. I put on workout clothes to work out, ones that are not warm and I nearly froze. I'm pretty sure I couldn't feel my legs at all at one point.
These pictures from Thanksgiving warm me just looking at them. These are of Shelton one morning by the fire, coming up with his own breakfast. Something like marshmellows and baked nuts and who knows what. . .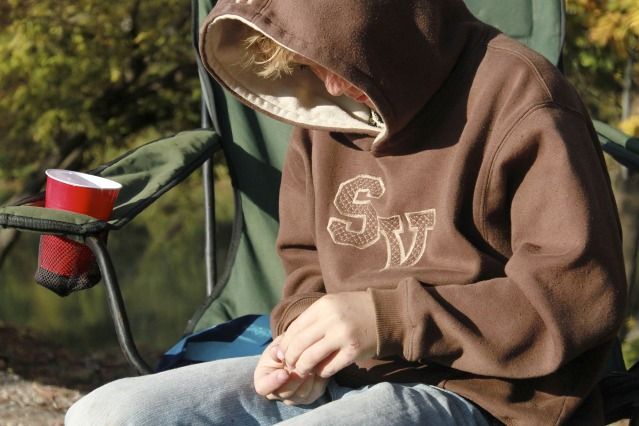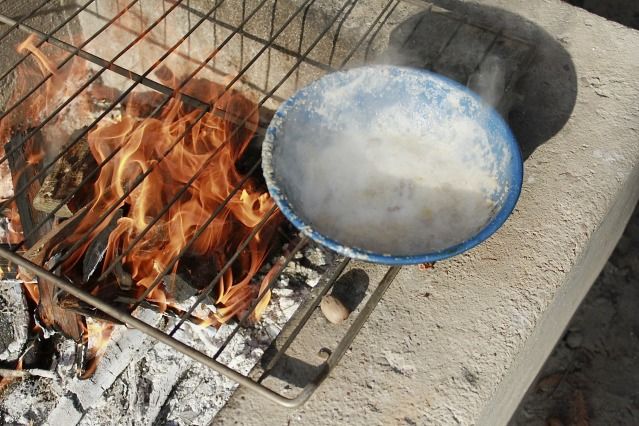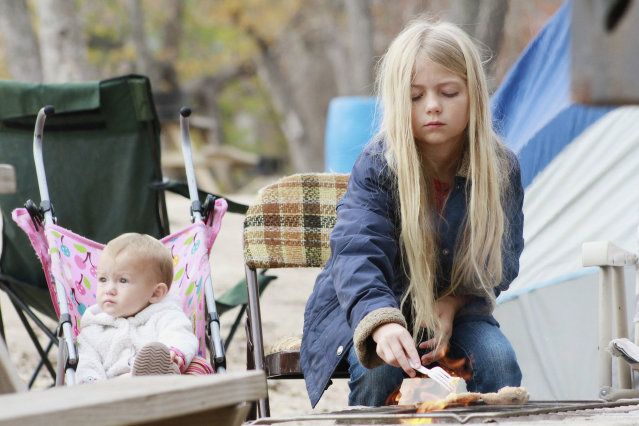 Many precious moments were spent there by this dock. . .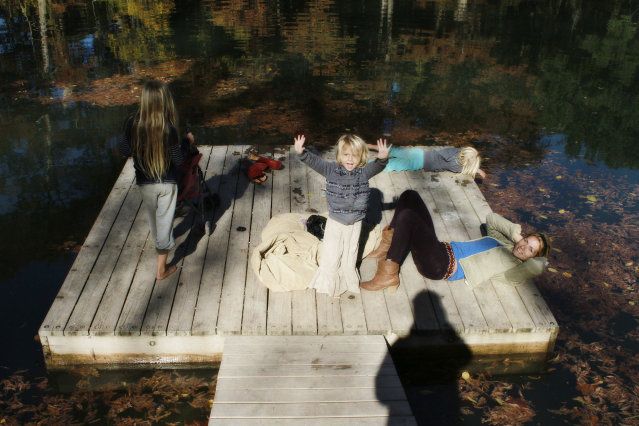 The boys spend most of their days in the canoe on the water on our camping trip. They would wake early and head out. This picture was taken as they were coming in from fishing one early morn. . .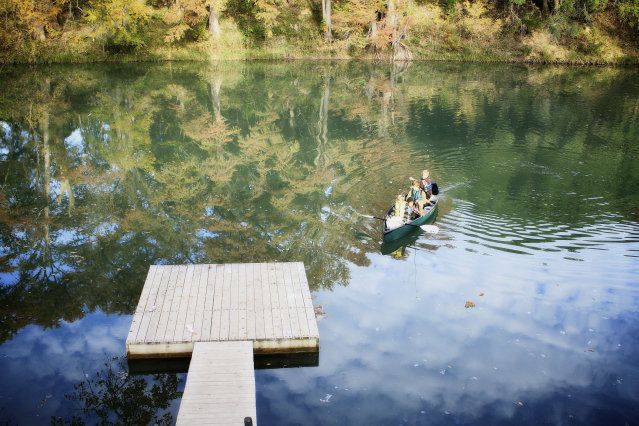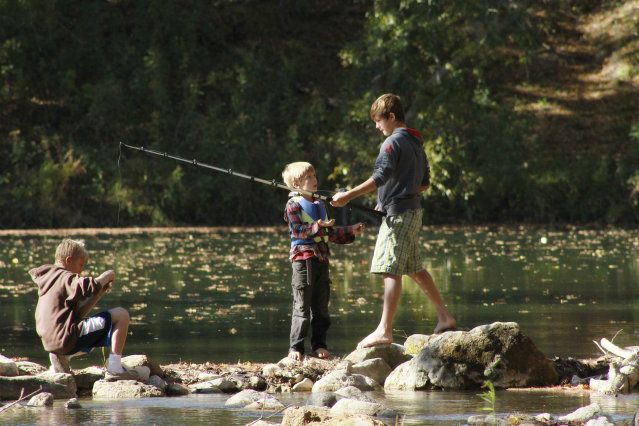 One afternoon we had canoe races. We had to paddle to a stump down the river, turn around and then come back to the dock. The kids paired up and I was in charge of the stop watch most of the time. They would swap up partners and go again and again. . .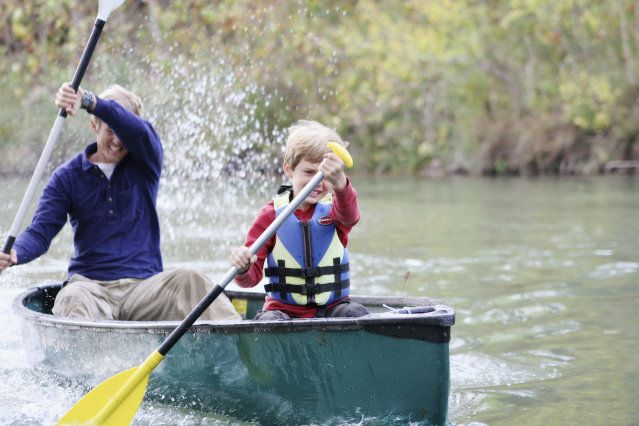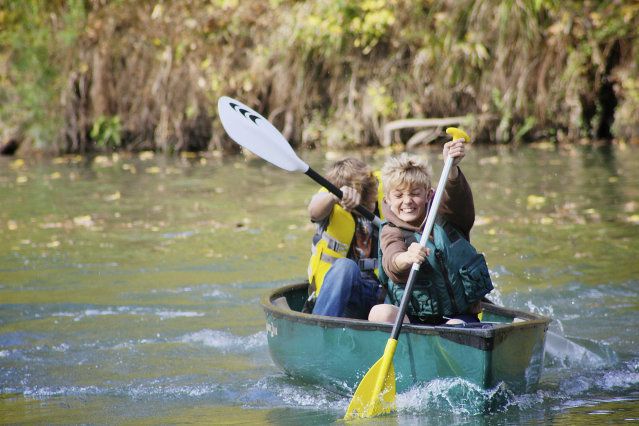 This shot I took one morning as the boys were pulling away. Itty was so sad she couldn't go too. . .
One of my favorite shots from the week. . .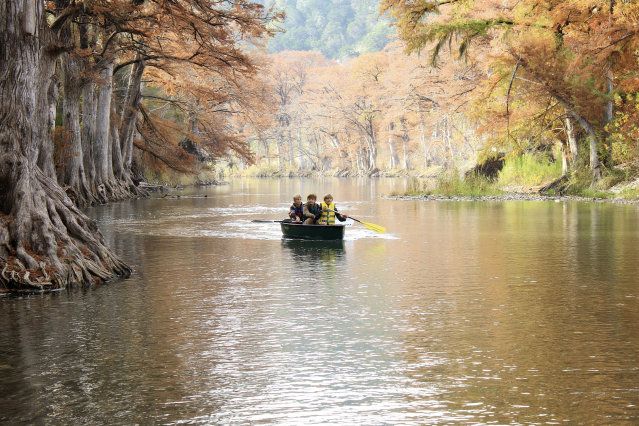 The girls too --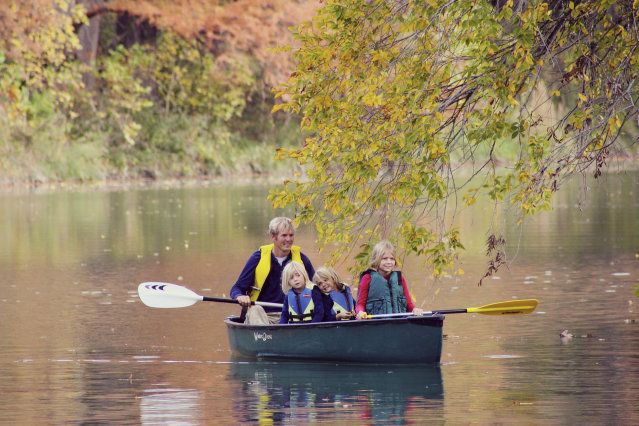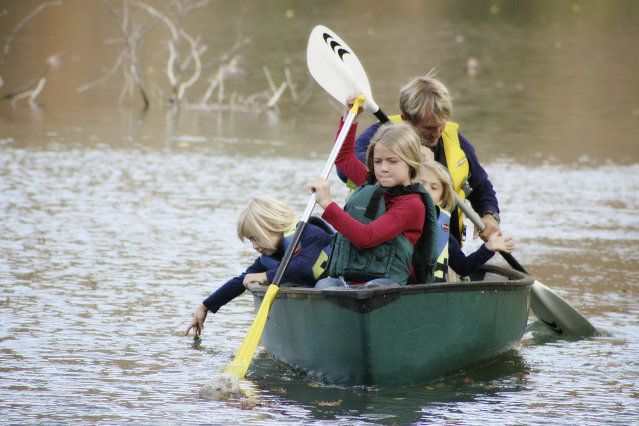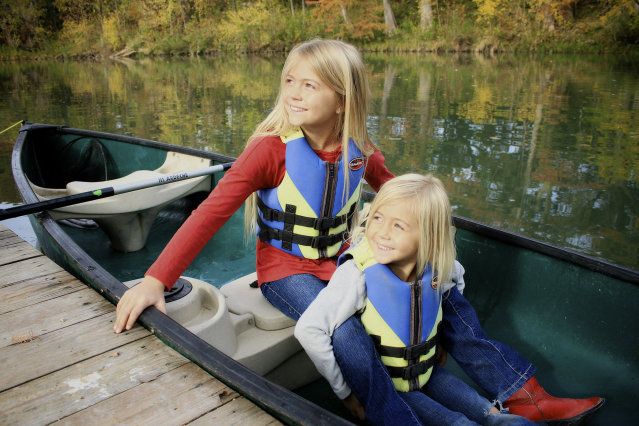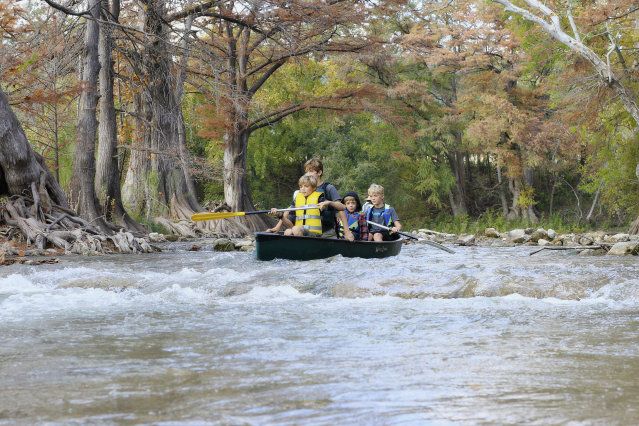 Coming up stream from an afternoon of exploring. . .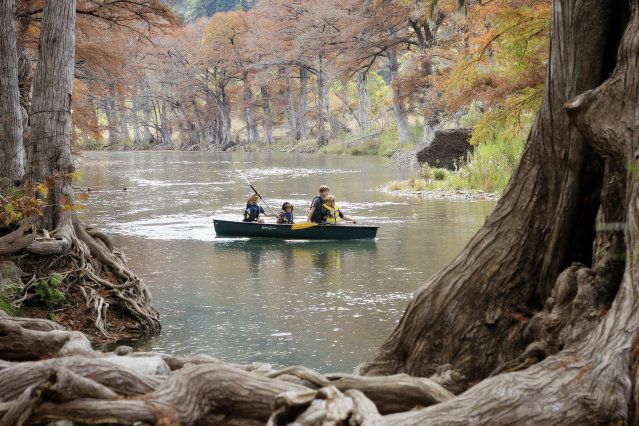 Dock time ~ Morgan and I both enjoyed using the dock for our stretch time and quiet times that week. . .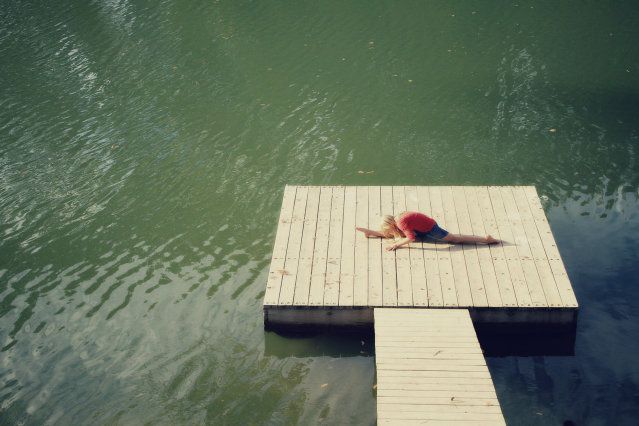 This next group of pictures are some that make me smile. I was sitting on some little wood steps quit a ways down from the dock with a book and my camera when I looked down to see this taking place. . . and the water was not warm.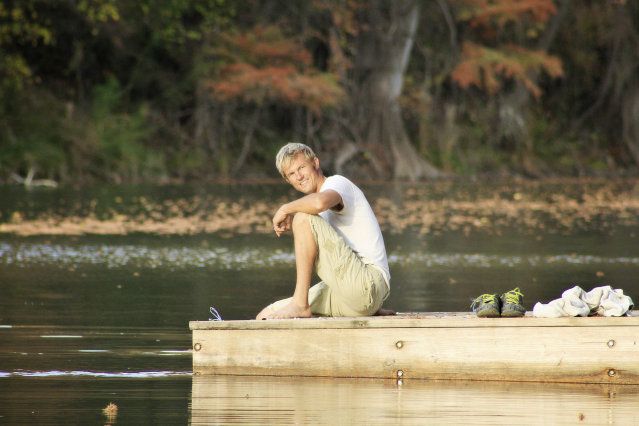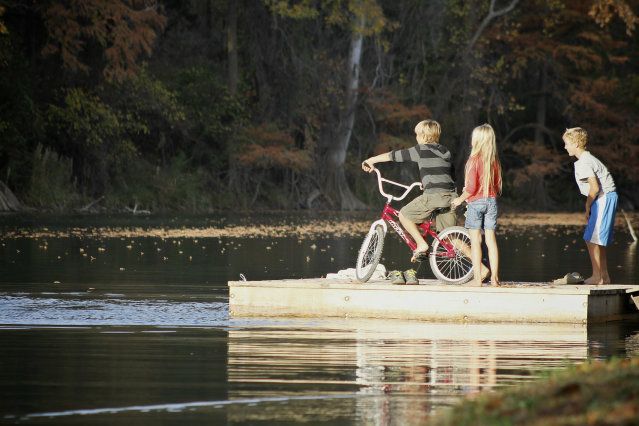 The boys spot me to see if I approve of Robert's dive in. . . :)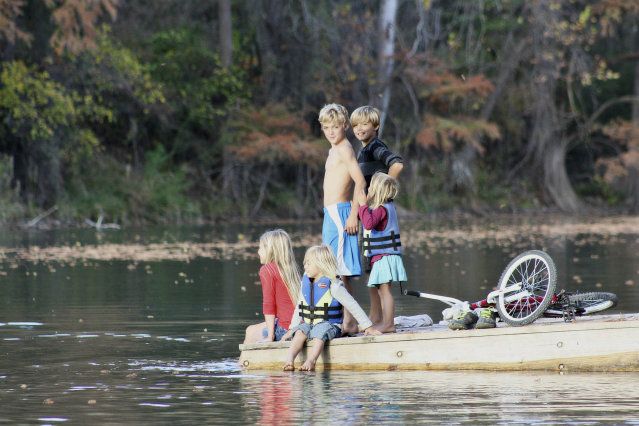 This picture is great explanation for why my kids enjoy life so much. . . because their dad does.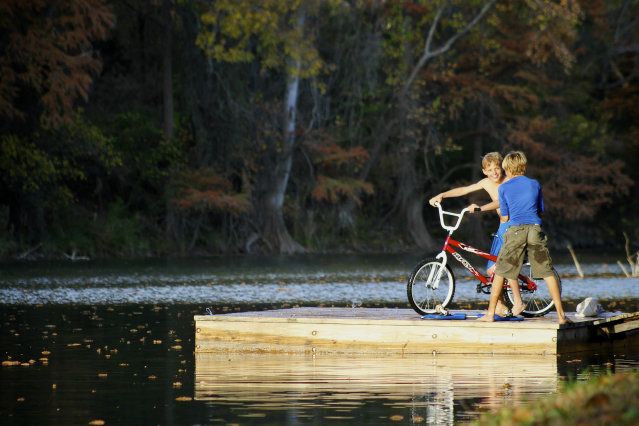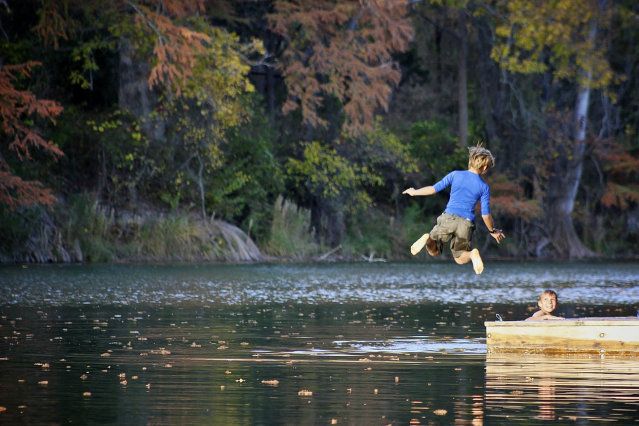 Evenings of just wandering through the river finding and seeing treasures as the sun set ~
Couldn't help but have one of the kids shoot a shot of us in the canoe. . .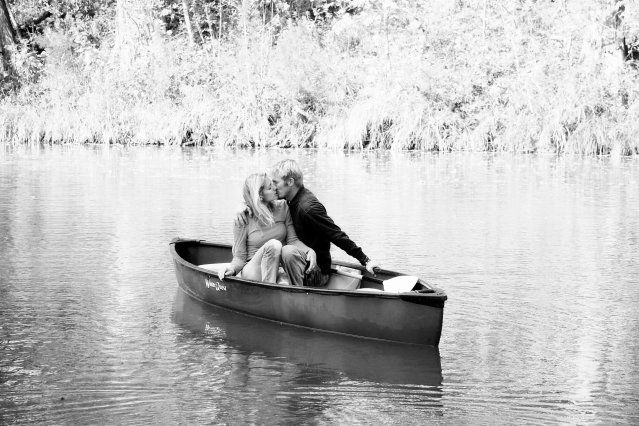 ~
Growing up I wasn't the worry type. I only remember worrying about one thing when I was about 7 and that was divorce because I knew so many couples who had gotten a divorce and I remember worrying that that was just something that eventually happened in marriage. My parents assured me that they were for life. I believed them.
They just celebrated 41 years together. I'm so grateful. Grateful to God who has kept them.
Life moved on past the age of seven of course and marriage happened a short eleven years later and well, I kind of joke that I should have worried a little sometime around then because it might have saved me a lot of crazy things that I let just happen. But I didn't worry. I just lived.
First year of marriage I didn't change much. I jumped off of waterfalls, hiked up mountains all alone while Robert was at work, other things too. I was alone most days three floors up in the air, in a one bedroom condo across from ski slopes. No car, no cell phone - in fact, no phone at all for a while. When the man showed up to put our first phone in, I glanced out the peep hole at the burly dude, went and got Robert's big ol' fishing knife and held the guy at knife point while he put in our phone wires. No kidding, the story is hilarious -- but I won't go there.
I don't remember fear over anything, real fear. . .
Until I was pregnant with our first baby.
I was babysitting for some folks I hardly knew. . . I was walking the children to the park that beautiful North Carolina summer day. When suddenly I began cramping horribly. Blood began to flow. I had a pretty good feeling I was expecting but I had not taken a pregnancy test yet. I asked the oldest girl where the nearest restroom was, remaining outwardly calm, yet urgent. She pointed to the restroom just outside the park area, a log cabin looking building.
In that lonely, dark place I began to lose our first dear baby. Throwing up as quietly as I could, choking back sobs, praying to make it through, hoping all the while the three children waiting outside could not hear me and would be okay. . . trying to figure out how I would make the trek back to the house where they lived without telling anyone, or anyone knowing. Impossible.
That day is a blur now. I can't even remember how I made it back to our condo and the kids back to their parents. I do remember chills and fever and being so sick and it lasted for days. I remember lying on the couch in our condo and feeling like I was going in and out of existence.
Story short, it was horrible. I felt worry. I felt heart sick and home sick. I feared. I worried something was wrong with me. It was confirmed that I had miscarried. I was further along than I had thought. I worried I would not be able to have children. Up until that point I don't think I had even thought much about the logistics of a family. . . except ya know, have some children at some point - sometime down the road.
Now, I thought about children. No, I worried about having a child. I thought about family. I worried I might miscarry over and over, never have children of my own. I worried I would feel that sick again. I worried I wasn't normal. . .
It's interesting, because worry is about playing God. I heard our pastor say that this morning and I'd heard that before but it stood out especially so this time. We wanna be God - that's ultimately why we worry.
Worry lies. Worry tells you things that aren't true. Or maybe tells you things that could possibly happen and then tells you that you could never handle what ever that thing is - if it did happen.
Worry is when I take my eyes off God and turn my eyes on myself instead. Or maybe others. We all trust something or someone - so what is it/who is it that we trust?
Luke 12:22 says, "Don't worry about your LIFE. . ."
My notes read from this morning: "Think about LIFE and what it holds. Everything, anything. Jesus said, "Don't worry about your life." Don't worry about anything."
I have learned through situations that worry is a huge heart issue. It goes back to our foundation, really, whether we have a foundation in God's Word - and do we believe HE is God? Do I find my security and satisfaction in Jesus Christ alone? Or do I rely upon something or someone else to give me security and satisfaction?
Worry comes from a heart that wants to control the outcomes.
~
It had been over a month since we lost our baby. I had dropped off Robert at work that morning so I could have the car. I drove around Boone and somehow I ended up at a church, one we had visited during our time there. Not far from the church there was a hill, a big tall one. I made it my goal that afternoon to hike to the top.
As I climbed, the beautiful mountains and valleys around me made a spectacular view. I can still picture it all in my mind. The sun was beginning to go down behind me in the west and the mountains and the sky to the east began to take on blues and pinks. The church began to look smaller and smaller down below and the cattle in the fields surrounding were like little dots. The last part of the hike was steep and as I came to the summit I saw that someone had put a wooden cross at the peak. I kept my eyes on the cross and completed the last bit. . .
The closer I got to the cross the more my heart began to break. By the time I reached the peak, I was on my knees, then on my stomach flat on the ground at the foot of the cross. In the dirt and rocks just flat out on the ground.
I began to cry, which turned to sobs, then quiet again, and more. My heart was doing all the talking to God that late afternoon. I don't remember saying much but I felt my worry and my burdens roll down the hill behind me, almost like I could hear them tumbling down.
I moved from my stomach to my knees and lifted my hands to the sky and I sang. I still remember, my voice cracking, singing a song my dad wrote called, "Glorious Grace." The first words go. . .
"Here is my thanks, to Jesus Christ,
Thank You for life so full and free,
A heart filled with thanks, Your work I see,
Shows Your righteousness to me.
Glorious Grace, glorious grace, fills my heart with peace. . ."
Then I whispered something like: "God, I give my life to You. Again. I give you my health. My baby that won't be mine to hold, he is Yours. I give You my desire to have children someday. If You never give me a family, or children, God, I trust You, that You know what is best. I am at complete peace with that. I give it to You. It wasn't mine to begin with. I will not worry about tomorrow. I will not worry about the future. I trust You. You are God, not me. And my life is Yours."
I was there for a while because I remember it almost being dark by the time I got up to go. I hiked down the beautiful hill in the dusk, the cross becoming small behind me as I made my way back and I felt calm.
I felt no worry about having a family anymore or whether or not I would be able to carry a baby to full term one day. The days that had followed the death of our baby had seemed dark and full of worry up until that afternoon. I was free again. The days following the hike to the cross were completely different. My heart had let go. I had seen that to worry was like me saying, "God, You don't know best. I do and here is how it should go."
Ya know, I believe God took me at my word at the cross that afternoon. It was just the beginning of a life of learning not to worry. It was just the beginning of learning to come to the cross and lay it all down at His feet; letting the burdens roll down the hills behind me. . . clinging to what is sure, God Himself, and letting go of what is unsure.
That is motherhood. For me, I really hadn't tasted worry until our first child entered my life, and then was taken. When he was taken I was not bitter at God, but it did reveal my lack of trust and my heart.
He is God, I'm not. He is good. When I am tempted to worry about my children (or even my health) I have often rememberd that hill, the cross, my words, and God's Word. I remember the way it felt to have worry rolling down the hill behind me and I go to God once more and let the burdens roll.
I have been tested beyond what I could write in the area of trusting Him with my health. I have been tested in giving my children to Him time and time again. Not just kind of, but completely giving them. I kinda twitch just thinking about some of those tests. . .
Once again this past week - New Years Day, we brought it in with a real bang! Literally. Lakelyn was dancing the night away in her ballerina outfit and flipped herself energetically into a wooden chair, ripping a large gouge at least an inch long right above her eye brow. After cradling my baby all the way to the ER, holding her as she screamed as they attempted to numb the area - which didn't take - and helping three others hold her down as the doctor stitched, Lake feeling every stitch - speaking words of comfort and looking into her face all the while. . . we had to give up on finishing the stitches. Goodness sakes that little girl is strong and a fierce fighter! And out came the glue and tape to finish up the area. We arrived home sometime close to midnight.
Again, a chance to worry. Again, a chance to give my babies to God and say, "God, I trust You."
I get it. I get it that I will be doing this until I die because I am going to be a mom all my life. Worry makes motherhood so much less enjoyable! Worry makes us possessive over that which doesn't even belong to us! When we possess something and worry about losing it, we don't let it go when it comes time for them to fly the nest. Which will destroy the very relationship we desire to have with our children. Worry does not give life.
I love what Cory Ten Boom said, "Worry doesn't empty tomorrow of sorrow, but empties today of it's strength."
What I said on the hill that afternoon giving children and family to God, I say it again. I believe it and I desire to live it out in such a way that my children know - they know - that I believe God is God and I don't ever wanna be God in His place. Worrying is pride really, it's like I'm believing I have more power over my life (and my childrens' lives) and what takes place then I really do.
With the first day of the year ending in the ER - I joked that it was a bad way to start 2013. Truth is, it reminded me of how each year really should begin -- giving it to God and trusting Him. I could say no to more wild dancing in the living room. But I won't. Yeah, I will warn of chairs and I may put pillows on top of all the sharp corners, when I can remember too, but I will let my kids keep being the fun, adventuresome, lively kids that they are.
Robert does suggest however that I put football helmets on them all.
My children have taught me, even from the child that wasn't to be our's to hold, that worry is not God's way. As I think about this upcoming year and I have no idea what it will hold and there are a billion and one things I could worry about - oh my, seriously, my mind could go crazy if I just began! I know, and I believe. . .
"Therefore, I tell you, do not be anxious about your life; what you will eat, nor about your body, what you will put on. For life is more than food and the body more than clothing. Consider the ravens (ravens - they are nasty birds really, dirty ones - kind of like us in the flesh): they neither sow nor reap, they have neither storehouse or barn, and yet God feeds them. Of how much more value are you than the birds! And which of you by being anxious can add a single hour to his life span? If then you are not able to do a small a thing as that, why are you anxious about the rest? Consider the lilies, how they grow: they neither toil or spin, yet I tell you, even Solomon in all his glory was not arrayed like one of these. But if God so clothes the grass of the field, which is a live today and tomorrow is thrown into the furnace, how much more will he clothe you, O you of little faith!" (look up Luke 12:22 and keep reading, it keeps getting better :)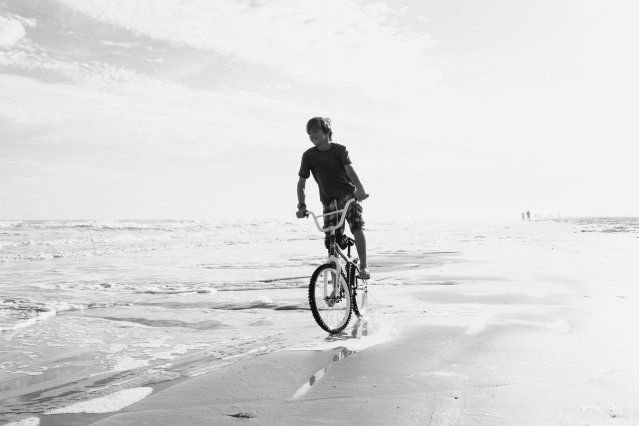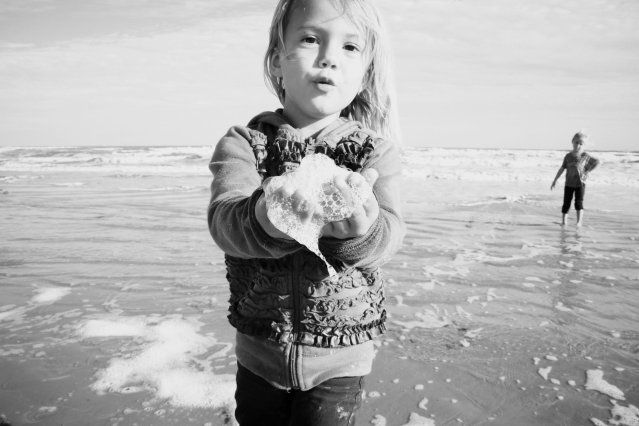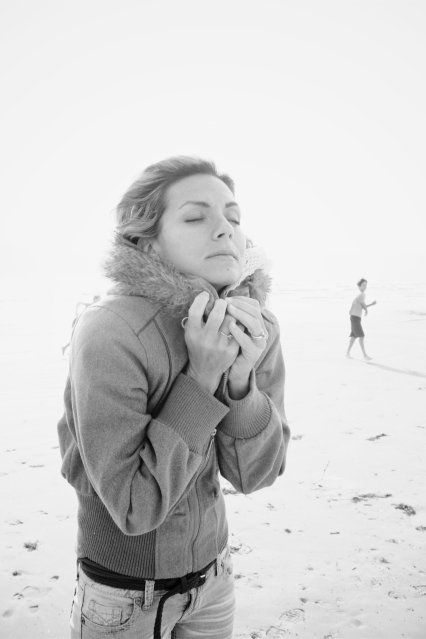 I hope to get a chance sometime to post Christmas pictures from the beach! We had such a blast.
Alyssa