Robert brought home a surprise last night. The energy level instantly sky rocketed!
We didn't make a night of decorating and such yet. We just put the tree up in the stand.
Robert had to trim the tree to get it in the stand, so with the left over branches we made wreathes,
and hung them untraditionally around the room from the ceiling from vintage-y looking knitting string,
adding a touch of whimsical gold garland.
The girls could hardly stand that we didn't have the Christmas decorating boxes down from the attic, so I took a box of little
glittery snowflakes I'd just purchased and the girls and Bub strung them up before climbing into bed. . .
So many smiles! The boys lying around on the carpet doing homework, taking a break now and then to watch the little ones, or scoop one up in their arms.
Simplistic, unplanned, the tree just appeared and it happened.
This morning when I walked into the living room, I felt that feeling.
Christmas is surely on it's way.
I've always had a tough time getting into the decorating of it all when
living in a rental I haven't decorated or fixed up as our own, but I am determined to do what I can!
How can I not? - The childrens' excitement is so contagious!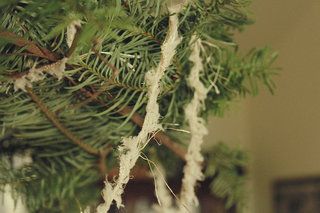 "The ability to simplify means to eliminate the unnecessary so that the necessary may speak." Hans. H.
Alyssa