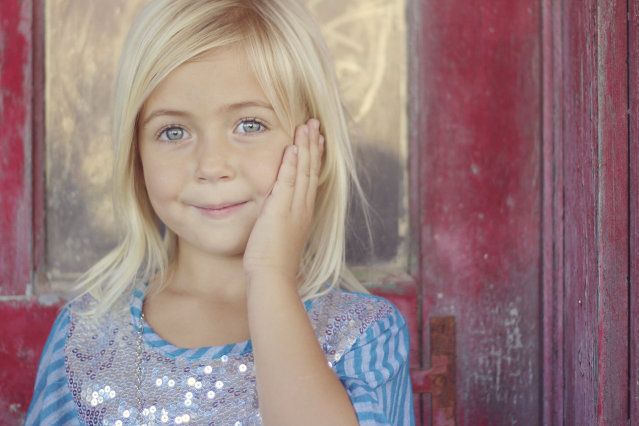 These pictures of the girls were from a week or so ago. . .
These two are my all day companions. They are my day and night - and they are night and day different from each other. Together they make the funniest pair.
Lake is my most talkative, extroverted child I've had. By far. She is a party all the time, even when all by herself.
No reservations. She is drama, smiles that look painful, and facial expressions that crack us all up. She says, "Give me squeezy, SQUEEZY SQUEEZY hugs, Mommy!" She calls Scott, "My Father," in a joking way and will call Shelton, "My Uncle," -- and she likes to do it loudly in public so people will turn in stare. Not that people aren't already turned and staring at us, but she is making it worse by far!
Lake is passion, in your face or all over you. She is vision (my daily aim? To help her get my vision for her day!). She has us all constantly laughing. The older boys say in shocking disbelief, "Mom, what do you think she is going to be like when she gets older?" They are seriously concerned - Maybe because she can bop you over the head one minute and then next minute she is your very best, most loving friend.
Lake's voice is just loud. We walk into the store the other day and she says (what sounds to me like the top of her lungs), "Ohhhh! Look at that beautiful dress! You could buy that for my birthday! Oh, oh it's just 'mazing!"
She's the one who goes up a woman at Shelton's football game and says, "Can I have your fries? Did you know that ketchup has sugar in it?"
I could write an entire blog on all that she has said and done in just her first three years. She blurts out the most bizarre things.
She is making me feel I know nothing about parenting. And that's not bad.
She has taught me to let her be her. Not box her into my idea of "good." To smile when others frown upon her extroverted ways, to not worry that others might think I don't already spend hours teaching and training her. She has taught me to laugh again - like Shelton did when he was little. . .
She has reminded me how important it is to accept our children - more than accept, but enjoy their differences - and let their uniqueness shine.
This past week I was headed out for errands and I had gotten all the girls ready and myself and I was loading the stroller into the back of the car and there Lakelyn was. She had packed her own little bag and while I had gone to get the stroller she had managed to completely undress and change into a dancing costume. I opened the back end of the car and there she sat totally un-ready once again.
My face said it all and my mouth with it, "Noooo!" I said, not raising my voice but in a completely defeated tone of voice that directly let her know I was not happy. I hung my head, closed my eyes for a second. When I raised my head again to look at her, there she sat in her little tutu with elephant sized tears welling in her big black eyes. I had crushed her.
She hadn't disobeyed me. I hadn't even thought to tell her, "Lakelyn, now don't completely change clothes once mommy puts you in the car." I didn't even know she had managed to take her little pink backpack with her.
She began to sob. I leaned over and I wrapped her in my arms. In that moment all I heard in my head was, "She is three." I'm pretty sure that is how the Holy Spirit speaks, matter of fact. Holding her close and stroking her hair, "Oh Baby, Mommy is sorry. Please forgive me. . ." and I continued to whisper as if talking to myself, "She is only three. Three. Don't expect her to act and think like an adult. . . Baby, Mommy loves you. It's okay, I'm not mad, I love you Baby."
She hugged me tight and covered my once clean blouse with her snot and tears.
I explained gently that she couldn't wear her tutu dance costume after mommy had dressed her and that she must keep on her socks and boots because it was cold out.
When I got in the drivers seat I prayed, whispering, "God, help me to not expect my children to be mini-adults. Help me to train them to love others and to love God but help me to let them just be kids. They don't need to carry shame for being their age."
~
This experience last week for whatever reason has really stuck in my heart.
When I married I was 19. I found myself in relationships and situations where there was a lot of expectations put upon me. Somehow I was suppose to be this very mature christian woman who knew all the right things to say, right responses, and there was no acceptance for immaturities or patience with spiritual growth or maturing.
I was put on a pedestal by many - I was to perform correctly.
Looking back it was more like performing for a three ring circus, but whatever - I didn't even see how unrealistic and crazy it was until years later.
Motherhood came quick after marriage and before I was 25 I had four kids. Again, the expectations were tremendous. Somehow at 24 I was to be this spiritual giant of a wife, mom, friend, etc. etc. When I failed, there was rejection, correction, what was expected of me made known, questions why I didn't do this or that. Every move I made, decision, item of clothing worn, words said, things done or not done, everything was evaluated.
There was never allowance or a realization that I didn't come all put together.
I came broken, growing, not knowing, still much maturing needed, still questioning, searching, a child myself in many ways.
When I dealt with Lake last week over changing in the car, it was like all those feelings of being under that came back. If only, I thought, if only someone had said, "For crying outloud she is only 19. Give her room to grow. Accept her. Love her. That will grow her. Take off the performance pressure. Show her the patience of God. Quit judging. . ."
Wow, things would have been different.
Course all that took place in my past - what the enemy meant for evil - God uses for good. SO, so, good. Hard, oh yeah - but I see so much good.
All that to say, I've been seeing the kids different this past week. Not that as a mom I don't still correct, remind, train, help my children mature. . . but like:
When Scott was rude to a group of girls at the pizza place the other night that he could have at least been polite back to and I thought, "Goodness, I thought I'd taught him better than that," I remembered when I was 14. Oh goodness, was I a rude girl! I let it go and waited until much later when we were on our jog to say, "Hey, just a little advice on girls. . . and showing the love of Christ in a situation like that. . ." No lecture, no upset.
When Shelton did a wheel-y on asphalt in the dark going down hill on his bike and landed on his tailbone - I wanted to haller, "Really? Do you think we can afford an ER visit right now?" Then I remembered he is a twelve and a half year old boy.
When Christian received some binoculars in the mail the other day that he had paid for and waited and waited for them to arrive and then when they came they didn't work and he was so disappointed and in a bad attitude about it. . . I wanted to give him a sermon on contentment and not looking to things to make you happy, his attitude was making me mad. . . then I remembered he just turned eleven last Friday and I knew it was more important for me to get into how he was feeling, his hopes dashed. How I dealt with his attitude changed entirely.
When Morgan did the dishes and forgot to send them through the cycle and so we didn't have clean dishes for super the other night, it was no big deal - after all she is just nine, and I forget many days to do the same.
When we pulled up to Caedman's football practice the other evening and I was helping him change and he admits sheepishly to me he forgot to wear underwear again - I reminded myself that he is just seven and I smiled and joked, "Your butt is gonna be cooolllld tonight Baby - whoowee!" I may spend every day 'til he leaves home reminding him not to go Indian style - then so be it.
When Brighton breaks my favorite headband trying to put it on or my favorite teacup or knocks down a whole rack of magazines as we pass in the store, I remember she is five. There is no need for scolding, she will grow out of these things. Or wait, I still break headbands, or teacups or knock over racks. I hate it when I see parents just berate their kids for things kids just do - and we adults do too!
When Lakelyn tatoos her entire leg with pen before we are to leave for church on Sunday, or can't sit still for more than a few minutes, she is Lakelyn after all and she is three.
I just don't get why as parents we think we have to make our kids into these mini-adults - unless of course it's because we are embarrassed that our kids are. . . well, kids. Embarrassed when our children don't make us look good? Kind of childish, rather eh? Maybe we need to grow up so our kids can be allowed to be their age - without frustrated parents or shame.
Might be a good idea to learn it when they are young - that are kids are not here to make us look good - because I promise, when they become adults, it's not their job to make us look good then either. They are not here for us.
I remember when Scott was little I so didn't understand this. I put on him the type of expectations I was under at the time. He was like a little man by three. Sadly, pretty much perfect. Talked like as adult, acted like one, performed like one. We were praised, his grandparents were praised, everyone thought we were amazing parents because Scott didn't act like a child. I have had to forgive myself - which has been hard to do - for the performance based parenting I put him under. We have asked his forgiveness as well.
When he does something that is not adult-like, a "perfect" performance, says, acts like a 14 year old boy - I may notice looks of disdain from others, or disapproval from even those I would want him to please, but the truth is - and it's the truth about all my children - he is growing, he is learning, he is young, he needs God just like anyone, he will mature - and I don't want to be someone in his life who gives those looks, who has that attitude, or puts him under the spirit of shame or disapproval.
I want my children to be free from a spirit of scorn, or shame, or performance based self-righteous pride through me as a mom. The world is going to give it, the church even more so, other family members possibly, friends - it will show up lots of places.
I want to be a safe place for them.
~
Brighton is quiet, or wait, maybe it's just that she is quiet compared to Lake.
She loves one on one, though of course being raised in a gang, she does fine in a group and is not intimidated. She appears a lot like a "blonde" (we understand blonde jokes better now
). She is patient with Lake. She seems to be learning from Lake that it's okay to make friends. She is very much into relationships. As airhead as she appears at times, what always amazes me as how much she takes in around her and will report to me and I think, "Wow, she's the only kid that noticed that."
I love watching these two girls interact. They grow each other. I have a feeling they will be very close and always have each others' back someday.
As usual, mid-fall holds lots of work related photography getting fashions ready to go for spring time. The girls and I shoot up to 1000 photos a day some days, for about two weeks straight. By the end of our work weeks the girls are a bit tired of smiling though they LOVE to constantly change clothes.
As earlier mentioned, Lakelyn doesn't naturally stay still, add in other girlies her age and she is the life of the party that isn't suppose to be partying at the moment. But, I would prefer to shoot this type of personality any day, all day long. They bring life to the photo, personality and excitement that would not otherwise be there. When we get done with a catalog we all breathe a happy sigh of relief, at the same time it's good hard work with wonderful elements of fun mixed in and I am so grateful to have the privilege to work along side my own kids. Here's a little sneak preview of some adorable spring things to come with Hannahkate.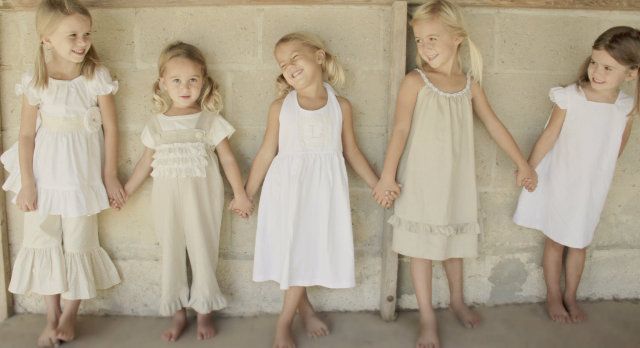 ~
Football season is nearly come to a close. The three older boys are finished, Scott and Shelton ending last Thursday night with good wins.
Bub's team is undefeated and they head to the superbowl this weekend. He asks, "How many days 'til the big game?" at least a few times a day. He is right now jumping rope indoors because of the cold - staying in good shape! The practices at night have gotten frigid but it doesn't seem to bother him. He has matured and grown so much this season. We hope they win the whole thing this weekend! Go Bub - #1 all the way!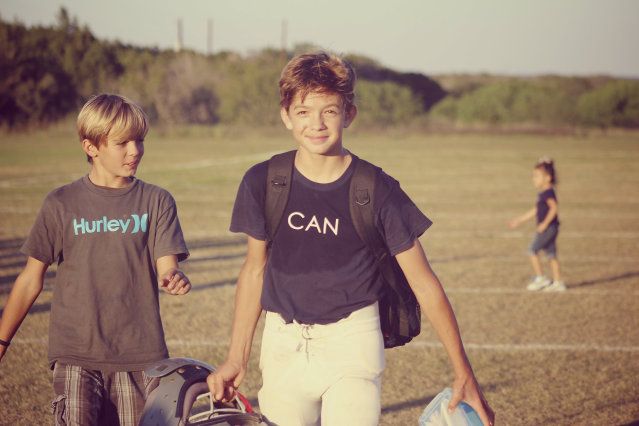 This picture was taken second to last game for Scott. It was an amazing game - just a last minute win! One of those where I screamed and cheered 'til my voice was near gone. To see all the coaches and boys after the game just jumping up and down on each other is celebration - so cool. They had faced the giants, a team they weren't expecting to beat, and had won.
Scott took his pads off, grabbed his stuff and came walking across the field to find me - that's when I saw the t-shirt he had put on that morning to wear under his jersey. . . CAN.
His face said it all.
~
Wow, Shelton's season was a rough one. Maybe his roughest, not sure. He played on the 7th grade football team at school.
The week before try-outs Shelton talked about making A team and I wasn't sure what to tell him. I would say, "Well, don't be disappointed if you make B team, it's not a bad thing, it might even be better. . ." He would say, "I will be disappointed." I'd say, "I understand, well - go for it! I know you can do it!" It was one of those mom moments where I put myself in his shoes and I knew I would feel the same and I wasn't going to try to make it all spiritual sounding with some deep answer. I figured we'd work through the disappointment when it came.
But Shelton made A team. I will never forget that afternoon when I picked him up from school. He was grinning so hard his face would break.
First game I had no trouble spotting him. He was the one half the size of the other boys on the team. Like there were all these men out there and this boy.
But the boy has passion enough and heart enough (and fast enough) to keep up with them.
There were some challenges that came this season, ones he'd never faced before. Tears. Questions. Some heart break I guess you would say.
These things led to some really awesome times with him to listen, talk, and pray together. It was through this past season Shelton learned more than ever before to not live by the praise of man, the fear of man, and to be a leader. God did a deeper work in His heart and a desire for relationship with God really grew out of the suffering he endured. I saw God do such great things in his life!
Last week we were talking and Shelton said, "Mom, before this past season I would speak of Jesus, I led the Bible study at school, I walked different. But now, it's even more real to me. I have no fear at all. It's just gone. . ."
Praise God.
Sometimes as a mom you really wonder. There are fears and worries and when those would come I knew this season wasn't just a growing time for Shelton but for me. God gave me such peace to trust Him with every situation. He also brought two women into my life who gave such great wisdom and encouragement to me as a mom - having those "mama bear feelings!"
He is real, faithful and does beyond what we even ask for.
Shelton will always face giants - facing the physical giants wasn't the hardest fight, it was the emotional giants, the relational giants, the spiritual battle. When are children face giants, the test is not just for them, it's for us too as parents. Our response, our prayer life, our trust factor, our honesty, our hearts.
It's a wonderful thing to walk through these things with our sons now. We are growing closer to God and to each other. God is good.
Our verse for this season: "Those who honor Me I will honor. . ." I Sam 2:30
Our quote: "It's not the size of the dog in the fight, it's the size of the fight in the dog. "
Last game huddle.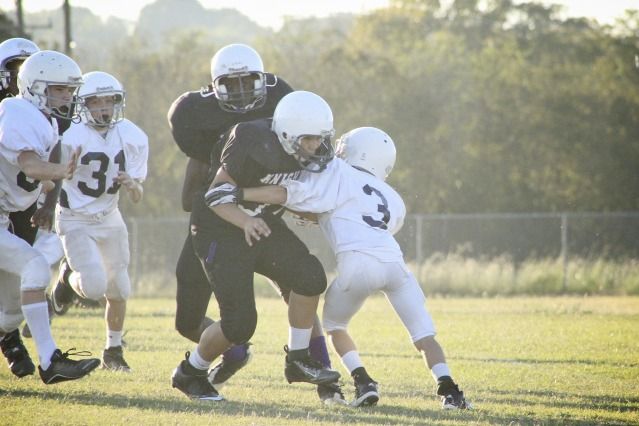 On defense - and yes, he got that guy down.
#3 - playing at dusk.
Offense.
Offense- going in for a block for a teammate.
Offense - wide receiver - in the forefront.
Shelton leading teammates in prayer at half-time last game of season. (The story behind coming to this point is pretty awesome.)
Shelton with a quarterback sack.
~
I spend a lot of my mornings doing pre-school, music, scripture memory and chores with the little girls. Some mornings we go to the library and enjoy the childrens' room - reading books, doing puzzles, playing alphabet games. Makes me feel so successful those mornings haha! Then we go to Starbucks and get juice boxes and a special treat and talk girl talk. . . or well, Lake does as Brighton and I listen. Haven goes along for the ride. Then we take the older boys' their lunches and visit with them. Sometimes we take them take-out, other times homemade sandwiches and other times pick up items from the grocery store. Thursdays, game days, we take them BLT sandwiches from their favorite cafe here in town. It became tradition this last season.
There are mornings that are just plain crazy and we get nothing accomplished. That's probably when I should turn on the computer and write - write all the crazy down because now I cannot even remember.
Each day holds so much - so many little things I want to tuck in my heart.
There are so many things that happen that AFTERWARDS are completely hilarious. But not so hilarious in the moment. I've had plenty of those the past two weeks.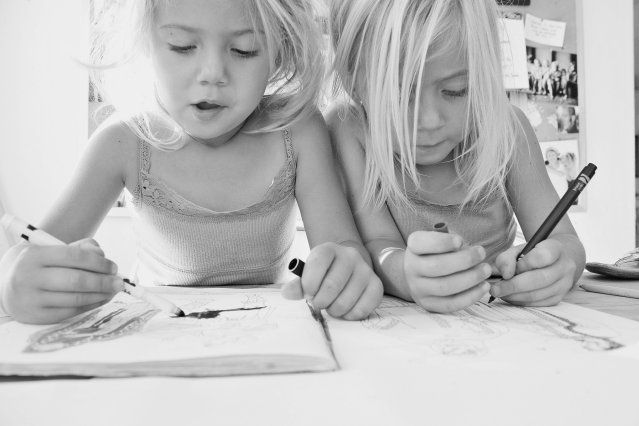 The convenience of one being right handed and the other left handed. Side by side working.
The other night, we came in real late from the typical schedule and I was last to get to the kitchen. The kids had helped themselves to food since they were so hungry and didn't bother taking the chairs down from the table (chairs have to stay up because Haven can climb anything! She climbs the chairs, to the table and wants to run back and forth!). Love this picture - just real life from that night.
Here are the girls hanging out upside down before bed time. Yes, Lake wanted to wear here purple dance outfit to bed, so why not.
Pick the battles that are important - what to wear to bed isn't a battle I fight. . . as long as it's clean.
Then again, some nights, they aren't clean either.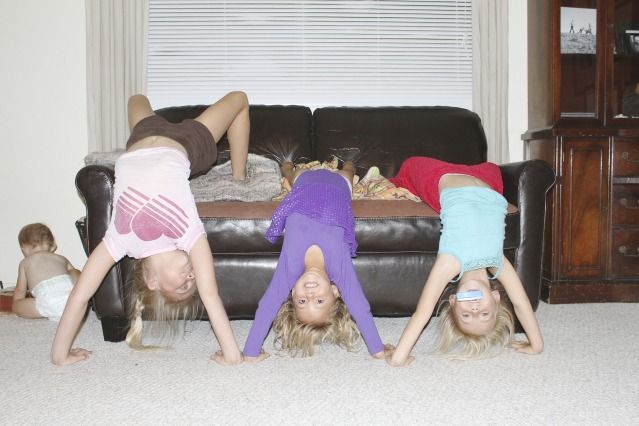 Baby is getting pretty good at the bottle thing. . . I do miss the closeness, so I hold her a lot, like now, with her on my lap.
~
Christian's 11th birthday was last weekend! Here we are on his special birthday date - as usual, our tradition of taking out each child by themselves for a night of whatever they want to do, eat, etc. Christian's pick was the local highschool football game 'til half time, then to ice skate until the rink closed, then to the Cheesecake Factory for chicken strips, yummy sauces for dipping, and a Dr. Pepper - then we headed to get ice scream at the Marble Slab, but we were too late and it closed.
We picked up where we left off the following day to finish our unfinished date - to which he selected a Oreo shake at Sonic and a watch at Wal-mart.
Here we are at the football game with Christian. . .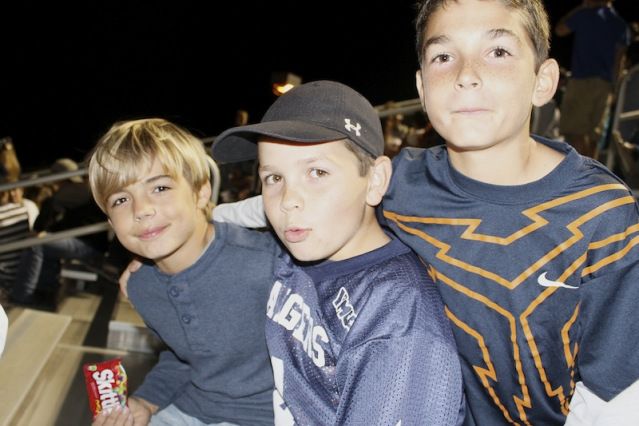 cousins and candy at the game.
Round and round we went - Christian is an excellent ice skater. I rather enjoy it myself, and Robert does great at keeping up with us.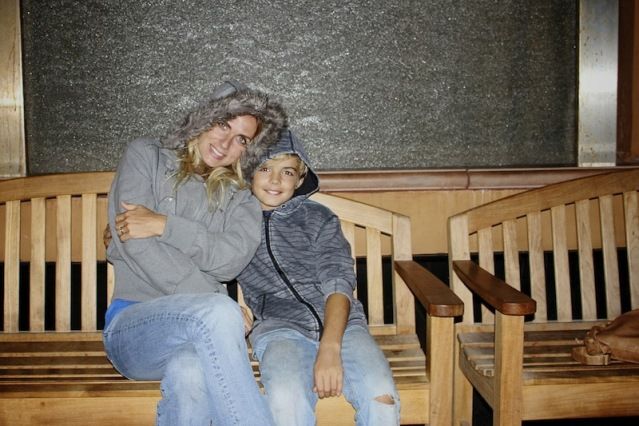 At the Cheesecake Factory. Love him! ! !
Christian has gone through a lot of changes this past year. The main one being moving from homeschool to school from 8-2:30. Change isn't a favorite past time of Christian's. He is solid, consistent, and scheduled. He is the one who likes a certain outfit and would wear it for days on end without removing it if I didn't make him. He likes things to remain constant.
He is the one who is certain to ask me to come eat lunch with him because that's what we do together. He wants the relationship too, people are important and meaningful to him. He hugs me hard and tight, unashamed right there in front of the ten other 5th grade boys he sits with at lunch table. He says, "I love you, Mom." and "Thanks." and "I miss you." He never says anything to me but yes mam and no mam. He remembers stuff like that because he is constant.
Christian is very loyal, hard working, determined, and honest.
I can't say for certain, but I think I've prayed more for Christian this year than anyone. . .
Maybe it's because I know how to pray for him because he is so upfront with what he needs prayer for. He doesn't hide. He is who he is. I love that about him. It use to bother me to know where his heart was because as a mom it's just so much more comfortable if your child just does all the right things and you never know his heart. But I have learned no, that's not more comfortable.
I like that there are no surprises with him. (Just like I like that there are surprises with some of the others!)
Christian and I are close. We communicate well, even when we are fighting it out. It always draws us closer and the realness we both crave ultimately draws us to God and to each other.
He, almost more than any other child, when I see his struggles, it's like they are mine. I am able to sympathize with his weaknesses because it's like I feel them deep in me.
Christian is the one who calls our bluff as parents, or anyone's for that matter. He sees through. He is intuitive. He is smart (not like me in this way ha!). He questions, he studies, he watches. He questions God, the Bible, people's motives, his own motives, politics, discipline, lack of discipline. He keeps me humble - in a good way and I'm grateful.
He just plain has some amazing qualities. He's one of these kids who can do anything and do it well. A grade point average of like 99%. He thinks it's a bad day when he makes a 97% on a test or paper. He rolls his eyes if he misses one problem on a math test. . . because he typically just doesn't miss. He can rattle of facts and statistics crazy-like whether it be academic or sports or whatever.
His older brothers marvel at his muscles and his athletic power, he is nicknamed the Brad Pitt of his school, people stop and comment on him where ever he goes, and he is just a very enjoyable person and makes friends easily with adults and children of all ages.
The challenge comes in that seeing His need for a Savior isn't as easily grasped. Praise God, God doesn't abandon any type of person - He allows things to come into our lives where in our will power we just can't achieve or win what we think should come easy. God is doing that for Christian this year, bringing out things in his heart to show him he can't just make it all on his own without the power of God working and living within him.
The other day he said something to his dad he shouldn't have said. I challenged him on it and his response just under his breath was, "Ahh! Can't believe I did that again. What is wrong with me?" As if in his own will power he had the strength to fix his heart issues. He was beating himself all up for not getting that A plus spiritually. He doesn't quite get that amazing mental capacity won't save him.
He is at the place of Romans 7:15 - "For I do not understand my own actions. For I do not do what I want, but I do the very thing I hate. . ." The exciting thing is that he has come to the place of not wanting to just live for himself. There is a lot of hope that lies there! Because to me it means God is at work! I see a softening, a desire to desire God. Christian is like a pillar of strength. From early childhood I knew that the enemy really, really wanted his soul. When I would put him to bed there was just this strong sense that God had big plans for him - and the enemy did too.
I will continue to fight for him through prayer. To give him hope. To show him God's love. To reach deep into his heart and work through the tough stuff because I know that God desires communion with him and he is precious in His sight. To know that all the strengths that he has God wants to channel for HIS GLORY.
~
Another event this week - Shelton's big musical! He performed three nights in a row this week and is good and worn out!
He did a wonderful job singing, dancing, and acting. We love his enthusiasm! He enjoys it so much.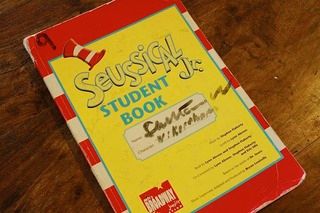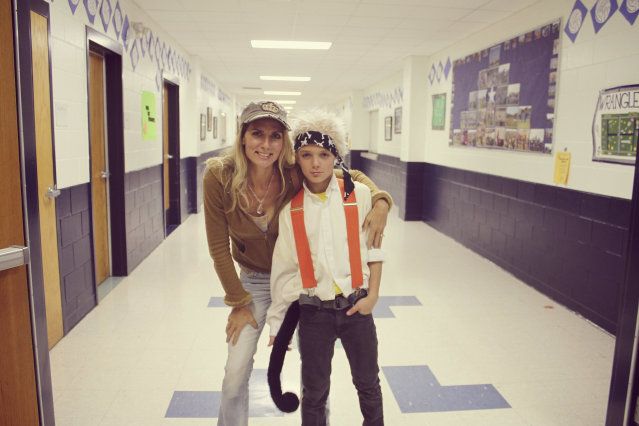 When I sit down to blog I never know for sure what will come out. . . seemed kind of long winded again this afternoon, maybe because I write so infrequently these days.
Gonna wrap up with this quote I wrote down from church last Sunday - and think it really applies even what I wrote here today. Not sure I wrote it down right, but the sum is:
~
"Religion focuses on the external. It focuses on what we look like to others.
It uses people. It uses people to exalt ourselves. (could be our children, anyone - using them to exalt our own image to others.)
It uses Jesus Christ even to exalt ourselves. - It's cannibalistic. Uses others to fuel ourselves.
Religion always leads to death. It has people measuring people.
It is full of man made modes, means and methods made to appease God.
Religion is deeply seeded in self. - And uniformity demands it.
It's all about me, not about Jesus."
~
Religion is not relational. Jesus Christ was relational.
What am I telling my children about Jesus Christ through my relationships with them?
That's the question I never want to stop asking myself until I die.
Alyssa