This has got to be my all time favorite stop sign. ever.
I passed it, um - I stopped at it - on my way to the store the other day and I had to turn around and stop again because I just thought it was so cool.
I could promise this will be my last post with summer beach pictures. The other day I thought if I put on fall colors and took the three little girls on a picnic for lunch that it might make me feel like it was fall. (I keep thinking of decorating pumpkins.) Instead it felt like summer had started all over again, reaching 100. Our lunch melted, the view that was suppose to be delightful was over-looked out of surviving the heat and our picnic moved to the air conditioned car within ten minutes.
I started thinking beach all over again, my pumpkin decorating ideas forgotten.
Shelton teaching Itty to surf the shallows. . .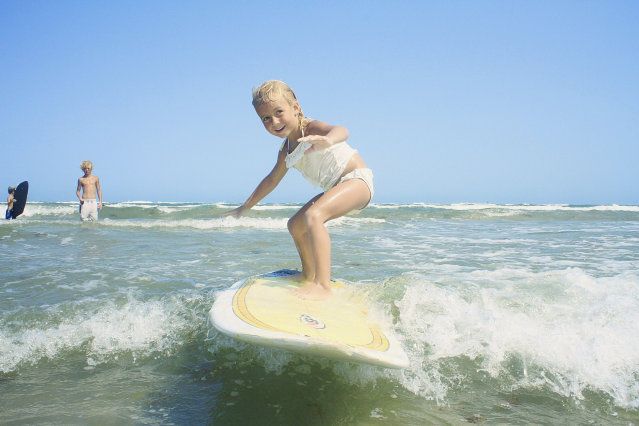 Sand, um well, maybe more like mud castles.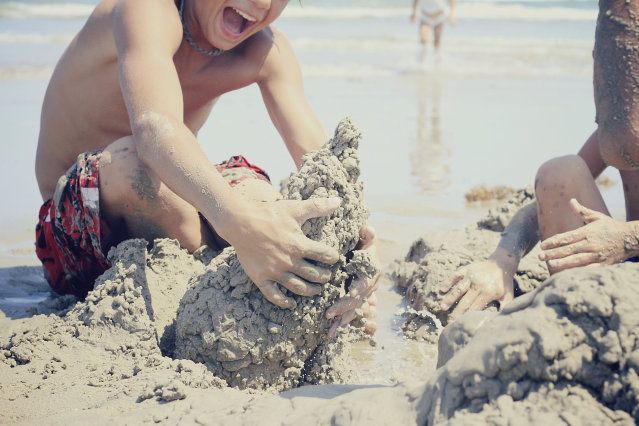 Lake ~ one of my favorite splashes.
My baby! Running like a wild child all over the place. She had no fear of the water, waves, or eating sand.
This makes for a busy beach mommy.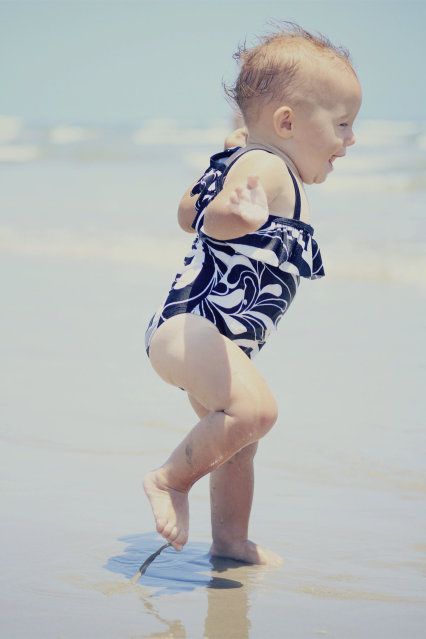 ~
I'm not sure who had the idea this time around to soap everyone down. Or who encouraged Itty to snorkel the trash can. . .
Shelton claims though that he cleaned it out very well. Oh my. But even his face looks a bit shocked - not sure he expected her to enjoy it to that extent.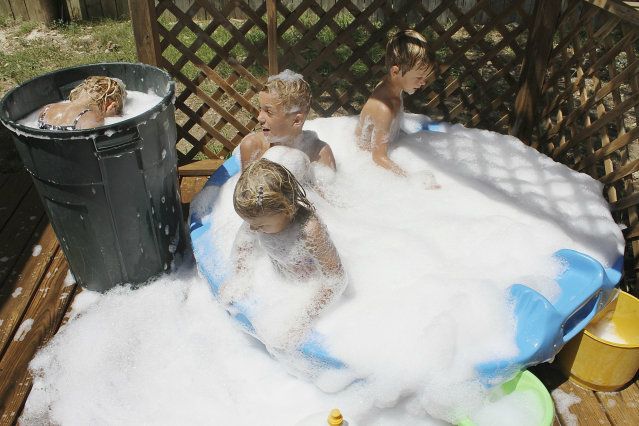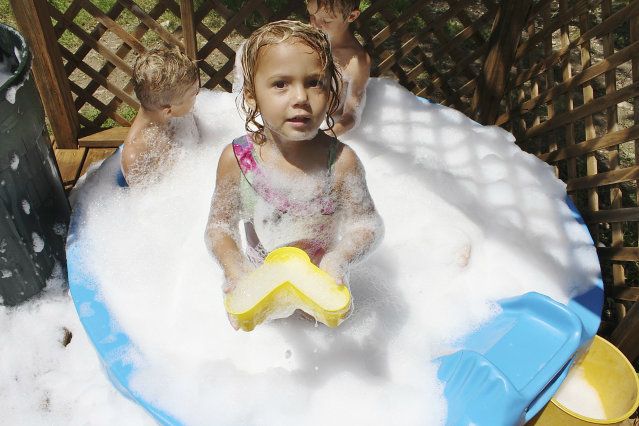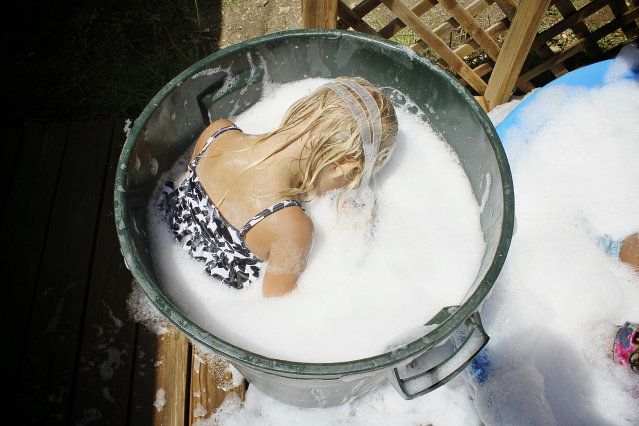 Six kids staying cool on the porch.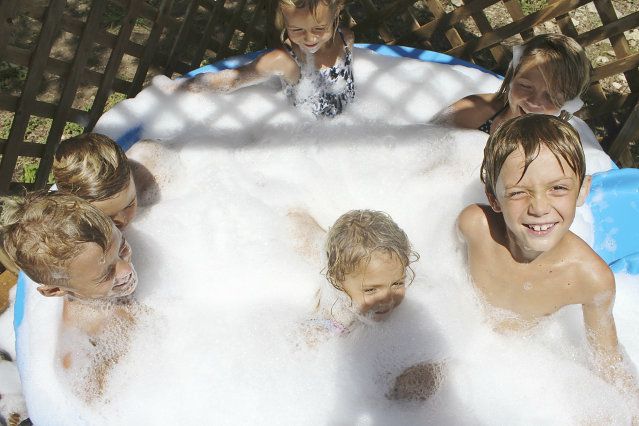 ~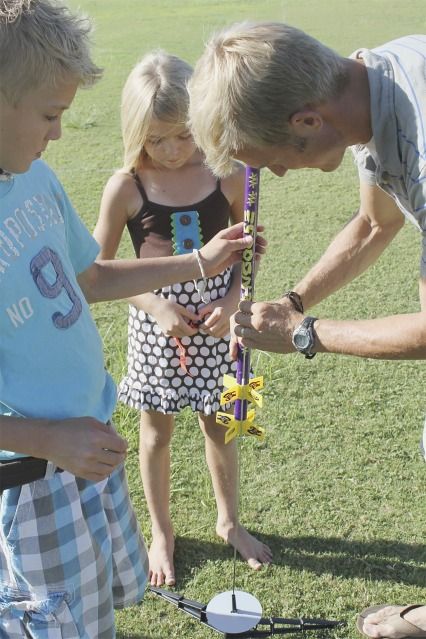 Shooting off rockets one evening with the kids.
Baby loves to roam, as I follow close behind. I love to see her exploring. I love these simple shadow pictures of her (and me) from this past week. . .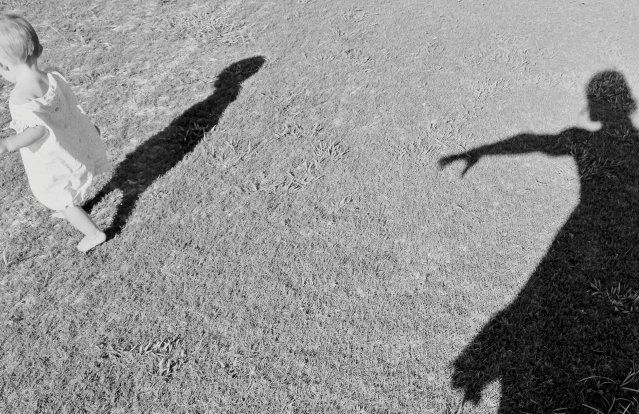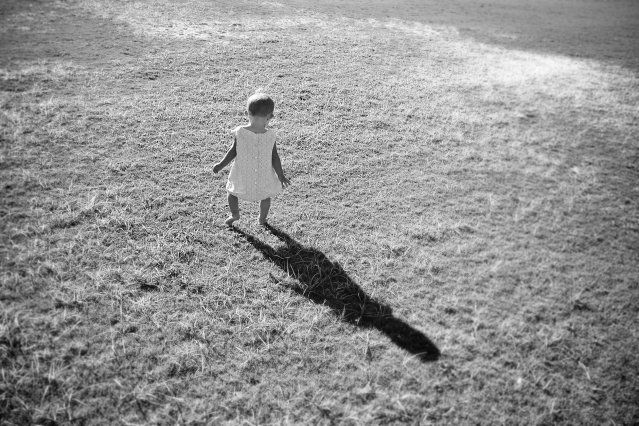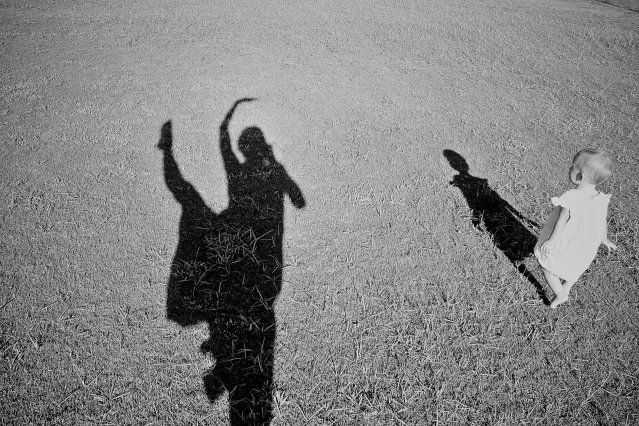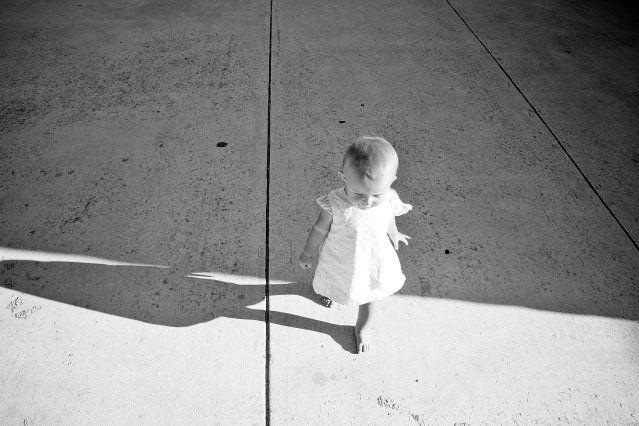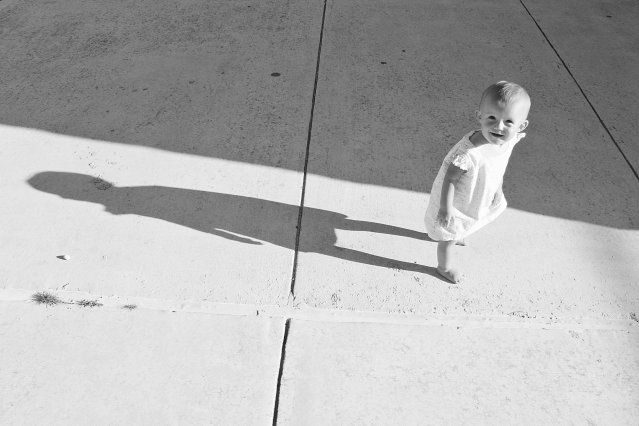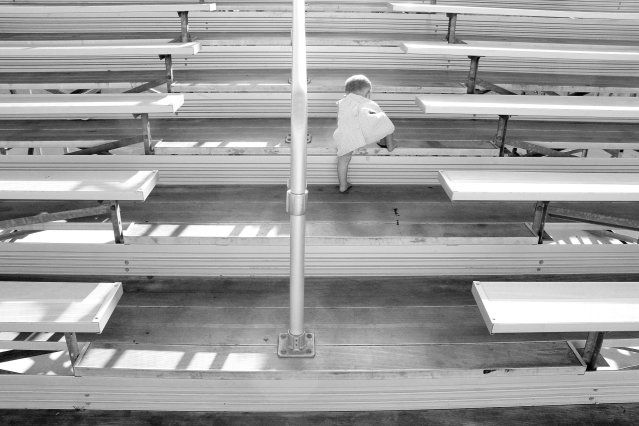 And my other little toddler girl. . .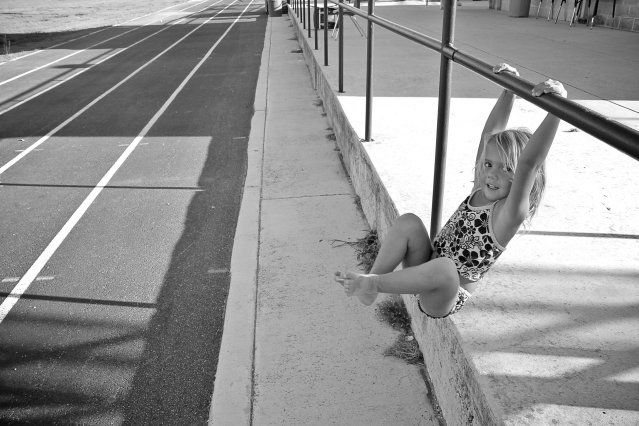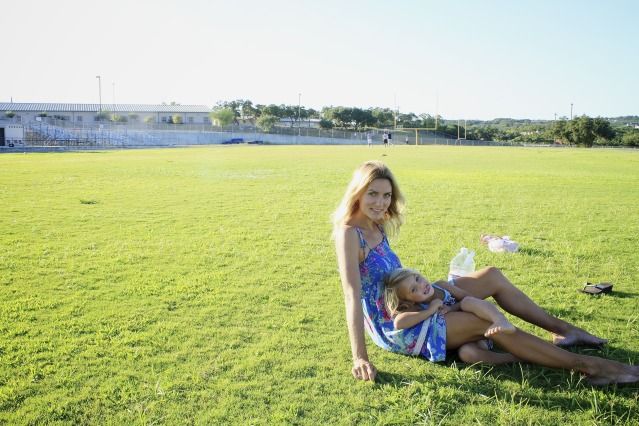 ~
This morning was the typical crazy-get-ten-people-ready-for-church in less time then most people spend getting just themselves ready. My fault really, because I was so tired from this past week (as usual) and I slept in more than I should have. I went to church with wet hair pulled in a pony, sunglasses on top of head and no make-up. I like that our church doesn't have bright lights. I don't like that I slept in.
We sang an old song in worship this morning, "He is Exalted" - dating back to the 80's if I recall, Twila Paris. . . took me back to my childhood in my mind when my dad would lead worship - I can remember singing it at the top of my lungs. I did again this morning. Declaring who God is, "He is the Lord, forever His truth shall reign. . ."
We went for donuts after church and today, rare, but I ate my share and even had a mocha. Because today was special.
Then this afternoon was just the normal around the house and working with the children while Robert napped. I did get in a special little time for me while the little girls napped though - putting vacation pictures in an album for the living room box of vacation albums that the kids love to look through. It seemed kind of relaxing, just sitting there on the floor by my window, slipping in photos in slots one after another. Can't remember the last time I've done that.
The afternoon began to cool down towards evening and we all loaded up and headed for the lake. There was a nice breeze and it was calm and pretty. Robert and I had explored the "new" lake on our date a few weeks back and told the children we would take them back for a swim. I really couldn't think of a better thing to do today. Funny, but there really isn't much that makes me happier than making them happy.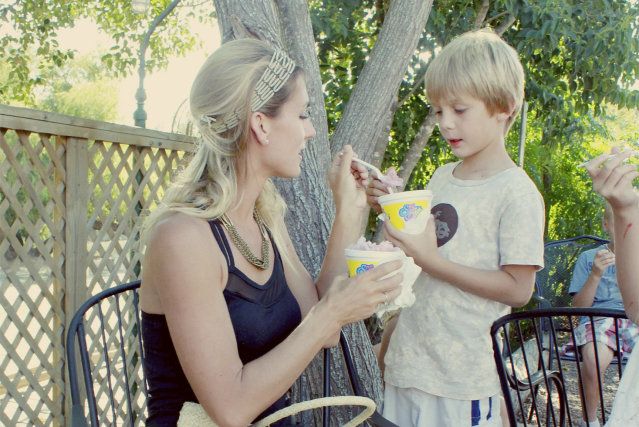 (The kids always say, "Trade me a bite for a bite?")
I thought about an afternoon alone, getting my feet/toes done because they need it so bad. Or my nails. . . or walking shops with no stroller, no toddlers, just me. Maybe even trying on things. Maybe even buying something ha! But why? That sounds so empty these days. . . when the kids love to celebrate birthdays so much as if mine is really their's!
The lake was awesome. I wish we could have stayed longer but Mondays a-comin' and sadly, there were kiddos who still hadn't finished up homework and we couldn't make it a late night. . .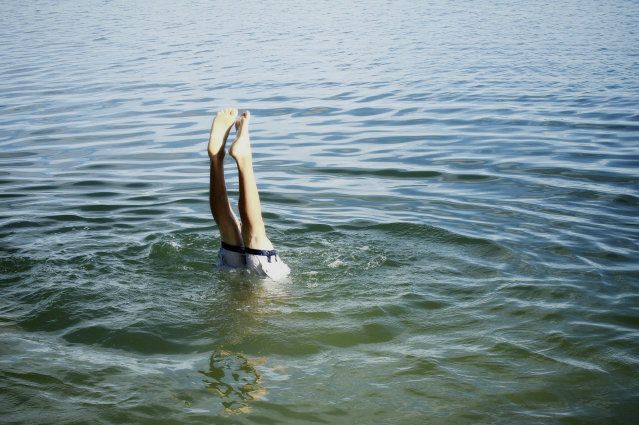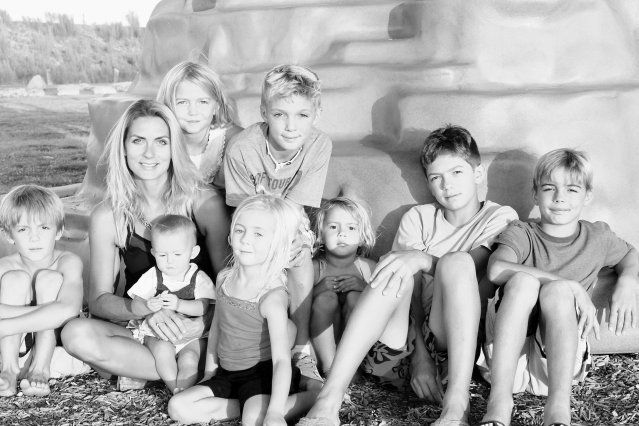 (took some time out to play at the park by the lake too after our swimming. Robert snapped these of the kids with me.)
More evening shadows on baby dearest. She wanted to climb to the top like her sister.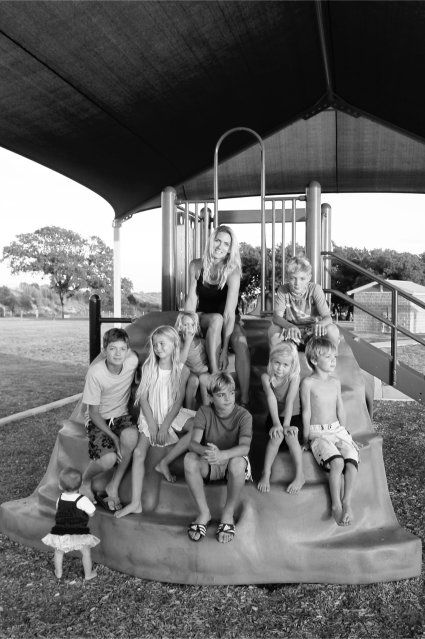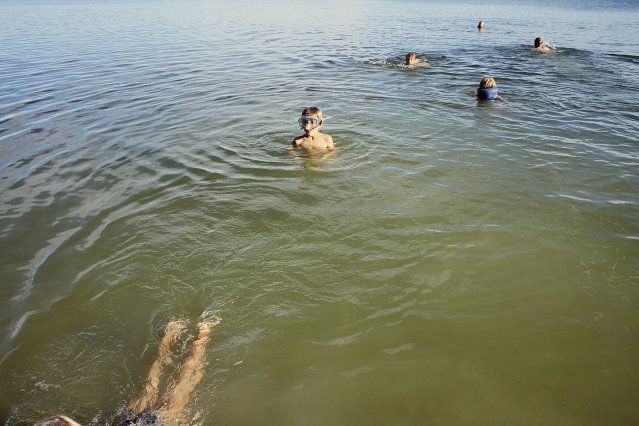 After the lake, it was my pick tonight and so I chose burgers and fries. We ate outside the 50's diner on the walk, the evening kind of perfect. I looked over two tables full of children talking and laughing and counted my blessings - literally counting, because Lakelyn is hard to keep track of these days. Yep, eight heads.
So that is how I celebrated my 35th.
I just thought all day how awesome it is to have lived 35 years. Not because it's been easy but because it's been. Just plain mercy.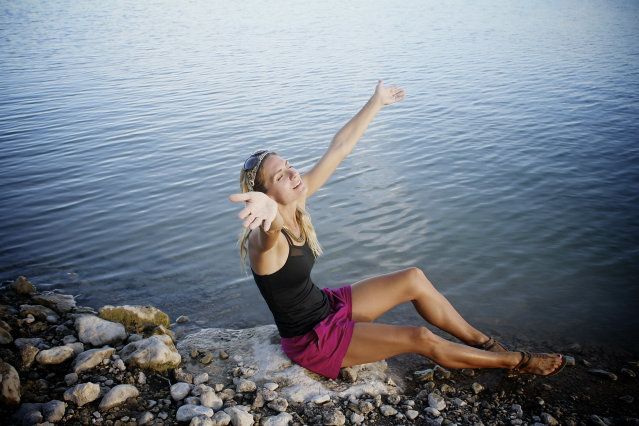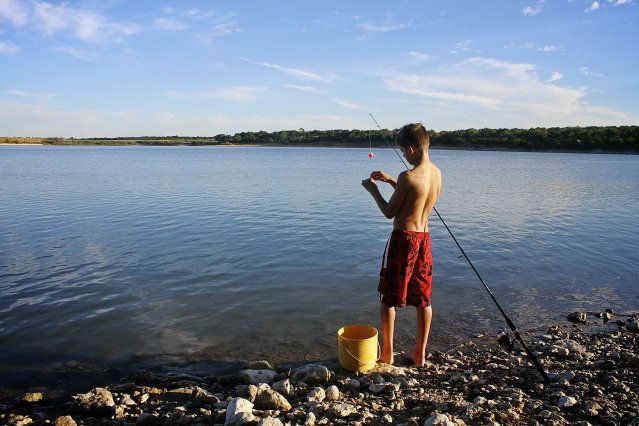 (sun going down on our fisherman-boy.)
I decided I better write this down because on the way home tonight the children wanted me to tell them stories of my childhood birthdays. . . my memory seemed fuzzy, maybe because, like I've always heard, we woman start going down hill at 35? (Must be true because I've felt it this year for sure!) Anyway ~ I had to think real hard and when I did I came up with the following memories:
Remembered my 6th birthday - a girls' sleep over at another girl's house from school who shared the same birthday. I remember wearing a pink skirt and some of the girls being mean, and some of the girls being nice and we painted our faces with face paint and make-up and everyone fought over who was going to sleep by the birthday girls and some girls got their feelings hurt.
Then there was my 7th and we'd just moved to California and we didn't know anyone and we didn't have a lot of money and I had a watermelon with candles for my birthday cake. I was okay with that - in fact, I thought my mom was pretty cool to do that.
My 8th we'd just moved again, this time to Louisiana and again new place and lots of changes and I had just recently met a few new friends and so I had them over for a small party. I got a purple dress that had a tie on it and that bothered me because I didn't think that was cool. My 9th I got a dollhouse that my parents found at a garage sale and thus began my fascination with interior design. I didn't play dolls in that dollhouse, I spent hours redecorating the rooms over and over again for years.
Then my 10th happened and my parents said I could have a slumber party and I invited all the girls I could think of my age, which was about ten girls. It was fun, good memories. Dad made up games for us to play. Probably my favorite birthday.
Then I couldn't remember any birthdays really until 16 - that morning my sister flew out for a big trip and my mom was sad and the day was discouraging and that afternoon we went on a hike up near Malibu Beach (lived back in Cali again at that point) and somehow as we were hiking the coastline we ended up on a nudest beach. Yep, mom got us out of there quick, but who can forget a 16th like that? I got a dozen roses from a guy that birthday and failed my drivers test. I'm not sure those two had anything to do with each other though. I made my own cake - well, not really a cake. I made a raspberry cobbler from raspberries out of my garden.
I told the kids what I could remember of my 18th, a little of my 19th. . . and then I couldn't remember a single birthday after that, not one! How sad.
Until my 30th. . .
Which how could I forget my 30th?!
Robert and baby Brighton and I were in Cancun celebrating for our 10th anniversary a few months late and Robert decided to do some time share presentation thing that was offered because we would get like $100. off our rental car price. Basically we ended up at this huge beach resort which I could pretty much promise was run by drug lords and all sorts of criminals and after four hours at that place and nearly having our lives threatened if we didn't buy a time share, we just barely make it out alive.
I cried all the way back to our hotel - out of fear we were going to be tracked down and shot by the men at the resort who got so angry at us for not buying a time share, emotional exhaustion from trying to keep a three month old baby happy through the whole ordeal, and sad that my 30th birthday had nearly been wasted trying to save $100. on a rental car. I know, selfish my heart was - that was not what I had envisioned for my 30th. :)
Soooo, that afternoon I got into a rickety old airplane (seriously had holes in the side of it) that was painted red, blue, and yellow. The paint was peeling and piloted by a guy that didn't look anything like a pilot nor did he speak English. I strapped myself to some other guy who hardly spoke English that I'd just met and jumped out of the plane at 10,000 feet over shark invested waters. With a parachute.
Yep. Won't forget my 30th.
Needless to say I survived and went out to dinner that night at a romantic hole in the wall of a place in Playa De Carmen - candle light, Mexican food, black and white sleeveless dress.
It made me wonder if I should have done something a tad bit crazy on each and every single adult birthday so I could remember. . .
Then I realized that I have - I think most of my adult birthdays I've been pregnant. Really, that's a tad bit crazy.
Maybe that's why I don't remember my birthdays since getting married. . . because my birthdays kind of took a back seat to the birth-day I was awaiting that year - the birth of a baby. Someone meant more to me then me. Or the reality might be that I was so miserably pregnant I just plainly can't remember feeling like it could have been my birthday.
And so I thought about that today, here on my 35th. The kids liked my stories I told all the way home tonight from dinner.
I was about to write that nothing amazing happened today. But that's not true.
Tonight there is one amazing slumber party going on here with the best friends I've ever had.
They scream and yell and want to sleep by me.
They make me gifts and ask me to open them outside under the stars and I ask how will I see what I am opening and Itty says, "By the light of the big dipper, if it's out."
I have a milk shake for my "cake" and every single kid gets their own spoon and huddles around and asks me to dip some into their plastic cup. They fight and ask who has had how much and whether it's all been given out fairly and I kind of don't care that even though Robert bought the shake for me, I pretty much didn't get some. Lakelyn says, "Mommy, put a candle on the shake?"
Shelton made me breakfast in bed. . . but it didn't make it to my bed because of church this morning and all the work getting off so I open the door to the car this morning to leave and there is a plate with this baked apple, coated in some recipe he invented this morning and it was a-mazing! I don't know how he does it but I didn't teach him. He needs to be some famous chief one day on tv. And one of my crystal glasses was sitting in the cup holder, filled with ice cold water. When Robert started the car and headed down our drive the water spilled all over me and soaked me nice and good for church.
The glass fell and everyone freaked out because everyone knew Shelton shouldn't have used the crystal and what if it broke? And then the boys all got into this discussion over how much money I could make if I sold all our dishes and how we should do that and go on vacation with the money. Like go to somewhere "far away" they say.
Morgan made me earrings out of seashells. She took a black marker and wrote a big capital "A" on each earring.
I will wear them tomorrow.
Bub came to me as I was getting out of bed this morning and handed me a ten dollar bill, "For your birthday, Mom." He has the biggest heart e-v-e-r and the biggest puppy dog eyes. I felt bad to take $10 but I knew to turn it down would be worse so I thanked him so much.
Scott had hand-made a knife while is Tasmania (Yes, Tasmania! Like who goes there? Such a great trip for him!) two weeks ago. He gave me the knife plus a bar of soap which says, "Made in Australia." And a card that says, "Let your heart take courage. . ." He recommended I use the knife in the kitchen. The knife is something fierce and looks more like a self-protection device.
Itty wrapped up stickers from my craft drawer with packaging tape and paper and made me a little decoration out of three stickers that say, "Wish." It is now hanging from the wall in my bedroom. She also wrapped up three tiny seashells and gave me those. It took me forever to un-tape it all, but so worth her joy!
Shelton took a picture I had discarded of myself and colored on it and wrote sweet words and gave it back to me. I was glad he hadn't pinned in a mustache on my face 'cause I would have been tempted. On the back it said, "I love you so much, you're the best." He made me earrings from shells too and put them through the picture of myself that I had discarded. Creative. Made my heart smile just looking at it.
Christian gave me more hugs than I could count today. He always hugs and hugs lots, but today I got more than normal.
Lakelyn kissed me so hard on the mouth when I put her to bed tonight I almost had to cry uncle, but when she let go she said, "Ah! You the girl, Mommy!" and then, "When my birthday again, Mommy?"
Itty asked me in the car, "How old are you, Mommy?"
I said, "I'm 35 today."
She said, "Do you feel old when you get 35?"
I said, "Yes, I do."
~
Baby is nursed and I'm back to bed. Someday when I can't remember what I did on my 35th. . . I will read this. Maybe.
Alyssa