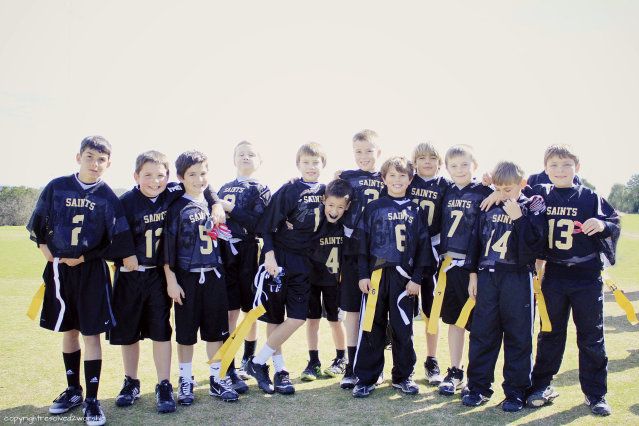 Christian's winter flag football season is over. What a great group of boys! Super coach! Awesome season!
He is signed up for spring football already, asking when WHEN it will begin. There is nothing he likes better.
We switched Christian from homeschool to school in January and he is doing great. He doesn't like having to get up earlier than usual and he would prefer time for big pancake breakfasts again, but other than that he is working so hard and getting great grades. It's been so neat to see God really working in his life through this change. He has two wonderful teachers and a great coach. This past week he won the jump rope contest for 141 jumps in a minute (well, FOR THE BOYS in the school - there was a girl who beat him! Yeah for humble pie!)
He has loved music in school and has decided to take piano now and is catching on very fast. He is blessed to have a grandmother who is a wonderful piano teacher. This is his year to take a special trip with his grandpa (each boy gets to go after they turn ten). He will be gone most of spring break.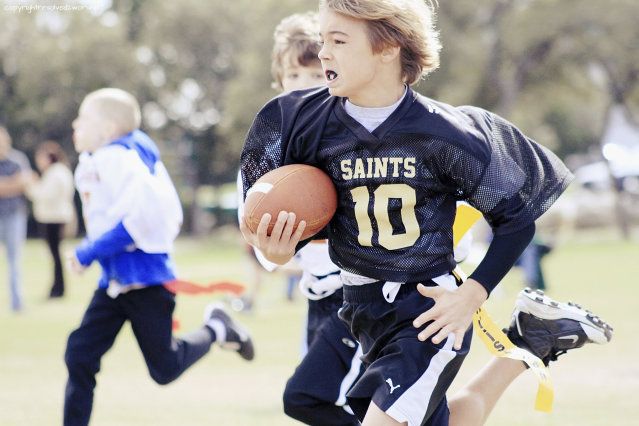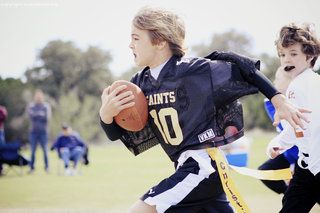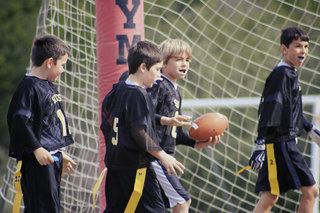 Speaking of being gone, the older two boys were gone all last weekend on the church youth retreat. That was really different for me. They are so much the life-of-the-party personalities and man, it seemed really quiet around here (I know sounds strange to say since there were still six kids remaining, but out of those six most are pretty quiet!) We really missed them, but it was so cool to hear all their stories and thoughts when they returned. They had a wonderful time together as brothers and fun with new friends and old. They loved canoeing, hiking, playing soccer, large group and small group worship times, dodge ball, and had a lot to say about the Saturday night session on accountability and purity.
Here's a picture I pulled off an email of pics sent ~ Shelton is on far left with guitar. He has a heart to worship and lead in worship.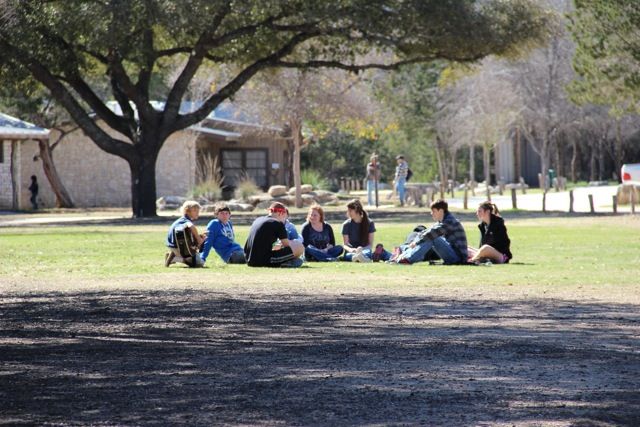 Scott's school basketball season ended last Monday with an exciting game. They played with all possible determination to beat the #1 team in the district. If you could win on heart and persistence alone, they would have won by a long shot
. Oh goodness, we cheered our lungs out. If they had won they would have been first in the district instead, but it just didn't happen. They fought it out long and hard all the way to the finish. Scott is running track now in the mornings but will probably devote more effort to soccer when the season begins in a few weeks.
Scott stays very busy between school and homework, sports, working when he can with his dad (like this afternoon - saving every penny in hopes to buy his own car in a few short years!), friends, and keeping up with all his siblings. That last one being something that I can't explain like I would like because I just get teary and not sure how to describe all this kid is to the others. He loves them, loves them all, down to baby and there isn't a day he doesn't set aside time to love on them - still keeping one of the top grade point averages in his school. He is a friend and brother to them that at times seriously puts me in awe.
They admire him, want to be like him, look up to him, snuggle up to him, trust him, respect him, and follow him. I could not ask for a better leader of the pack. He is showing the other boys what it means to love, to lead, be open and real, to serve, work hard and fight with persistence through this life.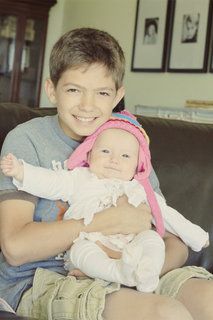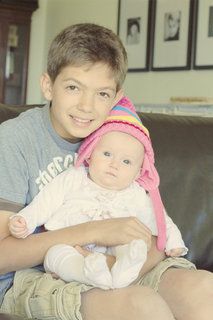 This past Thursday the season of spring just suddenly came. Seemed like overnight and boom, spring.
The little ones and I were outside nearly the whole day. They loaded vases full of flowers for my kitchen table.
Here's a few shots from around the yard Thursday. . .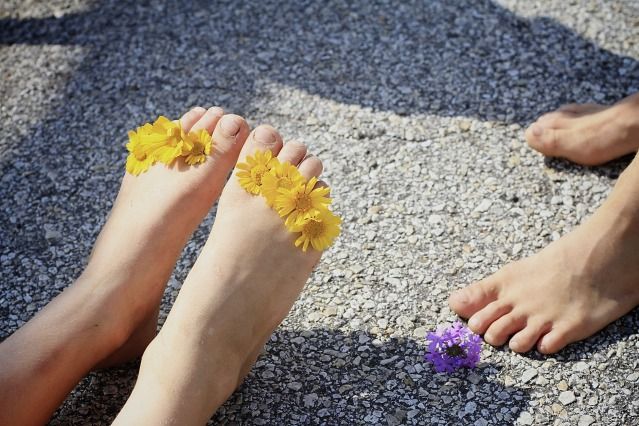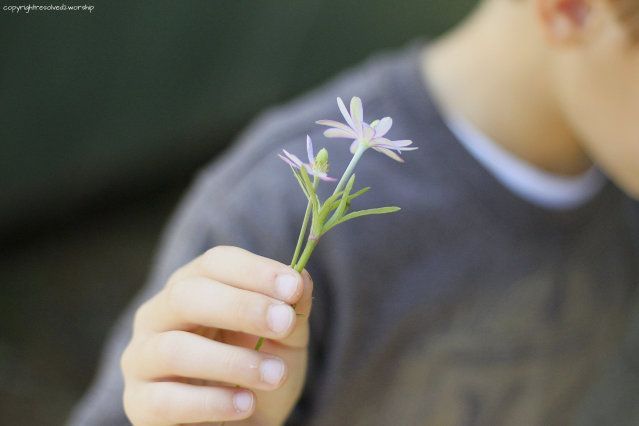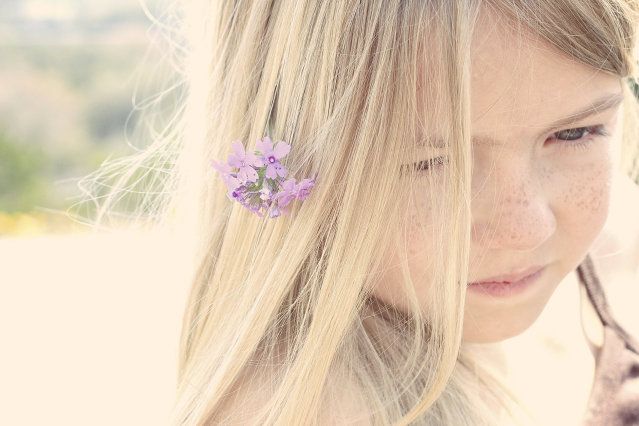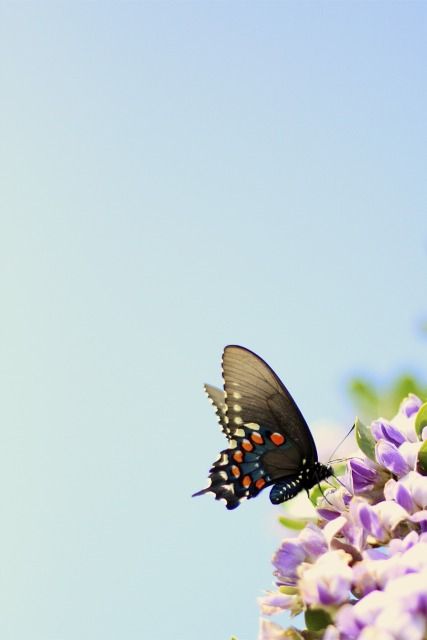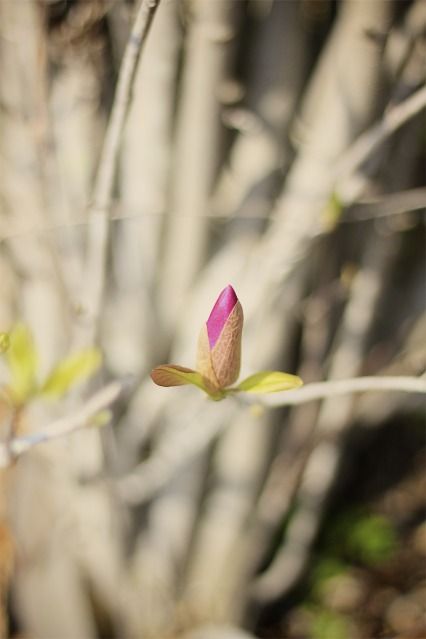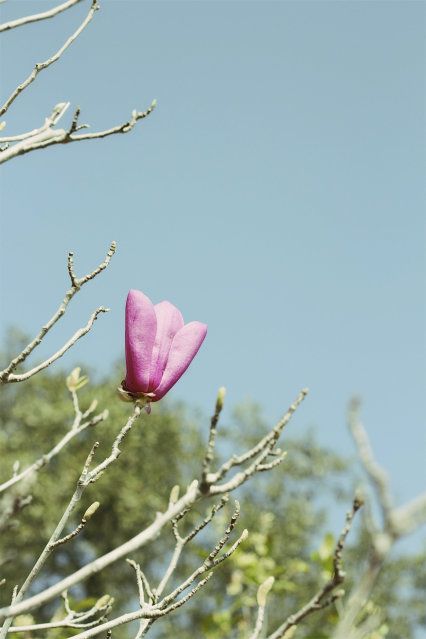 Morgan planted these little flowers a while back. Robert had them left over from a landscaping job and brought them to her.
There is one purple among the yellows. Lake somehow believed spring had been skipped all together - gone straight to summer.
I don't blame her for putting on her swimsuit first thing in the morning because it was 89 degrees.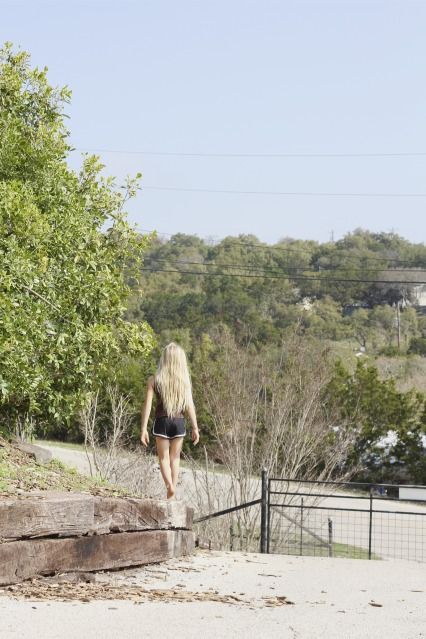 The children made a fort under the trampoline. I prepared a picnic and took it out for lunch.
I'd never eaten under a trampoline. Twas fun.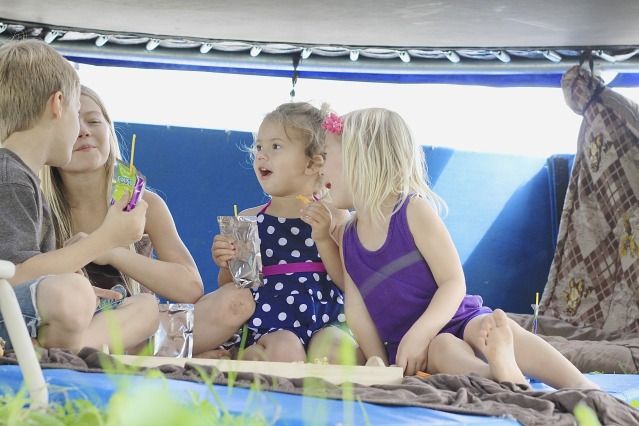 Miss Fort Creator.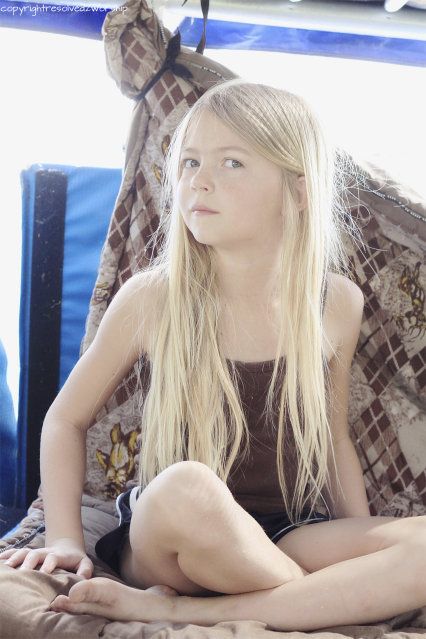 Miss Bright - who has been wearing this headband nearly everyday for a week at least now.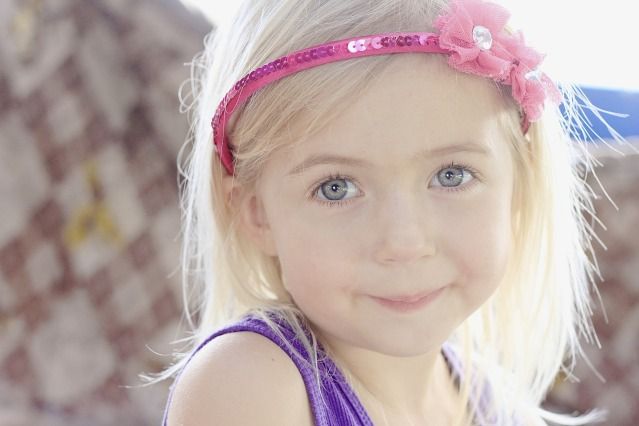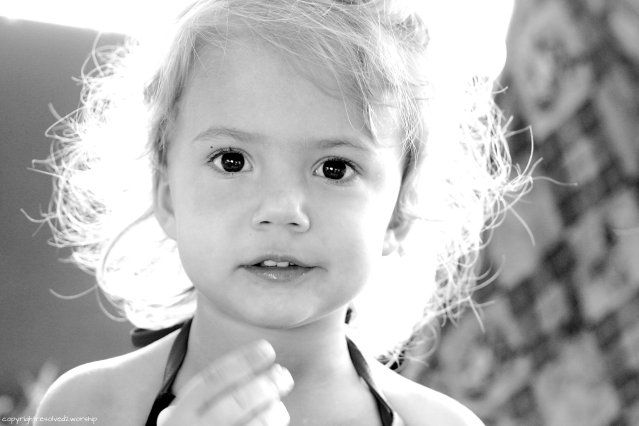 I love how the light coming through under the tramp lit her hair ablaze in this shot.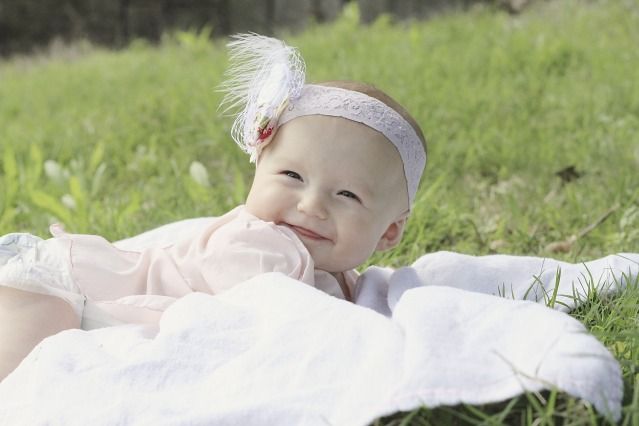 My very fair baby girl ~ out in the grass for the first time. Smilin' just like her daddy.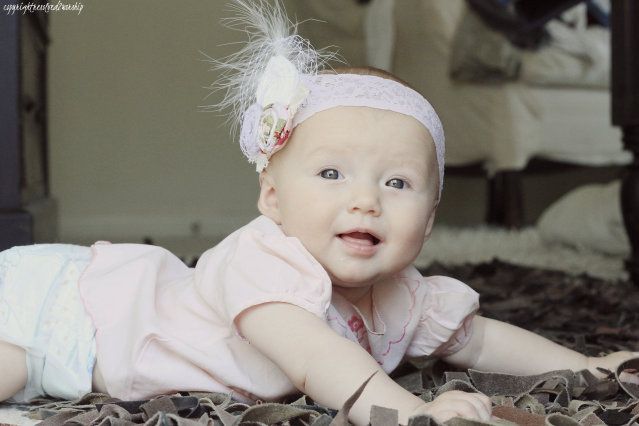 The girls playing dress up and dancing the other afternoon. . .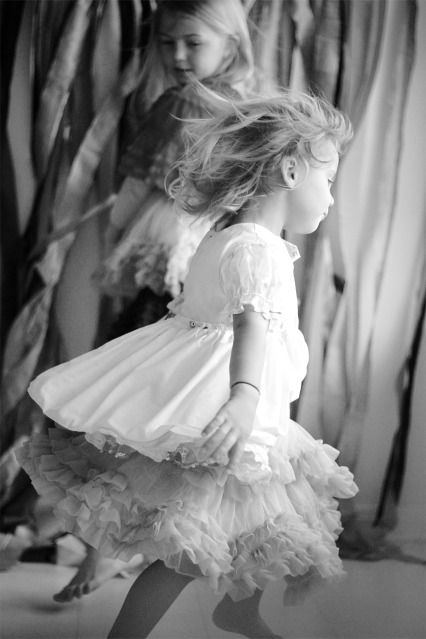 Lake has on her dress gloriously inside out and backwards.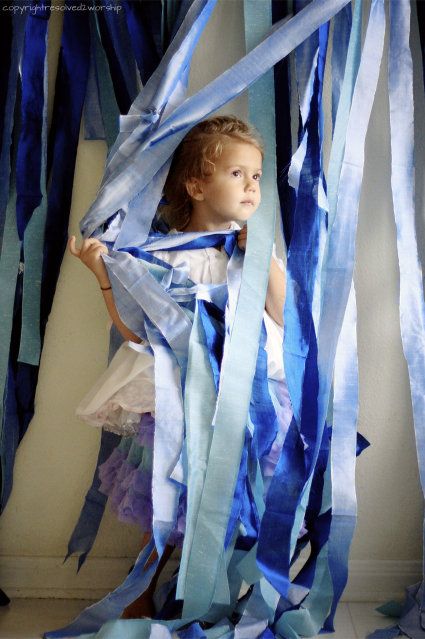 Crazy, but in the random shots I shot that afternoon in all their movement, these were just totally unplanned ones that happened.
Photography is fun like that. Some random shot just grabs you.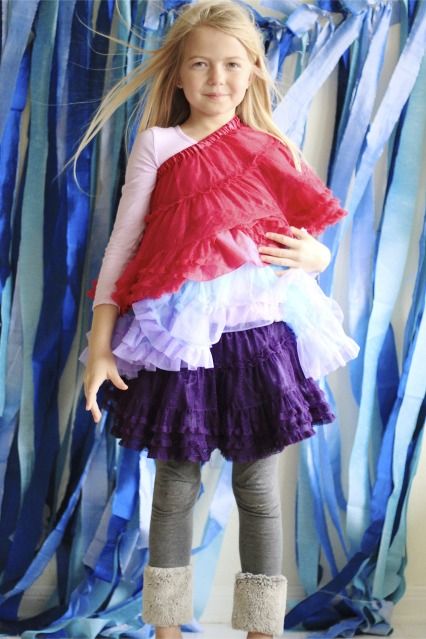 I shot this through the floor fan that was on not far from them. . . just for fun, to see what would happen. I love it.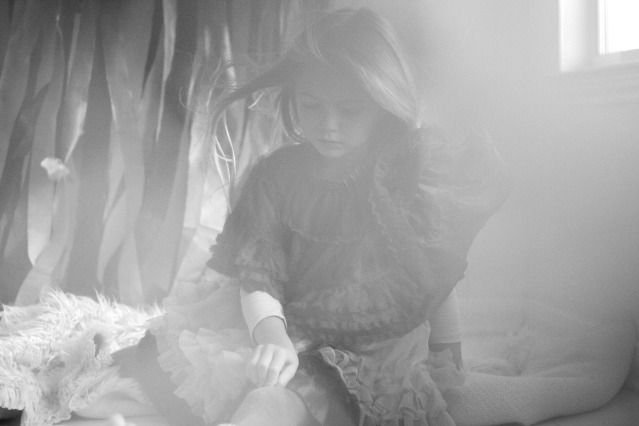 Baby dearest in her bed.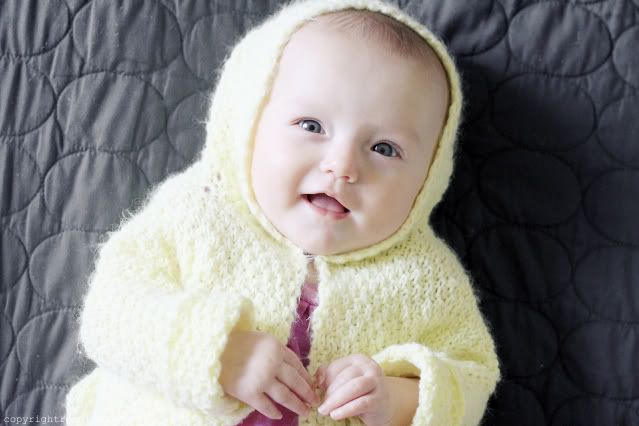 Friday dinner was no nice and perfect for grilling out. I can't wait to get back into doing more of it ~ there is so much yummy you can cook on a grill. With the chicken, I boiled it a bit in butter/water/salt/pepper mixture before hand. Then marinated it in marinara sauce and threw it on the grill for about 20 min. on slow cook. Was a hit, especially with the boys.
Robert had to work late and was to meet up with us at Shelton's basketball game so I knew I needed to fix something easy so we could leave out with little clean up. . . I love dinners outdoors.
~
This post has been off again on again, writing, post a picture here and there, then no time to post it. Time just escapes.
Yesterday was Shelton's 12th birthday. Did I type that right? How could my little curly-headed, sweetest little boy in the world be twelve already?
I am sure it is impossible. I am blown away. With everything that is in my heart for him - a million words could never say. He is more than just a son. He is a friend, an awesome friend. I love him so much. I took him lunch at school yesterday and sat there waiting for him to come down the hall, out of class. . . then I saw him, littler than all the rest of the boys, huge pack back on his back. Blonde hair swept to the side. Tiredness in his eyes from so many late night this past month doing homework or playing sports.
A little container of sushi in my hand, a turkey sandwich, a cupcake - his eyes lit up. He unashamedly hugged me tight there in front of all of his friends. We went and found a table outside and he opened two gifts Morgan and Brighton had made him.
Ya just never know - just expect the opposite of what you think most people would be thinking. . . and that would be him. So much like me, but not. I guess the guy version. . . but still, though we have much in common, he is his own personality. He is an adventure in and of himself and he always has been. I know no one like him. Never have.
Last night was his special date with Robert and me - our birthday tradition we've held a long time now for each child. We kept asking him what he wanted to do. He would reply, "Oh, let's just go and see what happens." Seriously. He is mostly all in the moment. Up until minutes before we leave last night, Robert and I still don't know where we are going or where we will end up. We hold back our suggestions because we want this to be him. It's how we get to know who they are.
So we are about to leave and Shelton says, "Mom, I think I just want to go down town to the train tracks there at the station and take my skateboard and do a photo shoot and then we'll just play it by ear for the next thing. I'll just grab a few things like a couple of shirts and some hats and my board. . ."
My mind smiles, I search around the house for my camera bag and grab an extra battery. My brain then creates all sorts of images in my mind - I see it all.
But I know he sees things in his mind too. Sometimes they are cooler than what I see.
So the three of us drove down town and the sun was setting on Sunset Station. It was quiet really. Kind of cool. A train whistle now and then. Shelton wanted to show Robert and me all his skateboard tricks (all of which he has only done on a wood deck since living out in the hills we don't exactly have a skateboard place at home.) I ignored the right to worry that we would be in the ER on his birthday evening. He had in his mind what shots he wanted to try and where. So I shot his style, his ideas, his way. Totally. Refraining from, "Hon, that's too dangerous" as much as possible. And no, "Here, try this. . ." for any of the pictures he wanted.
We walked around and talked about school, life, God, friends, his past year. We wondered how he could twelve and we wondered how to be parents to twelve year old boys.
He is so laid back comfortable and we just kind of hang together. He speaks freely and full of feeling. Then he will be quiet, in his own world.
He casually starts walking back to the car so we ask him where to next. He contemplates renting bikes and riding around the city together. He looks on the phone to see what movies are playing. He asks questions about restaurants down town that Robert and I have been to, then suggests we go to one none of us have ever been to. Then he decides our next stop is the big tower.
We park and walk through the park to the base of the 750-foot-tall tower. We ride the glass elevator, getting the most spectacular view of the city possible. He is right next to the glass, forehead planted as close as possible. The gorgeous sunset to the west was the highlight of the panoramic view. Did he want to eat there? No, just an appetizer and a sprite. He is the only one in the family who likes sprite. If we are out, he always orders it. We sat there and talked more, marveling at being way up in the sky. He ate shrimp with spicy sauce. He mentions hang gliding off the tower. Robert mentions it's not legal. I offer the half way between, telling of a job he could get repelling off tall buildings washing windows or hang gliding classes.
He again thought through all his options out loud, settling on shopping for our next stop.
Shelton has always liked to shop and he is good at it. He came away with a cool pair of black shorts with lots of pockets/thick belt, a v-neck tighter blue shirt with black graphics (which he informed his dad should not be worn with an undershirt), and army green Levi comfy-wear shoes. Shelton has a thing for shoes big time. Anything along the artistic - foods/cooking, clothing/fashion, art/music, design/architecture - all this he is very discerning and attentive to and knows exactly what he likes.
What is pretty neat about Shelton is all these artistic interests are equal to his love for dare-devil sports, tackle football, cross country running, basketball, soccer - you name it - he's out there giving 150%, dirt in face type of playing.
The attribute that I think of most when I think of Shelton though is compassion. He has a very sensitive heart towards others. Especially if there is a need in some way, disability, etc. He is very compassionate. He thinks about others, their feelings, their condition, their situation and he is very loving and kind. If anyone is ever down and out, he notices. If someone is hurting emotionally - he knows, he asks, he hugs, he listens. If someone is sick, he is the first to be there wanting to make sure they are okay, asking what he can do to help. We go to the nursing home, he doesn't want to leave because he wants to take them all home with us. He is afraid someone might be lonely.
He is my ultimate baby person in this house as well. He enjoys babies. He is amazing with Haven. He loves being a part of a big family and lets people know it. When one of the little girls says something funny it's Shelton who will turn and make eye contact with me and give me that knowing look like, "Don't you think she's just the sweetest thing?"
His compassionate heart nearly gets him in trouble with the girls at school. He gets asked "out" by girls (whatever that means when you are only 12 ha!) and he hates hurting feelings of course because he is a very sensitive person. But, Shelton has strong thoughts along those lines. Right now it might just be what we've told him through the years - time will tell. He is in the process, that time in life, when he is going to discover what he truly believes apart from us. At this point though he seems to have really thought some things through due to our many conversations at our house through the years and from watching others and the direction he doesn't want to go in his life.
If you ask him he will say, "I like girls and someday I want to date an' all but now isn't the time to focus on that, it's just not the timing." Well, one particular girl got a whole lot more of an ear full of his thoughts on it a week or so ago when she asked him to the spring dance.
On the way back from school he was telling me all about it and said something very close to the following:
"...And so I told her that she was a great person and I didn't judge her if she was going to the dance an' all but that I wasn't going to be focusing on girls at this time in my life because we're way too young to be thinking like that when we have so much else we should be doing in our lives right now to prepare for that time in our lives, ya know? And so I talked to her at lunch for a long time about how like it was a good thing for her to save herself for the guy God would have for her someday and it wasn't a good idea for me to put myself in a situation to be tempted to do something I would regret. I told her that she was special to God and beautiful in His sight and she didn't need to get that from me and I would be hanging out with my guy friends on the night of the dance doing something fun like going to the river or something and that I didn't judge her, I just believe different ya know and I didn't want to hurt her feelings and she said I did and I said that I was sorry her feelings were hurt and that I wasn't trying to hurt feelings but that someday she might understand that life was more than just guys. I mean, it's seriously crazy ya know, mom? She's all like thinkin' well that I don't like her and I was like I like you fine but I like everyone that same way, in fact, I told her I love her and everyone in the whole world but like we're still kids ya know and so I told her it wasn't wise. . ."
He talks like this.
I was driving, my mind smiling. I could think of better ways for him to react, like maybe not adding that part in about how he loves her and everyone in the world. I thought about how he shouldn't have talked with her so long about it - should have just shrugged her off with the rest, why such a detailed explanation to her? Like he could have just said no. And talking to her about temptation?
There was a bit of awe really going on inside of me. His love combined with bravery.
I started thinking back when I was 12-13. I don't think I ever responded correctly in such situations. Never said the right thing. I typically reacted with secret crushes that I didn't want a soul to know and kept inside, fearful to talk to my parents about them because I was suppose to be "keeping my heart for my husband." Or my response was completely unloving, judgmental to those who weren't told to keep their hearts. I was rude, turning down relationships, yet all the while desiring them. I lived in guilt mostly. There was not freedom. I was not open, but fearful all the way around on the issue.
When I look back on my heart at twelve and all that I've walked through since, I know this is just the beginning of his journey.
I know time is the teller of truth and we will all go through (and hopefully will so we aren't fakes) a time where we are challenged to see if we are for real in our convictions. It's easy to hold fast to beliefs you are never truly tested on. It's a whole different thing to have convictions and have to walk in a place in this world where they are tried and tested throughout your life. And still stand strong.
My mind entertained the things that might have been said differently . . . I let those go and I thought about all the good he did in what he said and how standing strong on his beliefs was a hard thing when he didn't want to hurt feelings. How neat it was that he was learning this while I could help walk him through it and encourage him.
I was wanting my heart to hear his.
I could hear the agony and difficulty he finds in wanting to please others ~ yet feeling strongly about what he believes. I live there. Daily. So does he. We can spur one another along. Humbly realizing we both need a Savior to fight the battle that rages for our souls.
I listened because I don't know how to be a mom to twelve year old boys and I don't have instant wisdom. I sit there and think, "Lord, how? How do I be mom here?"
I said a little about how God was honored by his sharing his beliefs and it was good to learn to articulate them. I told him that making people happy wasn't the most important thing in life.
I told him of a time just this past year when I was on the phone with someone and they articulated to me how they believed I should not have shared our courtship story here on the blog. Basically, it wouldn't make everyone happy, it might not make everyone look angelic 100% of the time. Basically, hide the truth, worship sensitivity. Be controlled, gagged by others not wanting the truth told.
I said, "Being honest and gracious is so hard to combine."
That we should strive for that though in all we do or say. We talked of the two ditches. About balance.
I encouraged him to not let women control him by getting their feelings hurt. We talked about controlling women, not that this girl was, but somehow that came up too. Honesty and grace - that was the hot topic though from it all. One cannot be sacrificed for the other, they most go hand in hand. . . because both are love. Truth and grace have to hold hands. What a hard, hard thing to know how to do and such a prayerful matter, yet as life unfolds, we must ask God's strength to walk with both honesty and grace in relationships.
If you are one who feels great passion to speak the truth to people about every little thing, then maybe hold back and give more grace more often. If you are one who is all about grace, maybe ask God to show you how to speak truth.
We talked about erring on the side of grace, but not forsaking truth in order to do so. We talked about how it is hard to speak what we believe when we know people will not like us for it. We talked about the sin of judging others. We talked about how guys in the world view women and use them, and how God views and sees value so different than that of the world's ways.
We talked about girls.
~
I sent multiple flare prayers that God would show me how to impart truth to him in ways that wouldn't chase him away, but actually give us an even better relationship. The honesty and grace combo.
If I trust God like He is worthy of being trusted then I don't need to worry about Shelton - or any of my kids. I remind myself, "These kids are REAL PEOPLE WITH REAL FEELINGS." Treat them, talk to them, respond to them like they really are! Like I want to be treated back. Err on the side of grace, but don't forsake truth. After 34 years of life, the people that mean the most to me and that I listen to the most - they erred on grace. Which gave them room in my life to speak truth.
Side note - Pretending isn't grace. Pretending is sin. Grace is knowing (not denying) the truth, accepting and loving still. Grace is trusting Jesus with others, completely leaving them in His hands and seeing them the way God sees them. Seeing things and people from an eternal perspective.
~
I savor the seconds with my children.
If twelve years passed this stinkin' fast, I don't imagine the next twelve going any slower.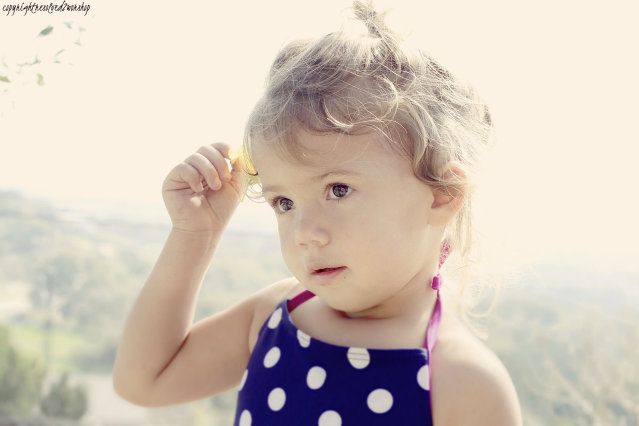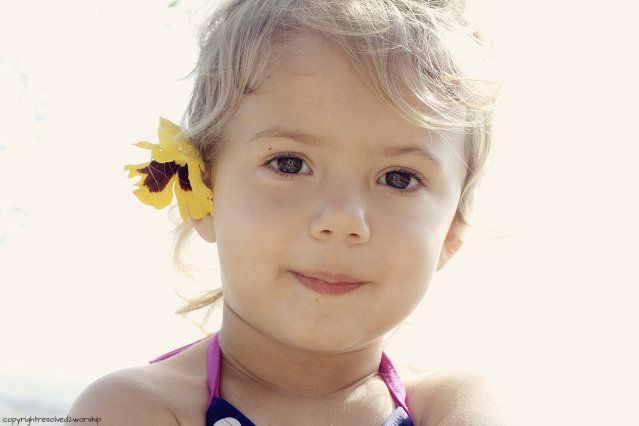 A. Ann